Design
Built for the Long Haul
This family-friendly house combines recycled materials and energy-conserving strategies that will pay off for centuries.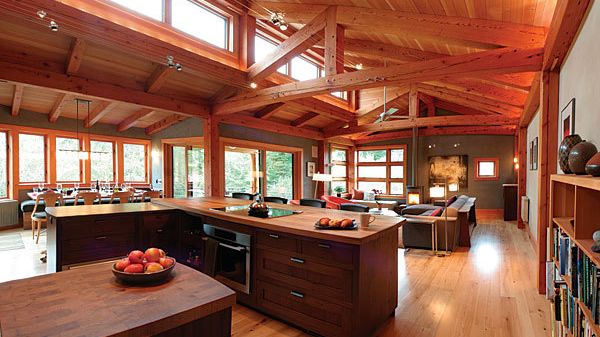 After living and working in upstate New York for 25 years, builder Jonathan Orpin and his wife, Maxine Bromfield, took a road trip in search of a new place to live. After they visited Portland, Ore., they knew they'd found someplace special. Even better, they found a suitable south-facing lot where they could build a new house. The resulting house was honored with FHB's first-ever HOUSES award for new home of the year. They organized their design thinking around four key principles:
1. Building a long-lasting, thermally efficient structure
2. Using advanced, efficient mechanical systems
3. Using sustainable structural and finish materials
4. Developing a carefully crafted plan tailored for their family
The main floor of the house centers around the Commons, an open, timber-frame space that includes living space and the kitchen. An upper floor includes a place space and a bedroom, and the basement contains a guest bedroom, a work area, a library, and more. The home's energy-saving features include SIPs for the roof, a modified-stud exterior wall, and insulated concrete form basement. The house also uses a rainwater-collection system, a woodstove, solar hot water, solar panels, and a variety of other energy savers.
For more photos and details on this award winning home, click the View PDF button below.
View PDF