Small-diameter vacuum nozzle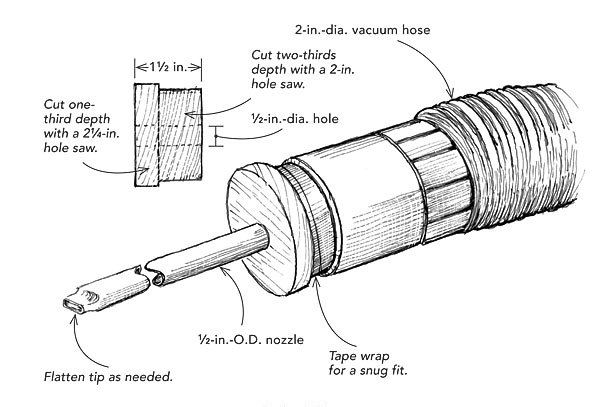 Last year I was on a job where I had to clean out dust, blown-in twigs, and leafy debris from under composite shingles where two roofs met. My regular shop-vacuum nozzles were too big for the job, so I tailor-made one for this situation.
As shown in the drawing at left, I used both a 2-in. and a 2-1⁄4-in. hole saw to make a stepped plug for the 2-in.-dia. vacuum hose. I then enlarged the pilot hole with a 1⁄2-in. bit and inserted an 18-in.- long piece of 1⁄2-in.-O.D. aluminum tent stake (1⁄2-in. copper pipe would have worked, too) into the 2-1⁄4-in. side. I flattened the end to 1⁄4 in. and—voilà—instant skinny-space vacuum nozzle.
This nozzle also works great as a picker-upper for dropped items in narrow spaces, such as between a fridge and a cabinet. It has powerful suction because the pipe end is so small
Alex Oppedijk, Forest Knolls, CA
Edited and Illustrated by Charles Miller
From Fine Homebuilding #220