Recalling Green Building's Struggle for Legitimacy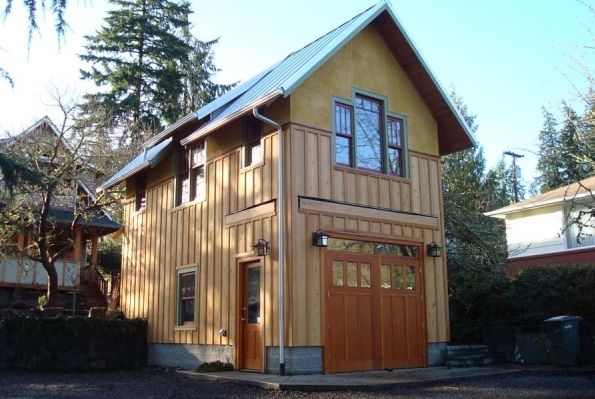 Oregon is among the top five states with the most buildings certified by the U.S. Green Building Council's Leadership in Energy & Environmental Design (LEED), and figures prominently in the certification programs offered by Earth Advantage Institute, based in Portland, Oregon.
But a story recently posted by the Register-Guard, a newspaper covering the Eugene area, served as a reminder that the trek to a green-friendly client base and permitting process was, for many Oregon builders, seriously challenging.
"In the early days of pushing the green envelope, it was always a fight at the city building department," James McDonald, owner of Ecobuilding Collaborative of Oregon, a construction company based in Eugene, told the paper. McDonald recalled that in the early 1990s, when he co-founded the Eugene branch of the Northwest Ecobuilding Guild, green builders were marginalized by their peers, and tracking down suppliers offering green products was enormously time consuming. "Back then," he said, "you were looked down upon. It was just kind of weird and alternative and sidelined."
Shifting perceptions
For Rainbow Valley Design & Construction, launched 40 years ago and now operating out offices in Portland and Eugene, there was no incentive to market green building until relatively recently. "It had a certain stigma attached to it," Rainbow Valley designer Alec Dakers told the Register-Guard. "In the early years, it wasn't something that you bragged about."
The good news for both builders is that they are busy, even amid the downturn. McDonald said the past few years have been "the best work years that I have ever had. I'm just fortunate at the moment. We are in the right place at the right time and focusing on the right things."
Rainbow Valley's Dakers said the company's revenues have fallen to about $4 million from $6 million five years ago, but added that the volume of inquiries continues to keep the firm busy, with about 85% of its business focused on renovations and additions rather than new homes.
An encouraging backdrop to this is that, in September 2009, Eugene implemented its Green Building Program, which provides technical assistance, planning and permitting incentives, and training programs, as well as fee reductions for projects seeking LEED or Earth Advantage certification. For the area's green builders, it's not much like the old days anymore.
One of the projects built by Ecobuilding Collaborative of Eugene, Oregon. As it has almost everywhere else in the country, construction in the Eugene area has been hurt by the down economy, but a few longtime advocates of green building continue to attract clients.
One of Rainbow Valley Design & Construction's remodeling projects.
Rainbow Valley Design & Construction says its projects nowadays are smaller, and about 85% of them are remodels. This kitchen is part of a remodel in the single-story house shown in the previous photo.