Tools & Materials
Ideal Concealed Lighting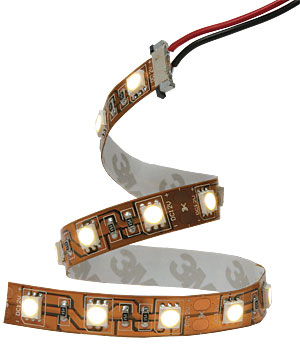 Good countertop task lighting is an important element of any well-balanced kitchen-lighting scheme. It eliminates shadows from overhead fixtures and puts light where it's most useful—on the countertops. Without wall cabinets in my kitchen, I was forced to find an alternative to the typical fixtures made for this purpose. My first inclination was to use incandescent rope lighting. However, I've had several of these kits burn out prematurely. My search landed quickly on flexible LED strip lights as the solution for my situation.
These strips are made of a series of LED diodes attached to a thin, flexible circuit board. Typically between 8 mm and 10 mm wide, the strips can be squeezed almost anywhere, and they attach with a self-adhesive backing. Most strips can be trimmed with scissors at roughly 2-in. intervals, which allows you to customize the length. The lights are sold in 5-m (16.4-ft.) reels, or by the foot. With a life expectancy of 50,000 hours, bulb changes are not a concern.
To choose an appropriate transformer, multiply the specified wattage per linear foot (in my case, 2.16w) by the length of the strip.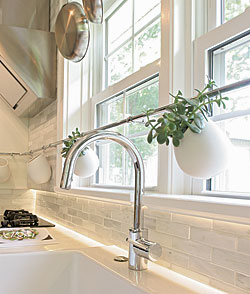 Since this technology is relatively new, strip configurations vary slightly from manufacturer to manufacturer, so researching options is important. I considered several products from companies such as Elemental LED (www.elementalled.com) and Environmental Lights.com (pictured above), but settled on the SMD5050, a 9-LEDper-ft. strip from LEDLightsWorld (www.ledlightsworld.com) because of its lower cost. This strip emits an impressive amount of warm, white light. Because my strip is close to the sink, I chose an IP65 water-resistance rating, which means that the LED strip surface was injected with silicone to resist water intrusion.
I've been mostly happy with my purchase, and the lights have been trouble free, aside from the original transformer, which had an audible hum and interfered with my audio system. I had to replace it with a better model and haven't had that problem since. This was a simple fix, but if I had to do it over again and had the money to spend, I'd opt for the wwwrf5050 from EnvironmentalLights.com.
LED strips vary widely in price. I found prices that ranged from $6 to $20 per ft. I'd recommend LED strips to anyone looking for a product to use in a concealed linear-lighting application.
Model wwwrf5050 (60 ft.); www.environmentallights.com; $17 per ft. for orders of 6 ft. or more
Photos: Rodney Diaz and Rob Yagid