How-To
Combo Clamping/Painting Stands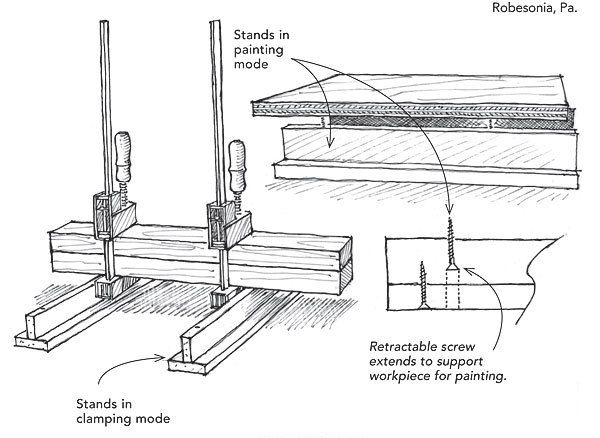 I've added a twist to my clamping stands to make them even more useful. As shown in the drawing below, the stands are the typical T-shaped runners that support a workpiece while making some room for clamp jaws to get a grip.
When it came time to paint, I used to make painting standoffs as necessary out of scrap lumber. Then came a time when I didn't have any useful scraps lying around. I spotted my clamp standoffs, and a lightbulb went off. I bored three 1?8-in.-dia. holes through each standoff. From the bottom, I then counterbored the holes with a 3?8-in. bit about halfway through the standoff so that screwheads could fit easily.
Using 2-in. drywall screws, I can extend the screws up for painting and then retract them back into the assembly when not needed. The three screws per standoff give me the option for both wide and narrow boards. With eight of these standoffs, I can make any configuration I need.
Dan Broadbelt, Robesonia, PA