Opportunity Accompanies Objections to Green Habitat Project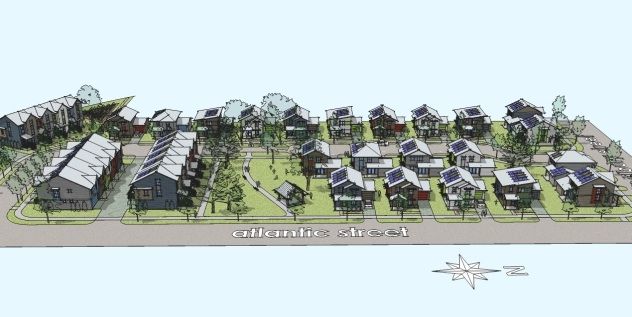 The McMinnville Area Habitat for Humanity, in Oregon, had guided its proposed 35-unit affordable-housing development through a design process that strongly emphasizes energy conservation and makes efficient use of the subdivision's 3.47 acres. The energy efficiency, affordability, and layout of the community have won praise from most people who have studied the project.
Including those who oppose it.
Designed by Matt Daby, of M.O. Daby Design, the subdivision required a zoning change because of its relatively high density, according to an article posted recently by the Daily Journal of Commerce, which serves the Portland area, including McMinnville, located not quite 50 miles to the southwest. The project was narrowly approved last year by the McMinnville City Council, but residents who live near the proposed project site worry that it is too dense and have since appealed the approval to Oregon's Land Use Board of Appeals.
An unintended benefit of the delay
Daby told the DJC that the design is intended to "take Passive House ideas, one of the strictest building standards, and push them to see if we can make affordable houses, built by volunteers, without turning to crazy materials to make it happen."
City Councilman Kevin Jeffries, who said he voted against the proposal because residents would be exposed to excessive noise from nearby highways and would have difficultly traveling to other parts of town because of the development's density, nonetheless praised the design. "The design itself I thought was really beautiful, and for energy conservation, I thought they were really progressive," Jeffries said.
McMinnville Area Habitat's executive director, Gretchen Phelps, does not share Jeffries' concerns, said the proposed site is a "great location," and seems willing to persevere. It also turns out that as the appeals process got underway, Habitat was already building a single-family home with an insulated slab foundation and 14-in.-thick walls designed to minimize the building's energy needs. Its construction is serving as a teaching tool for Habitat, and it could well serve as a model for the 35-unit subdivision. "We're aiming for the most energy-efficient homes we can get while balancing that with affordability," Phelps said.