Tools & Materials
Buyer's Guide to Insulation: Rigid Foam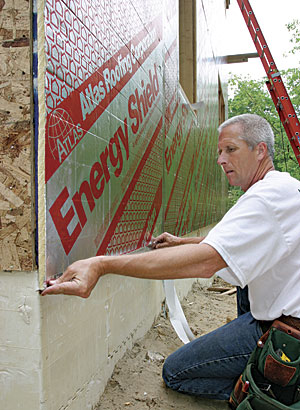 Brian Pontolilo
This insulation can be used on walls, roofs, and foundations, and it is suitable for retrofits and new construction. All foam-insulation products are petroleum-derived, and most have a higher R-value per inch than fiberglass, cotton, or cellulose.
Rigid-foam sheets are sold in several thicknesses; most lumberyards carry sheets ranging from 1/2 in. to 2 in. thick. Thicker sheets (up to 6 in. thick) are usually available by special order. The installed cost of rigid insulation varies widely, depending on the project and location.
Rigid-foam insulation is a more effective air barrier than batts or blown-in insulation, especially if the seams between sheets are carefully sealed with caulk, canned spray foam, or tape.
Rigid foam is routinely used to insulate the interior or exterior of foundation walls. On above-grade walls, exterior foam improves the performance of a wall or insulated roof by reducing thermal bridging, improving air-tightness, and raising the R-value of the entire assembly. Be sure to install foam sheathing that is thick enough to keep the wall above the dew point.
Expanded polystyrene (EPS)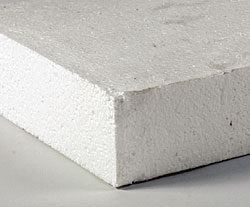 R-VALUE: R-3.6 to R-4.2 per in.
COST: 31¢ per sq. ft. at 1-in. thickness (material only)
APPLICATION: Under slabs; below-grade walls; above-grade walls; ceilings; and roofs
The highest R-values for EPS are found in high-density foams. EPS is the least expensive and most vapor permeable of the three types of rigid foam. One inch of EPS has a permeance of 2.0 to 5.8 perms.
EPS has long been made with non-ozonedepleting pentane blowing agents rather than HCFCs or HFCs. However, many brands of EPS contain the flame retardant HBCD, a persistent, bioaccumulative toxin.
If the correct density is chosen for the application, EPS is not affected by moisture. While EPS with a density of 1 lb. per cu. ft. is adequate for use in structural-insulated panels (SIPs) and insulating concrete forms (ICFs), only the higher-density (generally type IX EPS with a density of 2 lb. per cu. ft.) foam should be specified for below-grade applications.
---
Extruded polystyrene (XPS)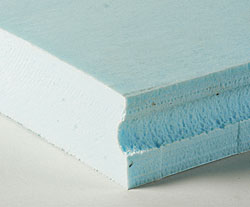 R-VALUE: R-5 per in.
COST: 47¢ per sq. ft. at 1-in. thickness (material only)
APPLICATION: Under slabs; below-grade walls; above-grade walls; ceilings; and roofs
XPS shares many of the strengths of EPS but is stronger, denser, smoother, and more water resistant; moreover, it has a higher R-value per inch. One inch of XPS has a permeance of 1.1, while 2 in. have a permeance of 0.55, classifying the material as semi-impermeable.
Because of its high compressive strength and water resistance, XPS is often used below grade to insulate slabs and foundation walls. The two most common brands of XPS are Dow Styrofoam, which is blue, and Owens Corning Foamular, which is pink.
For green builders, XPS has two major strikes against it: It contains the flame retardant HBCD, and its blowing agents have a very high global-warming potential. For these two reasons, most green builders try to avoid the use of XPS.
---
Polyisocyanurate (polyiso)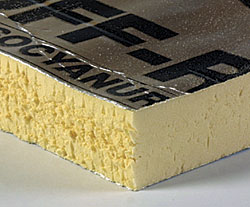 R-VALUE: R-6.5 per in.
COST: About 60¢ per sq. ft. at 1-in. thickness (material only)
APPLICATION: Below-grade walls (interior side only); above-grade walls; ceilings; and roofs
Polyiso has the highest R-value per inch of any rigid insulation. Its blowing agent (water) is environmentally benign, and it is free of the brominated flame-retardant chemicals that taint EPS and XPS. However, polyiso absorbs water easily, so it can't be used below grade.
Polyiso always has a facing on both sides, most often foil. One inch of foil-faced polyiso has a very low permeance of 0.03 perm. When used as exterior sheathing, it creates an exterior vapor barrier; that means that an interior plastic vapor barrier should never be used on a polyiso-sheathed wall.
Foil-faced polyiso is more resistant to fire than unprotected XPS or EPS, so some building inspectors allow it to be left exposed on crawlspace walls or in attics without requiring a layer of drywall.
---
Photos by Daniel Morrison unless otherwise noted.