Tools & Materials
Alternative to Pressure-Treated Decking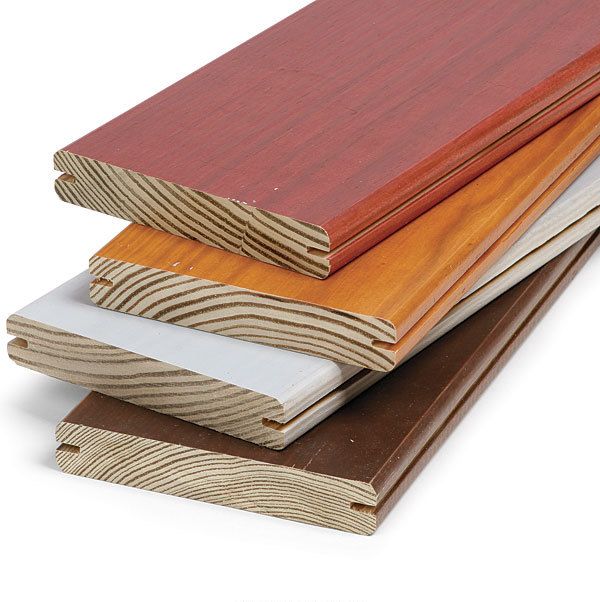 Perennial Wood decking from Eastma
Eastman Chemical Company in Kingsport, Tenn., has been making acetic anhydride for years. In the 1930s, the company used it to make nonflammable safety film for movie houses. Previous films were extremely combustible, and lots of theaters caught fire.
Recently, Eastman has used the chemical to treat southern-yellow-pine decking products, making this commonly used wood three times more resistant to shrinking and swelling than untreated southern yellow pine.
According to Jimmy Dickerson, technology manager at Eastman, "The acetylating process changes the wood at the molecular level." Hydroxyl groups are what move water up and down in a tree. Using pressure and heat, the infusion of acetic anhydride into the kiln-dried wood changes the wood's hydroxyl groups into acetyl groups, which cannot absorb water. The process swells the wood back to its green dimensions.
Wood at its green dimension can't swell any further, and wood that has no water in it won't foster the growth of mold and rot. Stable, rot-resistant wood—what could be better?
Acetylated wood has been imported from Europe for some time, but Eastman is the first domestic company to offer the product. If you're worried about the toxicity of a chemical called acetic anhydride, you should know that it's what gives vinegar its unique smell and that it's also used to make aspirin.
Eastman sells its decking products under the name Perennial Wood (www.perennialwood.com). They are available in at least 100 Lowe's home centers in New England and through specialty decking and building-materials suppliers at a cost comparable to composite products. Perennial Wood is available as deck boards, top and bottom rails, balusters, posts, stair treads, and fascia boards. Each piece has a two-step factory finish in one of four colors: gray, cedar, mahogany, or redwood. Touch-up kits are available for sealing cuts made in the field. The materials are warranted for 25 years against rot, decay, and movement.