Tools & Materials
Gas Cooktops: The Choice of Chefs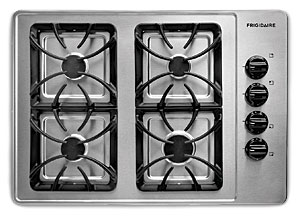 Gas is the serious cook's benchmark fuel for its nimble heating response. The flame on a gas cooktop seamlessly adjusts from steak-searing high to chocolate-melting low and back again. The open-grate system doesn't retain much heat, so the temperature transitions are nearly instantaneous.
Continuous grates let you slide cookware between burners; heavy cast iron provides even heating. Many grates are porcelain-coated, and some can be cleaned in the dishwasher, although most manufacturers suggest soaking and hand-scrubbing. Cleaning up spills with sealed burners on the full-size gas cooktops I researched means removing the grates and sponging out the depressed spill-collection areas.
Give serious thought to your ventilation choice if you are buying a gas-fueled cooktop (see "Breathe Easy With the Right Range Hood," FHB #215) because in addition to cooking odors and moisture, you'll want to remove the carbon dioxide, soot, and PCBs generated by gas combustion. If efficiency is a concern, it's worth noting that only between 35% and 40% of the combusted fuel's energy potential is used for cooking. Unlike the gas stoves of the old days, all the models shown here have electronic ignition rather than a standing pilot light, which cuts down on fuel consumption and pollutants.
While 30-in. and 36-in. models are the most common, gas cooktops are available in sizes ranging from simple four-burner 24-in.-wide units to 60-in.-wide cooktops. The largest units use the extra real estate for additional burners and/or specialty surfaces such as wok burners, griddles, or grills. Basic models are among the most economical cooktops on the market, starting at around $450, but prices can exceed $3000 for units with features that emulate the appearance or performance of restaurant-grade cooktops.
Glass Updates a Traditional Look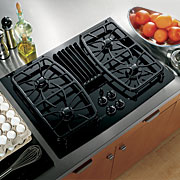 While GE offers traditionally designed gas cooktops with deeply recessed basins around the burners to contain spills, the company also makes "gas-on-glass" cooktops for a sleeker look. These cooktops are available with white or black glass and are easy to clean, assuming you don't allow liquids to boil over and run off the cooktop. The grates can be cleaned in the dishwasher, are fairly minimalist for good heat diffusion, and allow pots to slide easily between front and back burners. The 30-in. model shown at left (PGP989DNBB; $1500) has four burners ranging from an 11,000-Btu high-output burner to a 5500-Btu precise-simmer burner. This cooktop has a separate lockout knob to prevent unanticipated ignitions and an integrated 330-cfm downdraft exhaust.
Wanted: Short-Order Cook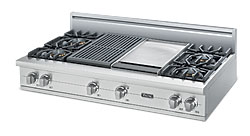 If Viking wasn't the first company to sell commercially inspired ranges and cooktops for homeowners, it has certainly made its name synonymous with the category. The units in Viking's premier Professional Series are technically range tops—deep stoves that slide into the counter—as opposed to thinner cooktops that fit into a cutout in the counter.
Viking's widest option (48-in.) is available in five different burner configurations. This model (VGRT548-4GQ; $4000), shown with an optional 8-in.-high back guard ($315), has a griddle and a grill (each 12 in. wide) in addition to four 15,000-Btu burners. These burners ignite at any position on the dial, even the lowest setting—a nice feature that's not found on the cooktops of many brands that require twisting the dial past high to ignite before rotating it the other way to the desired setting. The ignition feature carries down to the D3 line of five-burner 30-in. and 36-in. cooktops ($1200 and $1400, respectively).
If boiling water extinguishes the flame, this model (like many high-end gas cooktops) has automatic reignition, which relights the burner regardless of the knob position.
Budget-Conscious Basics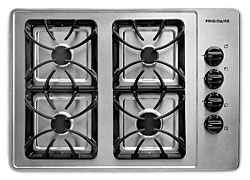 If a large restaurant-inspired gas cooktop is not your thing, Frigidaire's 30-in., four-burner unit (FFGC3015L; $450) has the essential features found on designer models—sealed burners, pilot-less ignition, and cast-iron grates—although its interrupted surface means that pots can slide only between front and back burners. It has three burner sizes—5000, 9500, and 12,000 Btu—and is available in stainless steel or in white, bisque, or black porcelain. With top-mounted controls and a narrow 2-7/8-in. cross section, this model maximizes storage below with one of the shallowest profiles on the market.