Podcast Episode 89 — Gross Stories
Atmospheric water generators, working soapstone, basement flooring, ductless minisplits, glue where you just do not want it, drinking bad water, and dead mice.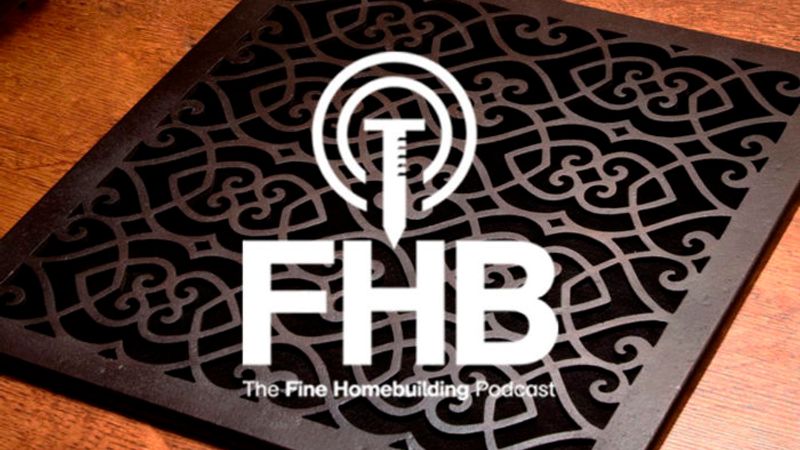 There are two chances to hear editor Justin Fink's dulcet tones this week: in our usual Fine Homebuilding podcast and as a guest in sister publication Fine Woodworking's Shop Talk Live podcast. So follow this link and check out Episode 153.
(By the way, mad props to show producer Jeff Roos for the sweet sound effects in today's episode!)
In this podcast, Justin is joined by design editor Brian Pontolilo and editorial director Rob Yagid as they tackle listener feedback and questions.
We just can't seem to stop talking about drinking the condensate water from a dehumidifier or heat-pump water heater. Listener Kate mentions that there is an actual machine designed to extract water from humid air, so if you hate your tap water (because, say, you live in Florida) maybe you need an atmospheric water generator. On top of that, listener Alan suggests that just because water looks crystal-clear, it is not necessarily safe to drink. Alan has a story about drinking seemingly safe water, actually … a story that is just too gross to detail.
Listener Chris confirms something the guys discussed in a prior episode … that using mouse poison in a house is a bad idea because dead mice in walls smell gross. Chris says, "Great work on the podcast, guys. Love all the info, even if I get it too late!" That inspires Justin to talk about things that smell like dead bodies. Brian has a story about glue traps; his dad worked for a company that made them. Then a customer sent the company something in the mail … Well, suffice to say, if your humble show notes compiler balked at the bad drinking-water story, well, we'll draw a curtain over the mouse glue-trap story with the sincere hope that you are not listening to today's podcast while having lunch.
Justin has a story about a fireplace surround he made out of soapstone. Turns out cutting and smoothing the stone, and collecting the dust safely, is a challenge. Justin used PL glue in the project, and that brings us back to the theme of this show with a mention of what it's like to get PL glue in your leg hair. Ow! Also, gross!
Listener Adam's basement remodel needs a floor: glue-down or float engineered? If you choose the glue option, Adam, just make sure you wear long pants and socks to avoid that glue-leg-hair problem!
Listener Brandon asks about huge ancient cold-air return ducting. Here are some pics to explain the issues:

Listener Wade has a question about using trim or foam to close an unfinished gap:


Hey, that looks familiar! Actually, your humble show notes compiler has a gap like that. The guys say it's a fire hazard, so that's something to put on the to-do list. Also, speaking of gross stories from life experience with rodents, mice love it in gaps like that.
We hope you will take advantage of two great offers for our podcast listeners: A special 20% off discounted rate to subscribe to the Fine Homebuilding print magazine. That link goes to finehomebuilding.com/podoffer.
Also, we have another special offer for podcast listeners … use coupon code GIFT20 at the Taunton Online Store. We have tons of home construction and remodeling gift ideas over there, electronic and print, for you or for your friends and loved ones. You may even find some ideas for the people in your life who love cooking, gardening, and sewing.
But what about the special offer? The prices in the store have been marked down up to 80%. Yeah, the "up to" part of that is a little weaselly, and you'll find lots of things that are discounted by a lot less than 80%, honestly. There Ain't No Such Thing As A Free Lunch. But here's a true incentive: type in GIFT20 as a coupon code for 20% off.
Today's episode of the Fine Homebuilding podcast is brought to you by Weather Shield.
Sophisticated styling. Sleek lines. Stunning simplicity. From the sightlines to the finishes and hardware, Weather Shield has considered every element of design to achieve a true minimalistic appearance with its Contemporary Collection line of windows and doors. Developed in collaboration with architects and interior designers, this collection brings a bold and modern aesthetic to the residential market. With more than 60 years of experience and 33 patents, Weather Shield is faithfully focused on helping you create something better and more purposeful. Find out how Weather Shield can bring your next project to life by visiting weathershield.com and finding a dealer in your area.
Today's episode of the Fine Homebuilding podcast is also brought to you by Lenox Tools.
When you are in the middle of cutting, it is a hassle to change blades. That's why Lenox is excited to introduce their new line of reciprocating saw blades. Now, when you are cutting through metal with the Lazer CT, or through nail-embedded wood with the Demolition CT, you can count on them to last 10x longer than standard bi-metal reciprocating saw blades. And, with the Speed Slot Hole Saw, you get twice as much life along with a unique staircase design that lets you easily pop out plugs. So, if you' re cutting metal, demolishing, or drilling holes, you can rely on Lenox to last long after the job's done.

The show is driven by our listeners, so please subscribe and rate us on iTunes or Google Play, and if you have any questions you would like us to dig into for a future show, shoot an email our way: [email protected]. Also, be sure to follow Justin Fink, Rob Yagid, and Fine Homebuilding on Instagram — and "like" the magazine on Facebook. Note that you can watch the show above, or on YouTube at the Fine Homebuilding YouTube Channel.
The Fine Homebuilding Podcast embodies Fine Homebuilding magazine's commitment to the preservation of craftsmanship and the advancement of home performance in residential construction. The show is an informal but vigorous conversation about the techniques and principles that allow listeners to master their design and building challenges.
Here are a few links related to this podcast: