Tools & Materials
Simpler than Stub Outs
Pull Stop Box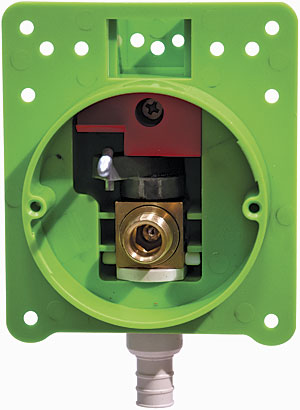 When plumbing a bathroom, you typically need to install a stub out, a bracket, an escutcheon, and an angle stop before running the flexible supply line to the fixture. The Pull Stop Box (PullStopBox.com) eliminates the stub out and moves the valve into the wall.
The rough installation is a cinch: Connect the water supply line to the box, which has an integral brass valve, and screw it to a stud. When the drywall work is done, remove the debris cover, thread the braided supply line coming from the toilet or sink to the Pull Stop Box, and snap on the paintable trim cover. A knob on the cover opens and closes the valve; push in for water and pull out to shut off the flow.
The valve box is available in four different 1/2-in. connection types: sweat, CPVC, crimp PEX, and Wirsbo PEX. The standard version is $13, and the "lead-free" version (less than 0.25% by weight) is $15.