Tips for Specifying, Pouring, and Finishing Concrete
Get the right mix and be sure to order enough concrete for your next footing, foundation, or slab.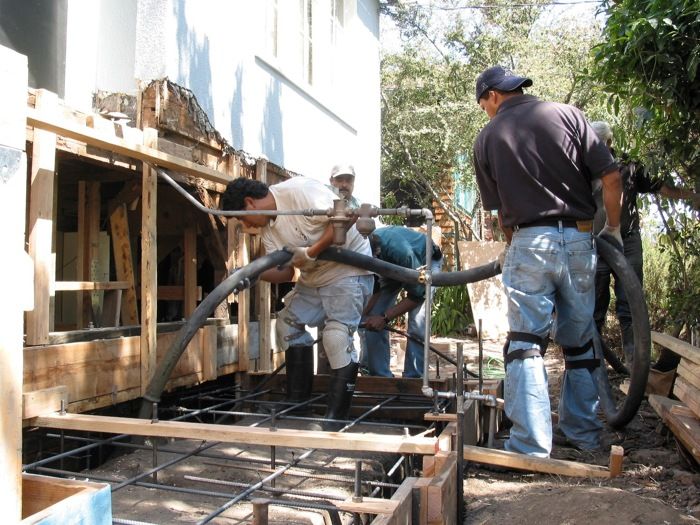 Concrete has so many different uses (such as floors, foundations, and countertops) and so many admixtures (water reducers, retardants, accelerants, air entrainers, and so on) that the best way to get the mix you need is to specify its use and desired characteristics. That is, when ordering the mix, tell the supplier the quantity you need (in cubic yards), how the concrete will be used (driveway, foundation, patio slab), the loads it will bear, how far it must be pumped, how it will be finished, and other such details.
What strength concrete will I need?
If you're pouring a slab that will have a smooth finish, you might specify "a 2,500 psi mix, but a true five-sack mix," which will be "creamy" enough to finish with a steel trowel. If you specify a 2,500 psi mix but don't describe the finish, the supplier might use four sacks of cement and a water reducer to attain that strength. However, with less cement in it, the mix would be sandier and more difficult to finish.
Concrete pumps require a different mix
Where the concrete will be placed can also affect the mix. For example, concrete for a second-story patio far from the street may require a smaller, 2-in. (inner diameter) hose to pump it, so the supplier may specify smaller aggregate (3⁄8-in. vs. 3⁄4-in.) to facilitate flow. Aggregate size, in turn, affects load-bearing capacity, so a mix with 3⁄8-in. gravel is often bumped up, say, to 3,000 psi. If the patio slab will also be steel troweled, the mix thus becomes "a 3,000 psi, 3⁄8-in. aggregate, true six-sack mix." Well, you get the point: Be specific.
How much concrete should I order?
Estimating the amount of concrete in cubic yards is straightforward: The calculation is width x length x depth (in feet) of the area you want to cover. You then divide that result by 27 (as there are 27 cu. ft. in 1 cu. yd.). If you're pouring a slab, the chart above, "Cubic Yards of Concrete in Slabs of Various Thicknesses," calculates the cubic yards you need to order based upon the slab thickness you want.
Most concrete-mixer trucks can hold 9 cu. yd. to 11 cu. yd. So if your pour requires more than one truck, ask the supplier to time deliveries 90 minutes apart so you have enough time to deal with each delivery. Finally, don't shave the estimate too close; far better to have too much concrete than too little.
Is it called "pouring" or "placing" concrete?
Every trade has its jargon. Concrete snobs, for example, insist on using the phrase placing concrete, though concrete coming out of a 3-in. hose looks more like a pour, albeit a sluggish one. Perhaps "placers" want to emphasize that concrete is so weighty that you should place it as close to its final location as possible. Point taken. But to denote the general movement of concrete from truck to forms, pour us a tall one.
This article is excerpted from Renovation 4th Edition, just published by Taunton Press. R4's 614 pages include thousands of field-tested tips and techniques, 250+ technical illustrations, roughly 1,000 photos selected from the 40,000 I have taken over the years, and lifetimes of experience that builders have shared with me. I hope you find Renovation 4th Edition useful on your next project. – Mike
© Michael Litchfield 2013