Patrick's Barn: Heat, Light, and Internet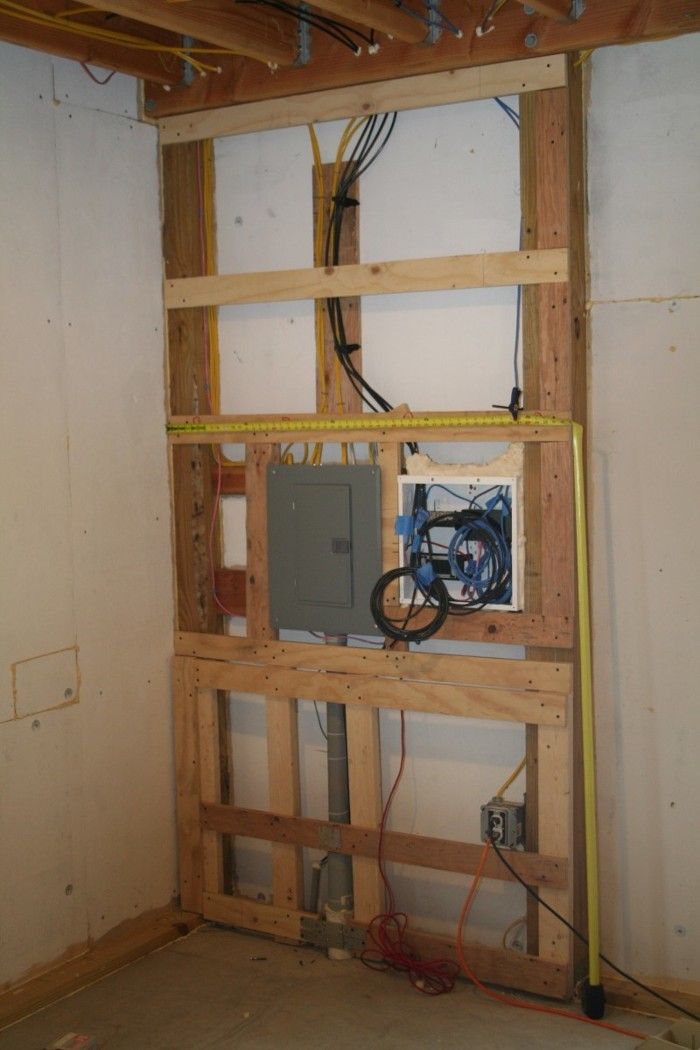 I took a break from drywall for a couple of weeks to focus on installing our vintage woodstove and running Cat 5 and cable-TV cable. The inspector signed off on the woodstove installation a few days ago. The stove was in my wife's grandfather's kitchen in Vermont for as long as anyone can remember. Given its age, it's in really good shape. The shiny parts retain much of the original nickel finish.
How to heat the barn was a topic of conversation from the time we started the project. We considered several options, ranging from a forced-air propane furnace, a propane unit heater, and even a high-efficiency mini-split. In the end, our decision to use the woodstove and 18,000 Btus of baseboard resistance heat in the upstairs was driven by the fact that the barn will sit empty much of the time and by our rock-bottom budget.
We had the woodstove in our basement. In fact, we've carried it with us through three moves. We also have accumulated cordwood from two trees we've taken down and the tree limbs that fell during a pair of nasty storms. The electric baseboard heat cost about $400. The cheapest furnace I could find was about $1000 (not including the vent pipe and ductwork). A suitable mini-split would be $3000 to $4000. A gas unit heater would be several hundred dollars and wouldn't look very good hanging from the ceiling.
In the end, I decided that I'd spend on electricity what we saved by not installing central heat. I figure we'll only need the electric baseboard when the barn's upstairs is occupied with the occasional overnight guest. The stove looks great and works well, too. It brings the 40-deg. space to 60 deg. in about 45 minutes. Another plus of having it connected is burning through the small mountain of scrap wood I've accumulated through two years of barn construction.
The other big milestone is running the low-voltage wiring. Internet and cable have always been an afterthought in my projects, so it's good to know there are jacks in nearly every corner of the building. I look forward to tinkering on things while keeping an eye on NASCAR and Steeler football. I guess I'll have to get a pair of TVs so my wife can have her choice of programming, too. What do you guys think about our choice to forego central heat? What do you think about the rest of the space?
You can read more about my barn here.
Here's the 10-space, 100-amp subpanel and the structured wiring panel. The barn has four internet jacks and four CATV jacks. Furring out this small section of wall for drywall took a surprisingly long time. Unfortunately, the wall will have to be stepped to accommodate the electrical conduit.
When I didn't have a nail plate wide enough to span the pipe, I screwed smaller ones to hurricane straps I had in my collection of oddball metal connectors. I even cut off the screws so my improvised plate would be tight to the pipe.
The "wainscotting" is salvaged fiber-cement siding. The material is stained from sitting on the ground for more a year. I can't wait to paint it. I'm hoping to find a really good primer that will cover the discoloration. The door is a fire-rated model. Its metal jambs made it really easy to install. 
You really learn who your friends are when you have a cast-iron woodstove to move. Before I could help, my three co-workers had it almost to the barn. We cracked open a growler of Berkshire Brewing's Lost Sailor Ale in celebration once it was in place.