Long-Lived Fence Posts with a Tablesaw Lathe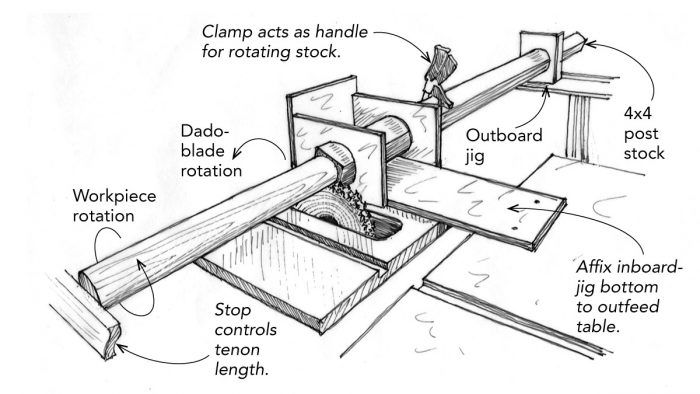 When I started designing a new fence for my house on Oahu, I couldn't stop thinking about the high groundwater level and the termites. I want the things I build to last a long time, so I decided to encase the portion of the 4×4 posts that would be below grade in ABS pipe, as shown in the drawing. This also gave me a chance to use my favorite jig: the tablesaw lathe, which uses a 3/4-in. dado head to remove stock from a workpiece fed across it from the side.
The jig is composed of 3/4-in. plywood scraps roughly 12 in. sq. I start with a four-sided box with the bottom sticking out, as shown in the drawing above. I screw this inboard jig to the saw's outfeed table. The outboard jig is on a separate stand at the same height.
A 4×4 measures about 4-7/8 in. diagonally. I used a 5-in. hole saw to cut the holes in the jig and glued PVC edgebanding to the inside edges to reduce friction. A little slop in the hole is OK, but accurately aligning the two jigs is critical. I used my straightest 4×4 for this.
If you're making your first cuts with a setup like this, start slowly. The direction to turn the stock is the same direction that the blade is spinning. You'll build speed with accumulated confidence. Place a stop at the far end of the 4×4's travel to ensure consistent dimensions for the turned portions of the stock. Be sure to wear goggles, a respirator, and hearing protection.
I used 3-in. and 5-in. hole saws to make termite shields out of 1/16-in. aluminum sheets. I keep about 4 in. of the pipe above ground so that I can check for termite tubes. Pipe caps on the bottoms of each post complete the seal. I had to drill a small hole in the caps because the trapped air would not allow the caps to go on. I later plugged the holes with a stainless wood screw and silicone.
David Kalin, Kaneohe, HI
Edited and Illustrated by Charles Miller
From Fine Homebuilding #238