Design
The Big Back Porch
A four-porch addition breathes new life into a compact bungalow.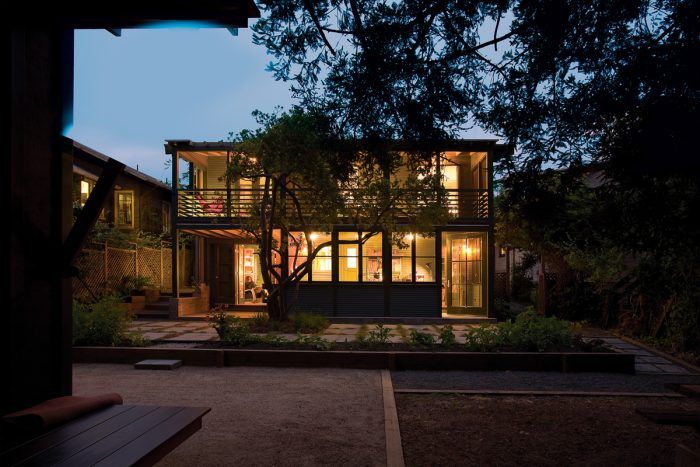 Synopsis: As senior editor Charles Miller writes, homeowners Laura Hartman and Paul Duguid lived in a cozy Berkeley bungalow, but their house didn't interact very well with its backyard. Through the design efforts of Hartman, an architect, and builder Gene DeSmidt, however, the back of the bungalow now sports a collection of porches that connect the house to the backyard. The four porches provide a variety of spaces that interact with both interior and exterior. On the lower level, they added a cleanup porch, used for prepping garden vegetables and cleaning up after outdoor activities; and a studio porch, Hartman's painting space, which was made to appear as if it had evolved from porch to room over time. Above those porches, a dining porch invites alfresco meals, and a sleeping porch enclosed with bronze screening offers an opportunity to rest in fresh air. As part of the renovation, Hartman and DeSmidt transformed a jumble of closets and mechanical spaces into a library that connects to the studio porch.
Stand on the sidewalk in the old parts of New Orleans or Charleston, S.C., and you're likely to see row after row of two-story houses that are all porch. These two-tiered galleries with delicate railings are too deep to be balconies and too shallow to be decks, but they're deep enough to be abundantly useful for all manner of hanging out, not to mention totally charming. With that in mind, and wishing to forge a connection with their diamondin-the-rough backyard, architect Laura Hartman and her husband, Paul Duguid, transformed their Berkeley bungalow by adding an 8-ft.-deep, 29-ft.-wide two-story addition to the back of their house. This West Coast riff on Bourbon Street verandas is a federation of four porches, two on each floor, and each with a different function. The ground-floor porches now provide the missing links to the backyard, and each of the interior spaces that border one of these porches also has been energized by its connection with the outdoors.
It started with an unfortunate backyard
Laura and Paul's house is what is known locally as a camel-back bungalow. It's a partly split-level house over a grade that falls away toward the backyard.
The upstairs portion of the house has two bedrooms, which have remained largely untouched, and the downstairs had a laundry room, a bath, closets, a cramped study, and a small basement-storage area.
Laura and Paul needed more space for their bikes, kayaks, and camping gear, and early remodeling schemes included expanding the basement for this. Then a colleague asked, "Do you really want to schlep your bikes in and out of the house, up and down a set of stairs? Why not build a shed for that?". They also needed an inviting place to read and to watch movies. Most of all, they wanted the house to engage the outdoors in a way that improved both. The two-story stucco cliff that was the back of the house had to go.
For more photos, drawings, and details, click the View PDF button below:
View PDF