Tools & Materials
Tool Test: Shop Vacs
Only the best vacuums can handle both fine dust and heavy pickup.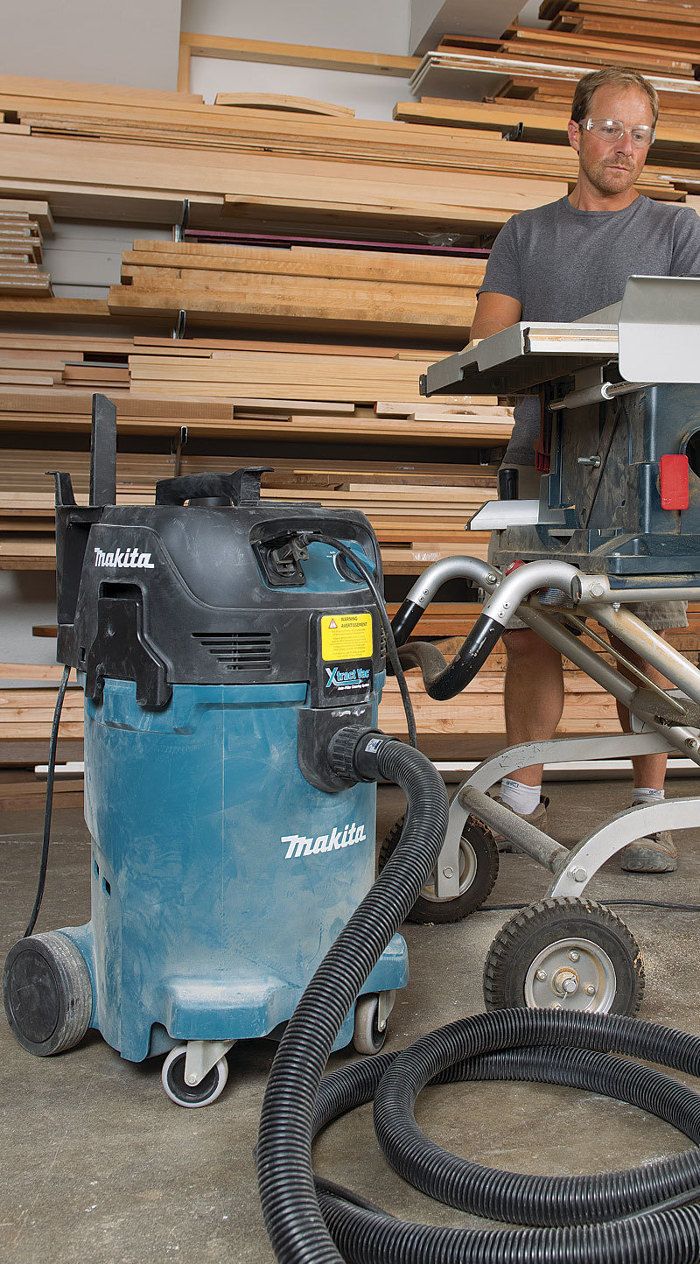 Synopsis: Portland, Ore., carpenter Paul Johnson put eight shop vacuums through their paces to determine the one he finds best overall. Johnson established a series of tests, including vacuuming up concrete mix, powdered drywall compound, and then wood shavings that contained nails and screws. When the dust settled, Johnson rated the Makita VC4710 as best overall and the Ridgid WD1450 as best value. He also tested tools made by Bosch, DeWalt, Fein, Festool, Milwaukee, and Shop-Vac. This article includes a sidebar on vacuum filters.
In the past several years, the lowly shop vac has transformed from the dull canister brought in to clean the floors after a day of work to an essential, often high-tech tool found on job sites and in shops. An increased understanding of the health benefits of keeping dust out of the air helped to spark this transformation. Nowadays, most tools are designed with dust ports to connect to vacuums, and adapters are commonplace for retrofitting older tools. Features such as tool activation and self-cleaning filters are becoming more common and have greatly increased the versatility of the traditional shop vac.
How we chose
There are a host of shop vacuums on the market, so choosing which to review was a challenge. Rather than focusing on any specific size or feature, we wanted to identify vacuums that would work well for general job-site and shop use. Beyond that, we looked at cost, availability, capacity, features, and functionality. In the end, we chose eight vacs that met our criteria and that we felt would be the most versatile.
All of these models can be fitted with HEPA filters if they don't already come with them, and all can be fitted with disposable filter bags. Likewise, all are on wheels and can be lifted or pulled around easily. The hoses range in length from 7 ft. all the way up to 16 ft.; the longer hoses are especially useful when used with sanders or other tools that need a wide range of motion. All of the vacuums tested have power cords at least 15 ft. long, a welcome change from the standard short power cords of yesteryear.
All but two of the vacuums are tool-activated; we included two that aren't because they're economical choices and still can be attached to most tools and turned on separately. We chose vacuums that were as close in capacity as possible, in the medium-to-large range.
We also considered availability and cost. There are several brands of worthy shop vacs that could have been included in this review, but ordering the vacs themselves, let alone finding parts or accessories, was often restricted to specialty shops and online outlets. Regarding cost: While there are some excellent vacs on the market that cost over $1000, we decided to stay under $700 or so — not an outrageous price for a well-made tool that is used nearly every day.
How we tested
We devised a set of tests and real-world situations to get a broad range of results. We didn't shy away from putting all eight vacs through some strenuous ordeals to see how well they would hold up.
All the vacuums tested have optional filter bags that can help to increase efficiency and to keep dust from getting back into the air, even when emptying the tank. It seemed important to test the vacuums both with and without these optional bags. In general, the bags barely cut down on suction power, and all of them increased efficiency by keeping the filters from becoming covered with dust — even on the vacuums with a self-cleaning filter system.
For more photos and details, click the View PDF button below:
View PDF