A Better Way to Fold a Tarp or Drop Cloth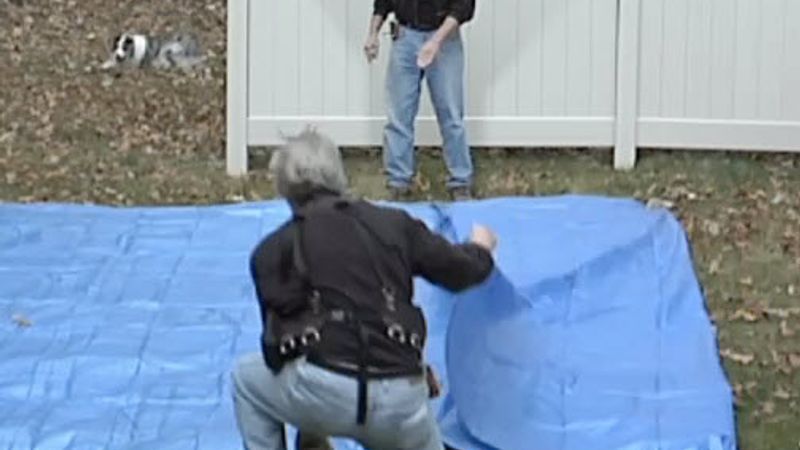 Chuck Miller demonstrates why folding your tarp like a flag is not the most convenient way to stow it. Learn this old trick from the theater industry and save time every time you need to protect a surface.
Rich Kramer from Berlin, Mass., take a cue from the theater guys who fold up tarps on a daily basis. They know how to fold it up so it's easy to unfold just a little bit of it so they can get just what they need without having to take it all the way back. Here's how it works.
We've got a rectangular tarp with the long side running horizontally; the short sides are on the ends. Now we're going to start on the short side, and we're going to fold that to the middle. Then I'm going to go to the other side and fold that to the middle. Then I'm going to repeat that one more time, folding to the middle on both sides. Now, depending on how big the tarp is, I can fold it in half, foldit in half again, and halve it one more time.
Imagine if we had maybe some bungee cords or short lengths of rope, and our grommets around the edge. What that does is put the bungee cords or ropes in the center of our bundle, and as we fold our tarp in increments towards the center, it makes a package that we can unfold the same way, and we can use a part of that as our tarp if we dont need the whole thing. and if it's going to get wet outside, i can turn the whole thing over, and any cracks or folds are on the bottom so they're not going to collecto water.
Rich, that's a great tip, thanks for sending it.
_________________________________________________

Attention all tipsters!
We're looking for any smart idea that would make a great There's a Better Way Video or that could be featured in the Tips & Techniques department in Fine Homebuilding magazine.
We pay for any tips that get published
You can post tips in our submit a tip blog, or just email them to Fine Homebuilding care of Chuck Miller. Thanks!
Plus, browse 30 years of great ideas in our Reader Tips department.