Design
Redefining Retirement
Architects Sarah Susanka and Tina Govan collaborate on a one-of-a-kind project that provides lessons in comfort, craft, and flexible living at all stages of life.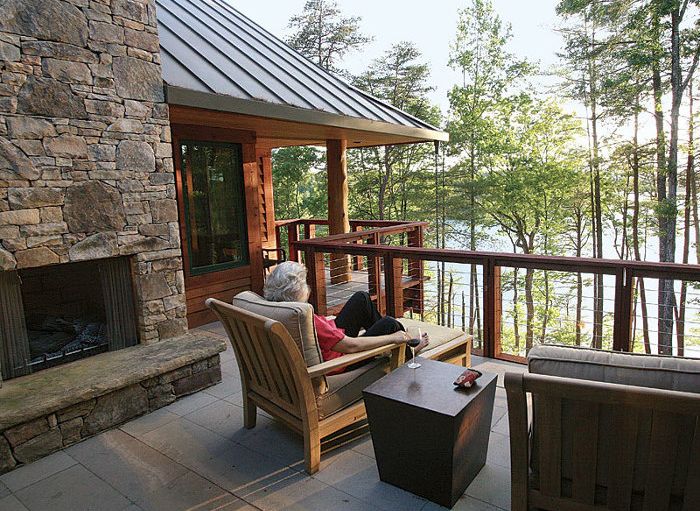 Synopsis: North Carolina architects Sarah Susanka and Tina Govan collaborated on the design of this one-of-a-kind retirement home, which was inspired by the traditions of Adirondack and Japanese architecture. Located on a truly spectacular lakefront property, with panoramic views of the water and mountains beyond, the house is designed to meet the needs of the owners as they age as well as to be flexible enough to accommodate frequent visits from family and friends. The main article is by Susanka, and there's an extensive sidebar by Govan on ways to design a house that works in concert with its landscape. Photo: Tina Govan
---
It has always seemed odd to me that we would call the season of life when people stop working for a steady paycheck "retirement," as if it were from life itself, when for retirees I've worked with over the years, this is really the time they start fully engaging the things they love most. When we learn how to frame retirement differently, and to design houses to support what we've always longed to do, it can mean something entirely different. That was certainly the objective of the couple that this home was designed for.
Architect Tina Govan and I were fortunate to be given the opportunity to collaborate on the design of this house, not only because it sits on one of the most beautiful properties I've ever seen, but also because it's for people who understand what retirement can be: a time for entertaining, for actively engaging the natural world, and for seeking tranquility and quiet contemplation.
Two houses in one
When Tina and I first sat down with our new clients, they told us that they wanted this house to perform as two houses in one. On the one hand, they wanted a house that would comfortably serve their everyday needs as a couple now and as they age. On the other, they wanted a house that would provide enough room for guests and family and even offer them their own private area for short or extended stays. A long-term dream was to have this house become a place for future generations of their family to gather.
They also were interested in making the house energy efficient and in using local materials. They wanted a home that was very much a part of its place: connected to nature and to the traditions and artistry of the area.
A site-driven plan
Our approach was to design the house and site as one, weaving indoor and outdoor spaces together in a way that choreographs the journey from the driveway down to the lake below. We developed the house as a series of structures lacing their way along this pedestrian path and punctuated by dramatic views through to the mountains and lake beyond.
By conceiving the house in this way — as a kind of village gathered around outdoor rooms rather than as a single building — we were able to reduce its scale, define a richer range of indoor and outdoor spaces, and blend the house more easily into its natural surroundings.
Accessibility with a dose of reality
Like many retired clients, the homeowners wanted the house to allow them to age gracefully as their needs change over time. From the outset, Tina and I knew that we would be designing the house to accommodate an elevator should one ever be needed, and we knew the main level would need to be accessible by wheelchair or walker, without the house broadcasting that this was its objective.
For more photos, drawings, and details, click the View PDF button below:
View PDF