How To Cut Out a Damaged Piece of Flooring With a Biscuit Joiner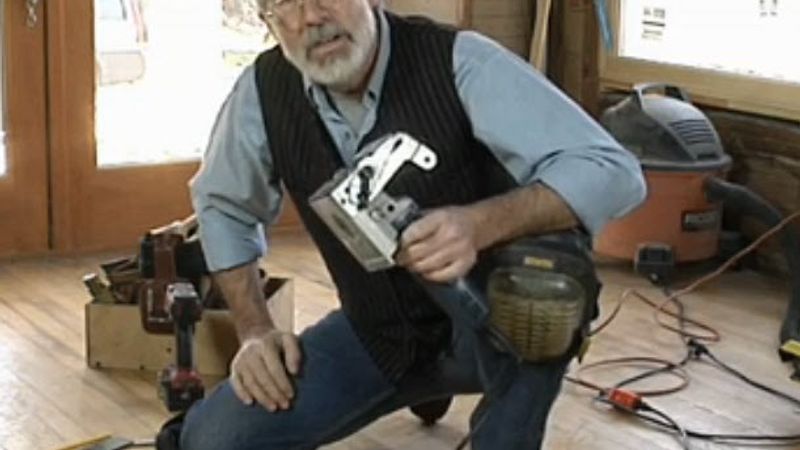 If you have to patch a hardwood floor, you could remove the damaged floorboard with a multitool, take a half hour in the process, and burn through a couple of expensive blades, but there's a better way.
David Hornstein, from Lexington, Mass., has figured out that making that initial cut is a heck of a lot faster if he uses a biscuit joiner. Here's how it works.
The first thing we do is screw a block to the scrap piece—the piece we are going to replace—so that the holes are not in the good floor. And this block has been cut at a right angle, so it's going to serve as my guide. Now I need a center line down the flooring that I can align with the center line on the biscuit joiner. Once I've got that center line, the next and most critical part of this process is to adjust the depth of the cut on the biscuit joiner so that the width of the cut you're going to make matches the width of the flooring. In this case it's 2-1/4-inches, I've made my adjustments, I've set the machine at a zero biscuit, I've fine-tuned it with the fine-tuning screw, and I'm ready to go. I put the biscuit joiner in place, register it against the block—which means I'm square, line it up on my center line, turn it on, plunge, come back up, and that's all there is to it. Now I still need to use an oscillating multi-tool to finish the cut on either end, but that's going to be a lot faster. If you don't have a multi-tool, use a hammer and chisel.
Great tip, David. Thanks for sending that in.
Kevin Ireton is editor-at-large and a good friend and former colleague of Chuck Miller's. Keep your eye out for more Better Way videos from Kevin and several of our other regular contributors in the near future.
_________________________________________________

More handy tips:

Make a door buck with scrap material
How to Make a Custom Dust Collector for Your Router
How to Apply a Weathered Finish to New Wood Siding
_________________________________________________
Attention all tipsters!
We're looking for any smart idea that would make a great There's a Better Way Video or that could be featured in the Tips & Techniques department in Fine Homebuilding magazine.
We pay for any tips that get published
You can post tips in our submit a tip blog, or just email them to Fine Homebuilding care of Chuck Miller. Thanks!
Plus, browse 30 years of great ideas in our Reader Tips department.