How-To
Can I recoat a fiberglass ladder?
Is it time to invest in a new one, or can you make some fixes yourself to extend its life for many more years? Brett Latimer offers some advice on how to recoat a fiberglass ladder.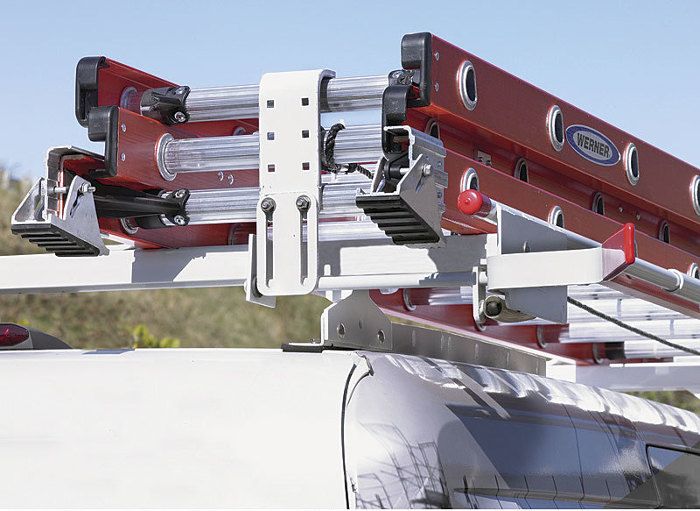 Q:
I have a fiberglass extension ladder that stays on my truck all year long. The ladder's protective finish has worn away, and when I use it bare-armed, I itch like crazy from the exposed glass fibers. Is it possible to recoat the ladder with some off the-shelf product, or is it time to buy a new ladder?
Pete Draganic, None
A:
It's common for fiberglass ladder rails to weather, as will most materials when exposed to an outdoor environment. This degradation of the fiberglass surface—which includes change in the appearance of the fibers, color shift, and loss of glossiness—often occurs faster in regions with high humidity and high UV radiation.
If the ladder has any structural damage, you'll want to consult with the manufacturer on repairs or replacement, but if it's just finish degradation, you can recoat it and get back to work.
First, sand the rails of the ladder smooth with a nonmetallic abrasive such as a 3M Scotch-Brite pad or a soft-back sanding sponge. Don't use ordinary sandpaper or an emery cloth because these will leave abrasive grit embedded in the rail surface, which may cause the fiberglass to become an electrical conductor.
Next, wash the entire rail surface with denatured alcohol, and allow it to dry. Wash it a second time to ensure that no residue has been left on the ladder's surface.
Finally, apply a coat of primer that is compatible with the chosen topcoat, which should be one or two coats of acrylic lacquer, epoxy paint, or polyurethane paint. One popular option is Rust-Oleum Universal spray paint, which is inexpensive and widely available. Pigmented coatings are best, because they help screen out a greater amount of UV radiation than a clear finish. If it's a Werner ladder, you can also contact our company for replacement safety stickers, which are required by OSHA to be adhered to and legible on all ladders.
Going forward, you can help avoid this sort of wear and tear on any ladder that's stored outdoors for extended periods by waxing the rails a couple of times a year. A good commercial nonslip paste wax, such as SC Johnson Paste Wax, will reduce the possibility of glass-fiber prominence.