A manufactured stone installation that's doomed to eventual failure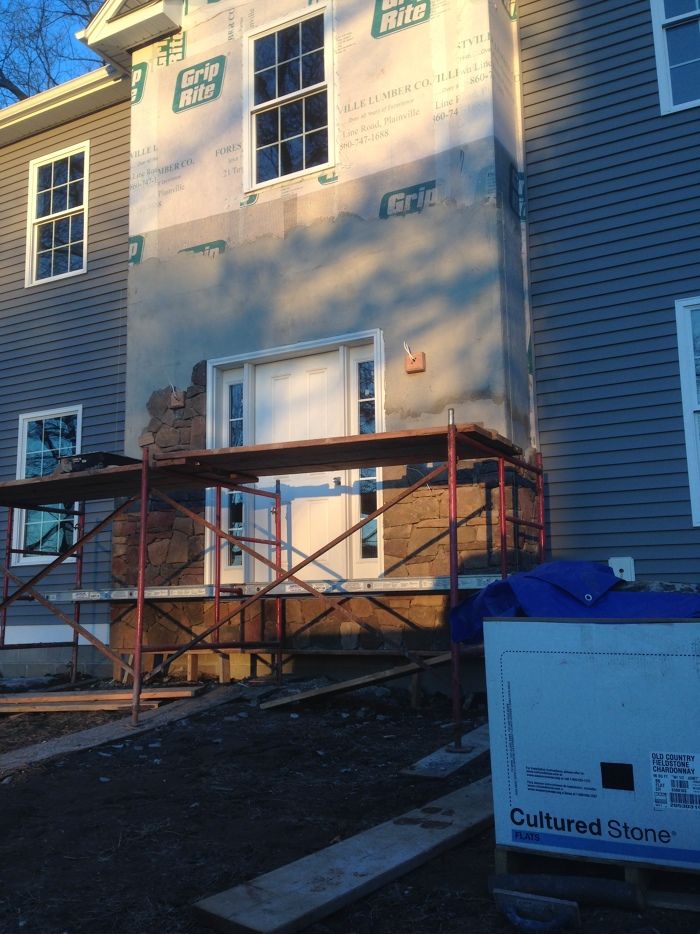 There's a house here in CT that I go by everyday on a walk with my dog. It's a new house, but it's been a slow building process over the last year or so, and still remains incomplete. Although the pre-painted fiber cement lap siding has been up for the entire winter, the front facade of the house–a full height bump out housing the front entry door that has been covered in housewrap but otherwise left undone–is just getting under way.
The builder or homeowners (perhaps it's the same person?) chose manufactured stone veneer (sometimes called cultured stone) a popular addition to new houses these days. I don't mind manufactured stone. I think it can be a fair tradeoff between cost and quality, often looking pretty darn convincing, especially from the curb. But I wasn't as concerned about the curb appeal on this job as I was about how it was installed.
Unfortunately, this installation will fail. It's really not even a matter of "if", but when.
The mason (yes, there was a mason company sign out front, and this was a professional installation), likely without realizing it, was dooming the OSB sheathing on this wall to eventual failure from rot.
"But there's housewrap under the veneer stone, so the house is waterproof, right?" Unfortunately, no, not in this case. This is a common error, and one that ties in with an article slated for the next issue of Fine Homebuilding (look for my story "Are drainable housewraps enough?" in the June/July issue, and on this website).
In terms of moisture, manufactured stone isn't much different than stucco, and builders have learned a lot of hard lessons about stucco over the years. Here's an excerpt from the upcoming article:
"Stucco is a so-called reservoir cladding, which means that it can ­absorb and hold water. Warmth from the sun pushes moisture from the surface of the stucco farther into the wall, where it can sit against the sheathing and lead to rot. Decades ago, builders installed a single layer of asphalt-impregnated building paper over the wall sheathing to protect against this moisture. Scientists realized later that the reason why this single layer worked so well is that as the stucco dried, it debonded from the building paper and left small gaps, which ­allowed water to drain away. Over time, however, the manufacturing methods for building paper changed, and a single layer of the newer ­paper maintained its bond with the stucco rather than debonding like the old stuff; as a result, the drainage space wasn't created. Around the same time, builders started switching from plywood sheathing to OSB sheathing, which is more moisture sensitive (see The Mold Explo­sion: Why Now?). You can guess how the story ended: lots of builders dealing with catastrophic cases of rotten sheathing."
So what's in store for the front facade of this house? Simple – the OSB sheathing will rot. How quickly that happens will be determined by a lot of other factors, such as the orientation of the front elevation of the house in terms of exposure to sun, rain, and wind. It will rot much faster if the builders also installed a vapor retardant cavity insulation (closed cell spray foam, for instance) or used an interior sheet poly vapor barrier, both of which would prevent the wall from being able to dry to the inside, a potential saving grace or at least helpful delay.
So what's the solution here? The bare minimum would be to install the manufactured stone over two layers of housewrap or felt paper. Again, it's just like stucco: the outer layer of housewrap or felt is sacrificial, the inner layer remains intact to weatherproof the house, and the space between the two layers lets water drain. Even better would be to create a physical gap between the back of the fake stones and the hosuewrap covered OSB sheathing, allowing for increased drainage. Mesh products like Benjamin Obdyke's Homeslicker are ideal for this application.
I thought about printing out a copy of this article we did years ago on Working with Manufactured Stone, taping it to the door of the house, and hoping that somebody took the time to read it. It's really hard to see money being spent on good-intentioned aesthetic details that ultimately will lead to massive moisture problems.
The single layer of housewrap under this veneer of manufactured stone is not enough to protect the moisture sensitive OSB sheathing underneath.
Boral's "cultured stone" installation instructions clearly state that two layer of housewrap or felt must be used when installing their stone veneer over anything other a masonry surface.
Builders learned some very hard lessons about moisture management in stucco installations, and those lessons need to be remembered when using manufactured stone veneers, too.