Seattle Gets a Passive-House Town House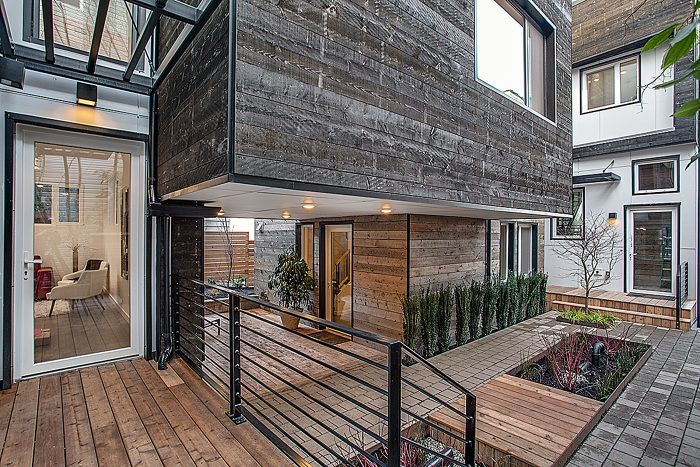 The Seattle developer who built the city's first Passive House single-family home has completed construction of a five-unit town-house project that includes one unit built to the Passive House standard.
It would be the first town house in the city to earn Passive House certification, and it follows the 2013 completion of "Park Passive," the three-story home also built by Cascade Built owner Sloan Ritchie and described in this GBA article.
The town houses were designed by b9 architects, with Passive House consulting by NK Architects, which designed the Park Passive project. The units range in size from 1100 to 1700 sq. ft. and have either two or three bedrooms. Each town house has three stories and two bathrooms.
Each of the units has a different look, but only one of them will be submitted for certification by the Passive House Institute US.
"All units were built using Passive House techniques to achieve a significant reduction in energy use to heat and cool the house," the developers explained in an email. "Passive House is an unknown for many buyers and as a result it's difficult to secure the needed ROI to make a project like this financially feasible. This project is located on an urban lot in a dense city neighborhood and would have required each unit to be modeled separately, resulting in additional and prohibitive cost increases, so we modeled one unit to Passive House levels and used that same wall assembly for every unit."
One of the two-bedroom units is listed for sale at $690,000 ($403 per sq. ft.), similar in price to a slightly smaller non-Passive House two-bedroom unit nearby, which is on the market for $650,000.
Construction details
Here are the details as provided by Cascade Built: 
Exterior walls: Wood-framed 2×6 walls are sheathed with OSB and insulated with blown-in fiberglass in the cavities plus 4 in. of Roxul mineral wool on the exterior (total R-39).
Roof: Framed with 11-7/8-in. I-joists and insulated with blown-in fiberglass plus R-15 of polyisocyanurate insulation for a total R-value of 63.
Foundation: Stemwalls for the concrete foundation and crawlspace are insulated to R-20, and the floors are insulated to R-38.
Windows: Three of the units have double-pane Zola windows with a solar heat-gain coefficient (SHGC) of 0.5 and a U-factor of 0.19. The other two units have triple-glazed windows with an SHGC of 0.5 and a U-factor of 0.11.
Mechanicals: Heating and cooling are provided by ductless minisplit air-source heat pumps. All units have Zehnder Model CA 350 heat-recovery ventilators for whole-house ventilation.
Airtightness: The Passive House-certified unit had a blower-door test at 0.5 air changes per hour at a pressure difference of 50 pascals (ACH50). The other four units tested at approximately 1 ACH50.
Hot water: On-demand, gas-fired heater.
Renewables: Wired for photovoltaics and car charging.
One of the five town houses built by Seattle developer Sloan Ritchie to Passive House, or near Passive House, performance. Some of the exterior cladding got a traditional Japanese treatment called shou sugi ban, in which wood is scorched to increase resistance to insects and decay.
Living room at View Haus 5.