How-To
Are Drainable Housewraps Enough?
They're a good start, but keeping your house dry and free of rot may require more than just drainage.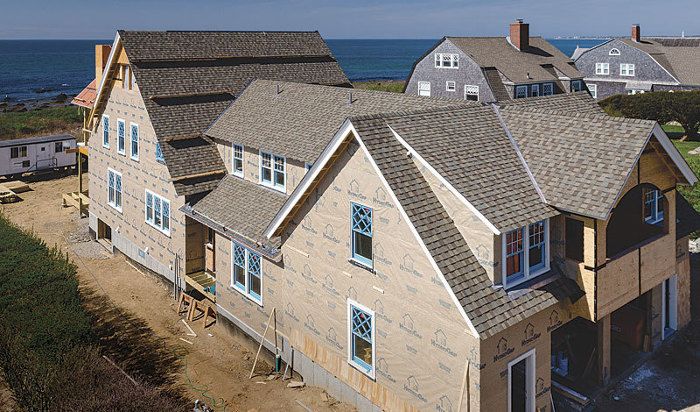 Synopsis: Providing airflow and drainage behind a home's siding keeps moisture issues under control, extending the life of your paint or stain, the siding itself, and the structure beneath. Drainable housewraps may seem like a silver bullet — better than siding installed tight to a standard smooth-faced housewrap and less complicated than furring strips or other ventilated rain-screen systems — but don't mistake drainage for airflow. Photo courtesy of Benjamin Obdyke.
In an ideal world, the exterior cladding on a house would be smooth, continuous, nonabsorbent, and completely water-proof, protecting the moisture-sensitive structure beneath. But we aren't building submarines — we're building houses. Clapboards, sidewall shingles, and other cladding options all are leaky.
But leaky cladding is OK. Building scientist John Straube, who has long studied the effects of moisture in walls, wrote in 2010 that we must "accept that some water will penetrate the outer surface and remove this water by designing an assembly that provides drainage."
Although most housewraps are able to protect sheathing from occasional wind-driven rain, they don't provide a purposeful route for water that gets behind the siding to drain away or dry out. For that, you need a physical gap between the back of the cladding and the sheathing it's attached to. That's where a new breed of drainable housewraps comes into play.
Essentially, housewraps that have been wrinkled, dressed with bumps, or otherwise designed to maintain a gap provide a small space for water to drain away before it has a chance to cause problems such as peeling paint or rotten sheathing. Unlike when incorporating furring strips or another form of vented drainage, these drainable wraps require none of the additional detailing or rethinking of transitions between windows, trim, and siding, which means they are more likely to get used by builders who aren't willing to change their building details. But the real question is whether a drainable wrap is just a premium version of standard smooth housewrap, or whether it is a comparable substitute for a true ventilated rain-screen system.
Lessons learned from stucco
Drainable housewraps may seem like a new idea, but they actually were borne from the hard-earned lessons of past failures. The problems builders have encountered with stucco are an excellent example.
Stucco is a so-called reservoir cladding, which means that it can absorb and hold water. Warmth from the sun pushes moisture from the surface of the stucco farther into the wall, where it can sit against the sheathing and lead to rot. Decades ago, builders installed a single layer of asphalt-impregnated building paper over the wall sheathing to protect it against this moisture. Scientists realized later that the reason why this single layer worked so well is that as the stucco dried, it debonded from the building paper and left small gaps, which allowed water to drain away. Over time, however, the manufacturing methods for building paper changed, and a single layer of the newer paper maintained its bond with the stucco rather than debonding like the old stuff; as a result, the drainage space wasn't created. Around the same time, builders started switching from plywood sheathing to OSB sheathing, which is more moisture sensitive. You can guess how the story ended: lots of builders were forced to deal with catastrophic cases of rotten sheathing.
For more photos, drawings, and details, click the View PDF button below:
View PDF