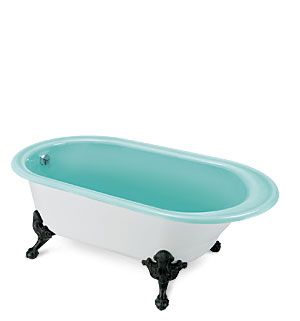 Bathrooms have changed a great deal over the years. Sure, all of the basic parts are the same, but how we view them has evolved for the better. More homeowners are taking the spa approach–at least for their master baths. The basic idea is to put a little luxury in a room that is easy to forget. A lot of the focus naturally gets put on the shower, but one of the most eye-catching items is a tub. A beautiful tub can be a true centerpiece. Check out these articles that are all about the wonderful tub.
Not only do tubs come in all shapes and sizes, but they also come in a variety of materials. This article fills you in on what you need to know. What's the Difference: Tubs
Check out this piece that showcases a tub design, specially the tub surround, that is both beautiful and practical. Click on the article to reveal what is, well, revealed. Removable Tub Surround
This article is for online members. If you aren't a member, you should be. Online membership opens up a whole new level of amazing content. This particular example is about freestanding tubs. You simply won't miss a tub like this. Freestanding Tubs
Think tubs are only for big bathrooms? Check out this article that focus on some smaller tub alternatives. This article is also for online members. I made sure to include a link to a free trial membership offer below. Tubs for Small Spaces
If you are not an online member, check out an offer for three free months details here.