Building Skills Video: Tips for Hand-Nailing
A carpenter shows tricks of the trade to keep hand-driven nails from bending and wood from splitting.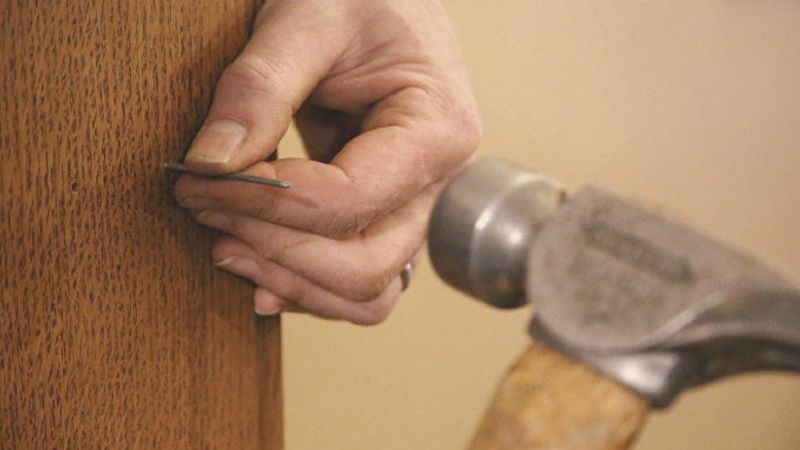 I own half a dozen nail guns. They're my go-to tools for slamming nails into framing lumber. But sometimes, hand-nailing is the way to go. "Building Skills" in issue #276 is about hand-nailing tricks—and I show some of them in this video.
I don't do a lot of hand-nailing wood framing, but in this one instance it really can help. A lot of times you'll find that one or the other of the pieces is warped and it's hard to get the two to align. The way to make that happen is to first fasten one end, and then go down to the other end and drive in a toenail from the edge and that will force one piece over. Once you drive that all the way home, those pieces are nicely aligned and not coming apart.
Blunting the point of a nail makes it much less likely to split the wood. Here I'm holding it against the wood right where I'm going to drive the nail, and blunting the point first.
Waxing a nail helps it enter the wood with a lot less effort. The less effort you have to put in to driving a nail, the less likely it is to bend.
Straight-on hammer blows are key to keeping a nail from bending as you're driving it. But it also really helps to reinforce the nail with your fingers and squeeze it really tight as you're driving it. Once I'm done driving the nail as far as I can with my fingers around it, I'll slip a shim with a sawkerf cut in the end around the nail tip to protect the wood from errant hammer blows.
When nailing near an edge that might split, predrilling is a good idea. Use a bit that's just slightly smaller than the shank diameter of the nail. Once you've drilled the hole, put the nail in it and just finish driving normally.
For more hand-nailing tips, check out "Hand-Nailing Tricks" in issue #276.