Tools & Materials
C2 Thermal Imaging Camera
A pocket-sized thermal imaging camera designed for contractors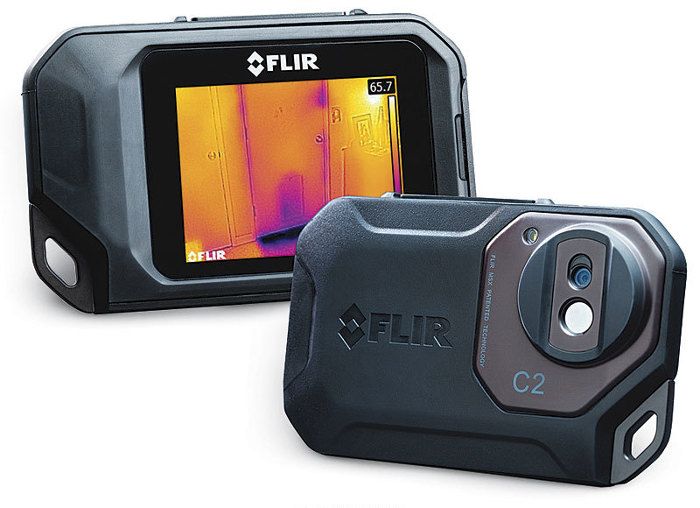 A good thermal camera is indispensable for diagnosing problems in buildings. You can use it to track down leaks in roofing and flashing, pinpoint insulation voids, and locate air leaks. You can also spot leaky ductwork and faulty electrical components. A good thermal camera suitable for these tasks used to cost thousands of dollars, but not anymore. Now there's the $699 Flir C2.
About the size of a typical smartphone, the C2 is compact, is easy to use, and has excellent image quality for an entry-level thermal camera. It also has what Flir calls MSX. With MSX turned on, an outline of the visual image is overlaid onto the infrared image. The combined image makes it much easier to tell exactly what you're looking at.
The C2 comes with 165MB of storage. At the camera's thermal resolution of 4800 pixels, I found this to be enough space for 500 paired (visual and thermal) images. You can download the images for project files and customer reports using the provided USB cable. Images also can be postprocessed using Flir Tools software. Other features include an adjustable color pallet, emissivity and distance settings, onboard flash, and auto orientation.
I wish the C2 had a removable memory card and built-in WiFi or Bluetooth connectivity, but considering that this very functional thermal camera sells for just $699, I shouldn't complain. I think that plumbers, electricians, HVAC contractors, builders, and remodelers interested in expanding their diagnostic and troubleshooting capabilities should add a C2 to their toolbox.