Best in Show: Highlights of the 2016 International Builders Show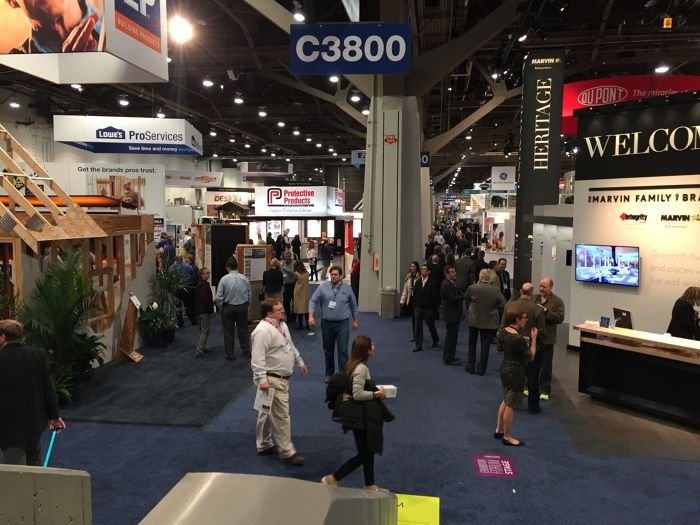 A first impression of the 2016 International Builders' Show would have to be that the industry is back. Show aisles were packed with builders, going elbow to elbow through an expanded showfloor. Exhibitors debuted freshly designed booths to promote new products, some having returned after a hiatus.
A second impression would be that virtually every product for the home is getting smart. Signs on the show floor called attention to everything from smart bathrooms, to smart water heaters, to smart toilet seats — all of it, of course, working wirelessly.
Which raises a major question: How should homes be wired, or not wired, to accommodate all these free apps? Several speakers suggested that builders ask their integrators for advice. The problem is that many of those subcontractors rep hard-wired home automation systems that are becoming obsolete.
"It's happening so fast, we can't design for it," said Craig McMahon, a San Antonio architect, referring to the wireless home movement. McMahon spoke on a trends panel. "We seem to be heading into this upgradable home concept."
McMahon refers to the idea of designing a base home with a strong, hardwired Wi-Fi hub, or hubs, then allowing buyers to upgrade it with wireless smart home packages, for security, entertainment, etc.
The question for builders is whether it still makes sense to hardwire audio (several speakers spoke highly of Sonos' wireless speakers), televisions (since programming can be streamed over wireless networks is RG6 cable really necessary?), and other home automation functions. One vendor suggested builders just run two sets of Category 6 wire to key rooms — one for communications, the other for whatever the buyer desires.
But some builders are taking a minimalist approach and saving money. "We believe the most affordable way to deliver technology is wireless," said Matt Sauls, a vice president of marketing and product development at Pardee Homes. "We're delivering wireless ports throughout the house. It's impossible to keep up with wireless trends."
At Inspirada, a masterplan community in Vegas, Pardee brings all TV, phone, and data jacks to a centralized structured panel. Buyers can choose the location of three hardwired data connections. But they get a router and wireless access point to connect to everything else. Signs inside the models tout a "commerical-grade" wireless connection.
Virtual Reality Makes Inroads
If wireless homes seem fast approaching, so does selling homes with virtual reality. Showgoers had at least four opportunities at booths and don 3D googles to look at rooms or decks in three dimensions. The experience was like being at the Consumer Electronics Show, held in the same location earlier in the month.
Lowe's, which exhibited at the builder's show, is introducing virtual reality in stores in Denver and Columbus starting in March. Customers will be able to design a kitchen on an iPad, changing cabinetry, flooring, and paint options, based on skus in the store. Then they can look at what they have designed through Oculus Rift virtual reality glasses. If they don't like what they see, they can ask salesperson to change things. The system also outputs a YouTube video that customers can watch in 3D at home through Google cardboard glasses.
The system was developed for Lowe's by Marxent, another IBS exhibitor. The same company worked with TimberTech on a 3D deck and rail app. With that app, homeowners can put down on their property a visualization marker (basically a sheet of paper) available on the company's website. Then they use an app, along with the camera in a tablet computer, to project a new deck on their own home.
"People have a vision for what they want," said Julia Fitzgerald, chief marketing officer for CPG International, which owns TimberTek. This system "helps them cross a bridge to actually show them what they want. They can project our product onto their space, change colors, and flip through the options."
Styles Shift as Homes Get Larger
As the housing recovery deepens, and competition rises, new home styles are changing. All white kitchens and baths, several speakers noted, are giving way to more off-white colors and other nuetrals, often with wood accents. Sherwin-Williams annointed alabaster its color of the year for 2016, showing it in a kitchen with black accents. Several companies introduced appliances and fixtures in new black and gray matte finishes.
With the median price of new homes at an all-time high, builders are looking for design features to make their homes stand out. Several speakers advised them to do more to accommodate pets. Don Ruthroff of Dahlin Group Architecture said he has one builder client who is so keen on creating special places for dogs that he may take out a bedroom to fit in a pet spa — and get $15,000 for it.
If master baths shrunk during the housing recession, they are expanding now, in part to accommodate floating bathtubs, which were everywhere on the showfloor. They were also common in bathrooms that won Best in American Living awards (BALA) at the show. Floating tubs, wood accents on otherwise white walls, and clear glass created a sauna-like impression in many of these bathrooms.
Outdoor rooms adjoined to great rooms, which first showed up in California homes several years ago, are no longer confined to warmer climates, said Joe Digrado of Danelian Associates who judged the BALA awards. "We found them all over the country, even in places that aren't warm. Also, they are becoming more intimate spaces, extensions of indoor living space."
"They are no longer limited to the first floor," said David Kosco, director of design for Bassenian Lagoni Architects, showing a series of outdoor rooms off second-floor master suites. Kosco added that he has completely abandoned formal living and dining rooms in favor of outdoor rooms, often designed with walls on two sides to make them feel more like indoor rooms.
Prep Kitchens Come Into Vogue
Meanwhile, kitchen islands keep getting larger, said Kosco, showing one double island with seating for 10. As kitchens become more of a showpiece, Kosco is creating more behind-the-scenes prep kitchens where the dirty work, cooking and washing, actually gets done, especially at party time.
Designers are lavishing more attention on laundry rooms as well; they growing at once more utilitarian and more luxurious. Dan Swift, president of BSB Architects, based in Des Moines, tries to make them more functional through connections to either linen or master closets. "Make them light, airy, and open – a room that people want to be in," he said.
Board and batten siding is growing in popularity, said Richard E. Smith of RJ Associates, a developer in Montana and Florida, who also judged the BALA awards. One Mid-Century Modern-style home, Vermillion at Escena by Beazer in Palm Springs, used the material inside and out to create a three-dimensional effect. The material makes homes look "rustic yet contemporary," he said.
Stairways are another home feature making a major comeback. Pushed to the rear of the home and downsized during the housing recession, architects are now desinging them as a major architectural element, a focal point within the home.
"We see so many houses done where the exterior character and vernacular just doesn't tie to the interior," said Kosco. "The staircase is one place to do this."