An Alternative to Wood Window Bucks
ThermalBuck makes window installations over exterior insulation sturdy and energy efficient by replacing wood with high-density expanded polystyrene foam extrusions.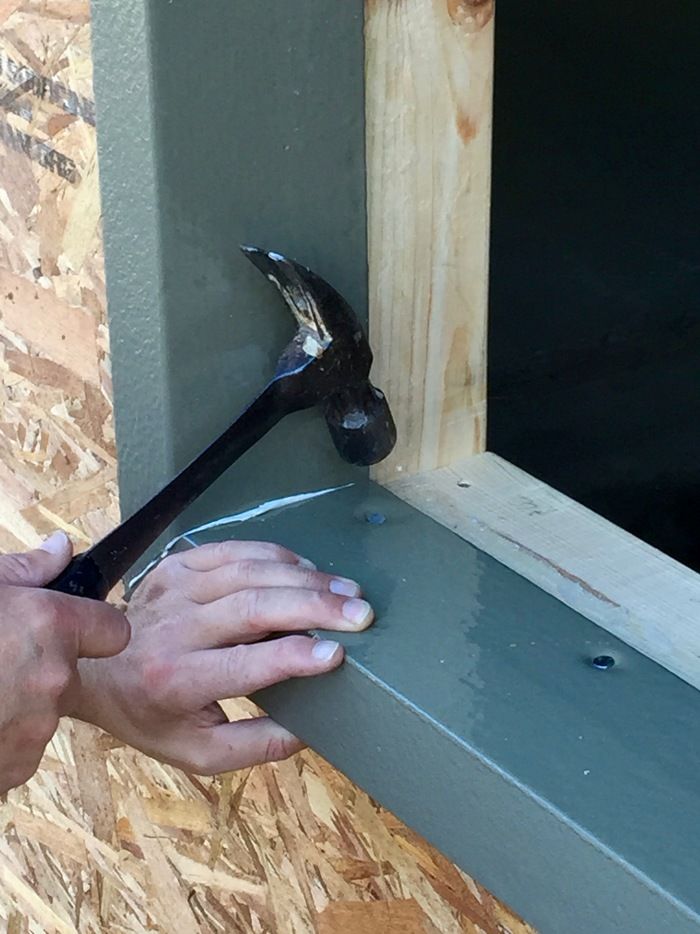 A Pennsylvania company has developed an alternative to wood window bucks, claiming that the coated polystyrene bucks offer better thermal insulation, a more effective water and air seal, and better long-term performance.
Window and door bucks are used when either exterior insulation such as rigid foam or a rain screen is installed over sheathing on exterior walls. A buck (more properly called a rough-opening extension support element, or ROESE) ensures that the window or door is aligned correctly with the insulation or rain screen.
Carpenters typically make bucks out of wood, but wood bucks have some drawbacks, says John Brooks of Brinc Building Products, including a tendency to warp and shrink. In addition, wood has a relatively low R-value, so wood bucks represent a thermal bridge in the building envelope.
Brooks has invented ThermalBuck, an L-shaped component made from high-density expanded polystyrene encased in a blend of polyurethane and polyurea. ThermalBuck has a compressive strength of 52 psi and, according to Brinc, can handle hurricane-force winds with "minimal permanent compression."
Mitered pieces of ThermalBuck are nailed into a rough opening for a window or door in a bed of adhesive (Brooks specifically recommends Dow Corning 758 adhesive). Then the window or door is installed with the flanges caulked and nailed to the outside face of the buck.
Four sizes available
ThermalBuck comes in 8-ft. lengths and in four versions corresponding to insulation and/or rain-screen thicknesses of 1 in., 1-1/2 in., 2 in., and 2-1/2 in.
The tongue, the part of the buck that wraps around the inside of the rough opening, is 1/2 in. thick and extends into the opening 2-1/2 in., no matter which ThermalBuck you buy. The other part of the "L" differs depending on the thickness of the exterior insulation. The bucks are pitched slightly toward the outside of the wall, and they are treated with an insecticide to prevent termite infestation.
Brooks rolled out ThermalBuck at the Greenbuild conference in Washington, D.C., last fall, where it won a "Greenest of the Green" award. ThermalBuck costs between $2.50 and $3.20 per ft. For ordering information, contact the company through its website.
Read more: http://www.greenbuildingadvisor.com/blogs/dept/green-building-news%2A#ixzz44aORxZEv
Follow us: @gbadvisor on Twitter | GreenBuildingAdvisor on Facebook