Design
A Difficult Site Shapes the House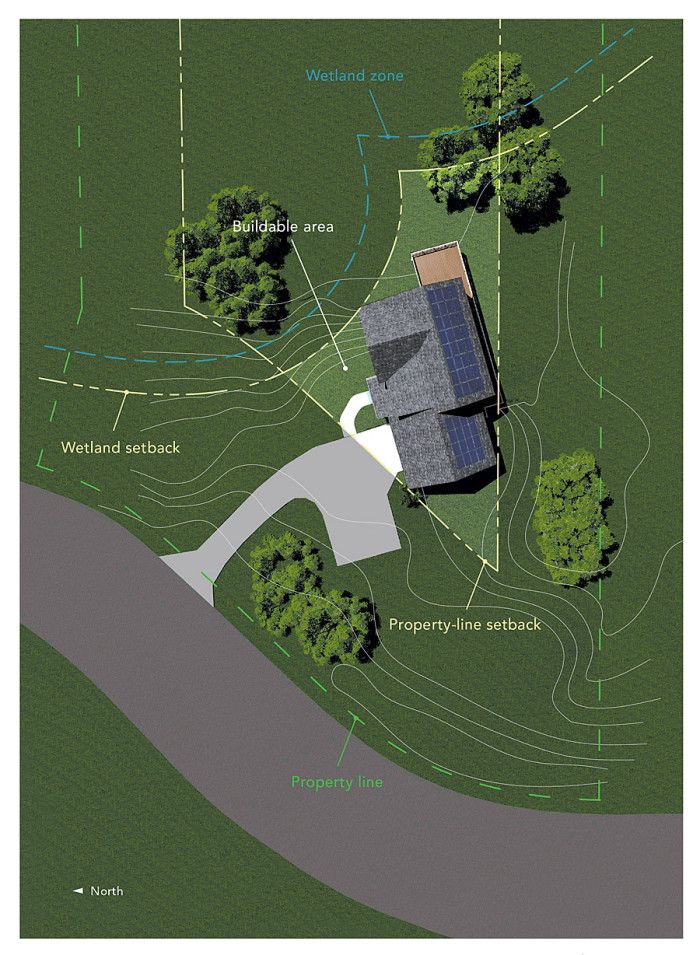 The undeveloped lot in a neighborhood usually has its shortcomings. This one slopes steeply down from the road, and the surrounding area drains into it. Wetland and property-line setbacks left only a small wedge-shaped buildable area. The site plan for the septic tank and leaching field with a 100-ft. separation from the well further constrained the siting of the house. As Michael Maines considered the orientation of the house, he wanted the front door to be clearly visible—a beacon guiding visitors to the entry—and for the long axis to be oriented for a south-facing solar array.
Instead of squaring the house to the road, Maines turned the house at an angle. This moved the porch a comfortable distance from the retaining wall, and it brings the door into view earlier on the approach. The orientation is within 15° of south, important for passive-solar heating and PV. The sloping site made a walkout basement a natural choice. Some thought was given to placing the garage under the house, but an attached garage at grade preserves the aging-in-place flexibility of the floor plan, which allows for converting the first-floor flex room into a master bedroom.
---
When taking a design from sketch to finished product, it helps to look at it from every possible angle. That's why we're pleased to be sharing the FHB House site plan, elevations, and floor plans, courtesy of SoftPlan architectural design software.
This article is part of the FHB House series.