Florida Development Will Be Solar Powered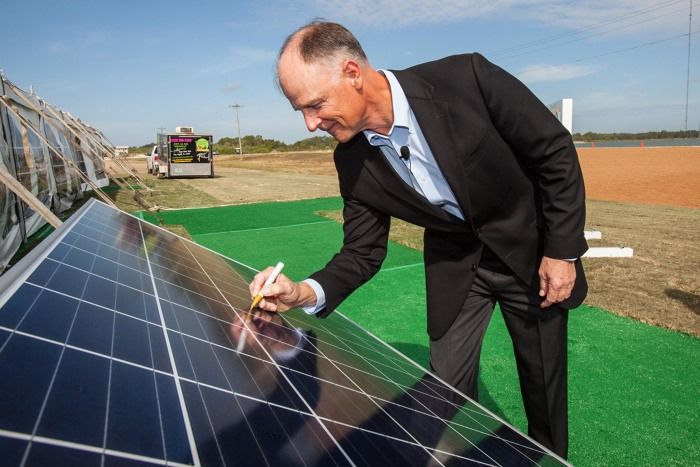 Work is underway on a new Florida community that eventually will include 19,500 single-family and multifamily homes on nearly 18,000 acres-what its developers claim is the world's first solar-powered town and the "most sustainable" community in the United States.
Babcock Ranch, named for a sprawling, family-owned cattle ranch that once occupied the site, is the work of Kitson & Partners, a real-estate developer based in Palm Beach Gardens, Fla. Its portfolio includes millions of square feet of retail shopping centers, commercial buildings, and residential units, but Babcock Ranch is its first venture into sustainable building.
Kitson bought the 91,000-acre ranch from the Babcock family in 2006. In a $350 million deal with the state of Florida and Lee County, 73,000 acres became a land preserve on which ranching operations could continue while Kitson pursued its development plans on the rest, according to a narrative at the development's website.
Babcock Ranch is in the town of Punta Gorda, about 10 miles east of Fort Meyers on Florida's Gulf Coast. The first 1100 homes are due to be finished next year. When complete, after a process that could take as long as 25 years, the community will house some 50,000 people.
Babcock Ranch will be a built-from-scratch community emphasizing energy-efficient building, resource conservation, green spaces, renewable energy, and what Kitson calls "civitas," or "basic hometown pride and a calling to participate and belong." 
Nation's first solar-powered town
The community will be powered by a 74.5-megawatt solar farm being built by Florida Power and Light on 443 acres of land donated by Kitson & Partners CEO Syd Kitson. It's one of three new solar centers FPL is building in the state and is due for completion later this year.
In an interview with the website Ecopreneurist, Kitson said the 350,000 solar panels at the FPL Babcock Ranch Solar Energy Center will produce enough electricity to power a community of 50,000 people. "During the day when the sun is shining, all the power at Babcock Ranch will be solar energy," he said. "Then at night when the sun goes down, the grid will take over and it will be natural gas. The combination of energy will be the greenest in the country."
According to the report, Kitson is looking into the possibility of adding battery storage to the solar farm. "We're talking to several companies about how we can do that, even at a neighborhood scale, almost like a micro-community of a system," he said.
FPL says the 225 megawatts in new solar this year will triple its solar capacity.
Houses will be energy efficient
According to its website, Babcock Ranch will offer houses in a mix of architectural styles, including "Craftsman, farmhouse, coastal Gulf vernacular, Spanish, and colonial/West Indies . . . each sourced in the pre–World War II southwest Florida regional styles."
The first phase of the project will include a mix of single-family and multifamily units in price ranges intended to be affordable, moderate, and luxury. Residents can choose to live near the town center or in more rural settings. The development hopes to attract all age groups, from millennials to retirees.
"We keep trying to remind people we're building a town, not just a development, and we want to have the full stratification of prices, because you're not a real town if you don't," says Babcock Ranch spokeswoman Lisa Hall. She adds that prices will range from the $200,000s to the $900,000s.
No matter what the style, houses will be built to standards of the Florida Green Building Coalition. The building standard is similar in approach to the LEED for Homes program in that it sets a number of prerequisites and then offers points for complying with other measures that save energy, reduce water use, and preserve native ecology.
Energy raters must provide a HERS index rating showing better-than-code energy efficiency, with extra points awarded for a HERS score lower than 80 (a HERS index of 80 means the house uses 20% less energy than a house built to the 2004 International Energy Conservation Code). Extra points are awarded for such things as completing the Energy Star Thermal Enclosure checklist, sealing ductwork with mastic, incorporating passive-solar heat, shading the house with trees on east and west exposures, and keeping the washer and dryer in an unconditioned space.
Not a golf community
Hall said developers believe that the market has changed, that instead of exclusive developments built around fancy golf courses, buyers are more interested in inclusive communities. So instead of building a golf course, Kitson is making an initial investment in the start of a downtown, with a K-8 charter school, a health and wellness center, and 50 miles of trails, with trailheads in each of the planned communities.
"What we're really trying to do at Babcock Ranch is to bring green into the mainstream," Hall says. "And to bring it into the mainstream, you can't price it out of accessibility. You have to choose a standard that makes sense for Florida. If you go to LEED-Platinum, no one can afford to buy the homes, and you can't get the builders to build homes no one can afford.
"By doing the utility-scale generation, that's one way of bringing it into the mainstream, and by having the green-build certification throughout the community, you're really raising the bar," Hall continues. "At the same time, you're not taking it to the point where people can't afford it. Because it won't be adopted if people can't afford the homes."
In addition to building its own water and wastewater utility, Babcock Ranch is adding a gray-water system for all outdoor irrigation and is limiting landscaping to mostly native species.
Half of Babcock Ranch's total footprint will be dedicated to parks, lakes, and hiking trails.
Read more: http://www.greenbuildingadvisor.com/blogs/dept/green-building-news%2A#ixzz48TD8E1lp 
Follow us: @gbadvisor on Twitter | GreenBuildingAdvisor on Facebook
Developer Syd Kitson autographs a solar panel at the 74.5-megawatt FPL Babcock Solar Energy Center, which will provide electricity for the nearby Babcock Ranch development in Punta Gorda, Fla.  
Developers want a range of house styles and prices, in an effort to build a community covering a wide swath of incomes and ages. The first houses are due for completion next year.
When complete, Babcock Ranch will have 19,500 homes and 6 million sq. ft. of commercial space. A full build-out could take up to 25 years.