Podcast Ep. 1: Radon Mitigation, Deck Ledgers, and Minisplits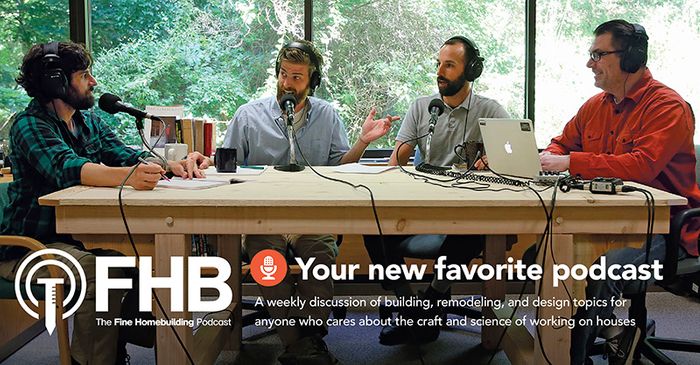 The Fine Homebuilding Podcast embodies Fine Homebuilding magazine's commitment to the preservation of craftsmanship and the advancement of home performance in residential construction. The show is an informal but vigorous conversation about the techniques and principles that allow listeners to master their design and building challenges. Our aim is to build community, and that's driven by you—so please subscribe and rate us on iTunes or Google Play, and if you have any questions you want us to dig into for a future show, shoot an email our way: [email protected]. Also, be sure to follow Justin Fink, Rob Yagid, and Fine Homebuilding on Instagram, and like us on Facebook.
In this maiden episode, host and managing editor Justin Fink talks with editor-in-chief Rob Yagid and design editor Brian Pontolilo about radon mitigation, deck ledgers, and minisplits. Below are a few resources that were mentioned and extras that are related to the topics covered during the show.
RADON MITIGATION
Radon is a naturally occurring and potentially dangerous radioactive gas that is present in nearly all soils. People who live for many years in a house with elevated levels of radon gas have a higher-than-average chance of developing lung cancer. About one in 15 homes has a high-enough level of radon to be of concern.
DECK LEDGERS
Attaching a ledger to your house is often the first step in framing a deck. And getting the ledger details right will prevent your new deck from rotting out your home's sheathing and mudsills. However, what options are available if you wish to avoid disrupting the home's envelope with a ledger? Helical piles are one solution that was discussed during the show. To learn more, read "It's Time to Consider Helical-Pile Footings" by Jeremy Hess in FHB #260.
MINISPLITS
Although ductless minisplits account for only 5% of the heating and cooling systems in the United States, they have attracted the attention of a growing number of builders of high-performance houses. Ductless-minisplit heat pumps are high-efficiency air conditioners and heaters that include an outdoor compressor and an indoor fan unit that's typically mounted on a wall.