Design
Building Lean, Strong Walls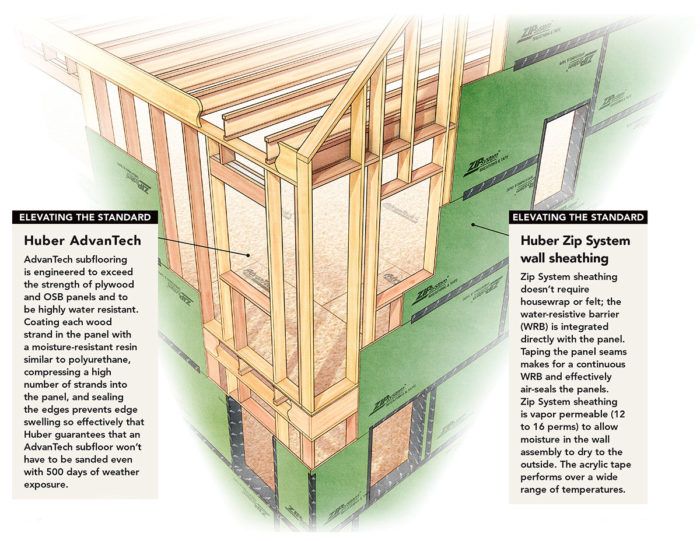 In their attempt to reduce the amount of wood in the walls and increase the amount of insulation, Guertin and Maines adopted advanced-framing techniques. Spacing the studs and joists 24 in. on center to align loads through the wall and floor assemblies eliminated the need for a double top plate as well as jack studs at rough openings.
Most of the studs are standard 2x6s, but Guertin is using laminated strand lumber (LSL) studs in several places to take advantage of their dead-straight characteristics and their availability in longer lengths than solid-sawn lumber. All of the king studs in the walls are LSLs because the lack of any twist or crown speeds up window and door installations and improves flashing and air-sealing. Guertin will also frame the west kitchen wall with LSLs. Straighter walls with few dips and humps will speed up cabinet installation.
Because the walls have single top plates, all wall plates are LSLs, which allow most walls to have a continuous plate without the need for splices. (Weyerhaeuser's 2×4 and 2×6 TimberStrand LSLs are available in lengths up to 24 ft. in New England.)
As the primary air barrier, the wall sheathing is an important component of the FHB House. With Zip System sheathing, the walls are dried in and much of the air-sealing work is done when the walls are stood up. The walls will be detailed with exterior insulation and a rain screen. Rather than run exterior insulation all the way up the gable ends to the rake subfascia, Guertin will terminate it at the level of the attic insulation and fur out the siding with ripped 2x stock toenailed to the studs. This technique is easy and fast when working on a second-floor deck and saves rigid foam for the areas where it's needed.