Easy Flat Basement Ceilings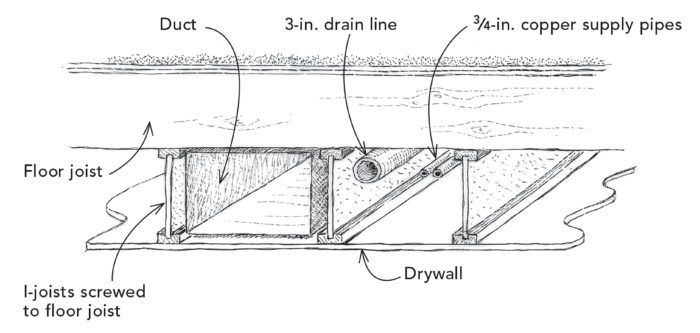 I often do basement remodels where the client wants the ceiling to be one flat surface, with all the ducts, pipes, and so forth hanging from the floor joists hidden above the drywall. Instead of framing a new ceiling from 2×4 "ladders" that attach to the floor joists above, it's faster and more accurate to screw I-joists perpendicular to the existing joists, adjusting the spacing as needed to fit around the mechanicals. I-joists are light and straight, and they can be shimmed as needed to ensure a flat ceiling. The I-joist depth is determined by the lowest obstacle I need to get around. I alternate the structural screws fastening the I-joists to the floor joists from the left side to the right side to prevent the I-joists from twisting or leaning. Similarly, I-joists can be used to box out soffits or individual ducts. They cost more than 2x4s, but the time and headaches saved make up for it.
—Derek Schroeder, Ivyland, Pa.
Edited and illustrated by Charles Miller
From Fine Homebuilding #262