Tools & Materials
Quick Curves With Steel
Light-gauge steel makes creative deck framing easier.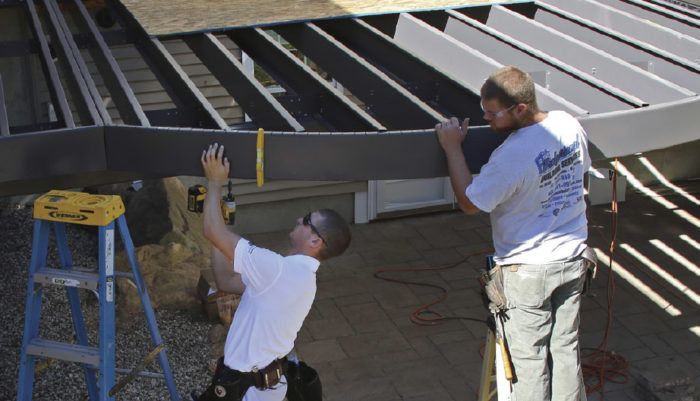 Synopsis: In this article, award-winning deck builder Joe Ciaraldi explains the process of installing a curved deck. Ciaraldi uses Trex Transcend straight rail parts—steel joists and beams and either metal support posts or pressure-treated wood posts wrapped with PVC trim boards—and explains step by step how he curves the rails on site. The article explains that steel parts are build to last: they span longer distances and weigh less than wood beams and joists, and they are rot- and insect-proof. Ciaraldi also gives details for sizing the steel with the correct radius and shows photos of his team framing the curve in one steel-deck project.
We use curves a lot when we build our decks. Sometimes they can solve design problems, like by avoiding existing landscaping or providing extra deck space for a table and chairs. Other times, the curve is all about aesthetics.
Not surprisingly, curves add significant labor and expense to a deck project. We find the process is easiest when you start with a steel deck frame. A steel frame costs 30% to 40% more than treated lumber, but the ability to quickly adapt the components to form a curve make it worth the expense. Plus, customers like the uniform dark brown of the Trex Transcend steel joists and beams that we use, and the rot and insect resistance are icing on the cake.
Our crew likes how the steel components are lightweight and dead straight. Although we can usually convince clients to go with the steel track and joists once we explain the advantages, Trex's matching metal support posts are expensive, so most clients opt for pressure-treated wood posts wrapped with PVC trim boards. The matching guardrails start out as pressure-treated posts bolted to the framing with Thrulok fasteners (fastenmaster.com), which are then covered with PVC post sleeves. The curved rail parts start out as straight rail parts made by Trex. We create the curve by heating up and bending the straight rails on site.
For more photos, drawings, and details, click the View PDF button below:
View PDF