Design vs. Style
A Red Diamond Achiever Awards judge offers his thoughts on how to critique a home.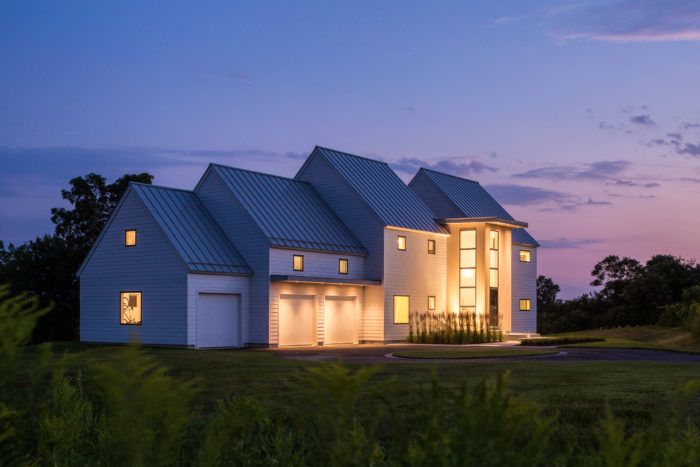 I was asked to be on the judging panel of the 2017 Integrity Red Diamond Achiever Awards. It's a design contest sponsored by Marvin's Integrity brand of windows and doors. You can see some of last year's entries in the slideshow at the bottom of this page. Being on the panel has me thinking about design and how to critique a home.
Design has 15 definitions on dictionary.com. It's a verb and a noun. Here are four adaptations of those many definitions that seem to cover the meaning as it applies to homes:
As a verb:
T

o

prepare

the

preliminary

sketch

or

the

plans

for a house. 

T

o

plan

and

fashion

artistically

the look of a house.
As a noun:
The organization or structure of a house.
The combination of details or the motif of a house.
The reason I Googled design in the first place is because a lunchtime discussion this week revealed that I might think about it differently than some of my colleagues. While unpacking the term does boil down to an exercise in semantics, it helps me do the job of design editor.
In my way of seeing it, the design of a home is expressed in the first definitions (for verb and noun), with the keywords being preliminary sketch, plans, organization, and structure. Here are a couple examples of design details that I look for in a home:
The floor plans work well. The house is well organized with a sensible sequence of spaces from the entry to the private rooms; a smart use of sight lines and connectivity between indoor and outdoor spaces. This is non-negotiable. No trim detail or cool material can make up for a clunky floor plan.
The scale and massing are right for the site and roof lines and other details support the home's form. Scale and massing are two of those things that architects and designers get. The rest of us just know when a home looks right and when it doesn't. If you have one of those two feelings about a home, but aren't sure why, it's probably because the scale and massing are either right or they're off. If you want to learn more about massing, check out this article. 
Architects often begin with schematic sketches and massing studies. So, design happens early in the process of planning a home. I also look at structural details, wall, roof, and other assemblies in this way.
The second definitions (for verb and noun), I consider to be about style. Sometimes architectural style and sometimes personal style. Here, the keywords are artistically, look, details, and motif. A couple examples of what I look for in style are:
Details that make the house identifiable. If the house is a Craftsman Bungalow, are the window patterns, trim elements, and other finish materials appropriate and well executed? If it is a Victorian rehab or replication, are the colors period-appropriate? These things include both exterior details (like siding choice and how it is used) as well as interior details (including flooring and cabinetry).
Thoughtful exterior and interior details that makes the home cohesive. Here, I'm thinking about homes that do not identify with a formal style. More and more modern homes and transitional homes are eclectic or are blended in style. Fundamental principals of rhythm and balance, skillful use of contrasting and complimentary colors, functionality and texture still apply.
It wasn't easy to write all that about style without using the word "design." Like I said, this is verbal gymnastics. Musings. It's all design and all design should be personal and homeowner specific. No custom house or remodel is well designed if it doesn't meet the unique needs of the people who will live there. Still, here are a few reasons why I take this view of design:
Design — as I've segmented it here — impacts the structure. The open expanse of a great room has big engineering and structural requirements. That affects how the house will be built. These design decisions can make renovations more (or less) complicated down the road.
Design reflects the way we live. If we entertain a lot and want an uncluttered, social kitchen, there better be a place to store everything we need to cook and clean with. Like a nice walk-in pantry. Overlooking this type of thing is not necessarily easy to fix down the road.
To a degree, style can be applied. Two homeowners with similar design requirements as suggested in numbers 1 & 2, could end up with similar floor plans, but can still choose to have very different styles, from rustic to a sleek modern aesthetics. Though traditional floor plans are part of most formal architectural styles, these days even houses with a historic style have more modern floor plans.
Style is easier to change. This is somewhat of a stretch. But, if you have a Craftsman Bungalow, it's not going to be easy to change it into a Victorian. But if you're tired of the poorly stained oak trim and cabinets in your bungalow, you can paint them white and that opens up lots of possibilities for adding more personal style. If you live in a ranch, there's a tremendous amount that you can do with new fixtures and materials, textures and colors to personalize the style. My point is really that changing and tweaking finishes, surfaces, colors, and textures is generally a more approachable project than correcting bad massing or fixing a floor plan that doesn't work.
Perhaps this perspective is informed by the practical designers and builders, authors and fellow editors here at FHB. It'll be interesting to talk to and learn from fellow judges Lou Manfredini, Christine Marvin, and Shawn McCadden next month when we begin to evaluate submissions for the Red Diamond Achiever Awards. If you have a project that you like us to consider, submit it here. And check out the slideshow below to see three of my favorite entrants from last year.
Please click below to see the slideshow of last year's entries: