Podcast Episode 67 — Siding Next to a Stepped Foundation
Building with insulating concrete forms, preventing rot on low-slope roofing, and mad props for your humble show-notes compiler.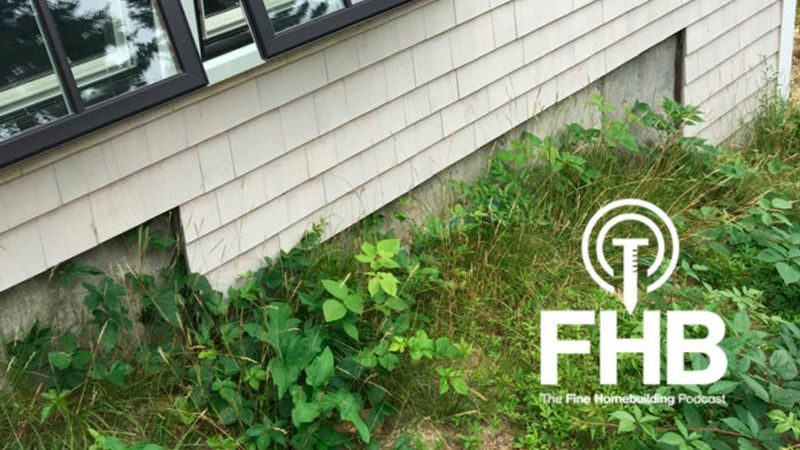 In this podcast episode, host Justin Fink is joined by editorial director Rob Yagid and design editor Brian Pontolilo. The guys tackle reader questions on topics including flashing to avoid rot, the pros and cons of ICFs, and options for a low slope roof. Plus, workbench design, running conduit, yard clean-up, and lifting drywall.
We are looking for as many podcast listeners as possible to come out to meet the Fine Homebuilding team at the Remodeling and Deck Show this October in Nashville! We'll be at Booth 424 on Oct. 26, 2017, at the Nashville Music City Center. We're running an Emerging Professionals Event and recording an episode of this podcast from the show floor.
We also have our continuing request for listeners: We need all our fans to take our podcast feedback survey by clicking here. There's a chance to win one of ten Amazon Echoes. October 2017 Update: Okay, we're not giving away Amazon Echoes any more. That reward expired. But there's a chance that we'll have SOME kind of reward for those who take the poll. Well, honestly, a CHANCE to win a reward. Can't say exactly what the reward will be, because you may be reading this in 2018 or 2024 or 2109 after the zombie apocalypse and climate change means we all have to build new net-zero fortress-houses on the seaside islands of Kentucky. But if this text is still here, we still really want your opinions, so please take the poll and we'll enter you for a chance to win something good, like a $100 gift card or a couple cases of ammo or the antique Snapple bottle caps we'll use for currency in 2109. Or at the very least, for our deep thanks and the knowledge that your feedback is helping us make the podcast a little better. That's something everyone who takes the poll gets!
And in a gratifying note of recognition, in this podcast Justin says, "Hop onto our website at FineHomebuilding.com/podcast, where you can check out the awesome show notes that Mike Alterio puts together every week for the show. He takes some fun leeway while writing those and usually has some interesting personality inserted into those posts, so it's worth a look." Thanks, Justin!
Today's episode of the Fine Homebuilding podcast is brought to you by Sakrete and Feeney.
Sakrete is the pro's choice for a variety of products such as concrete, mortar, and stucco mixes, as well as repair and maintenance products. Whether you're repairing old or damaged concrete, building a wall, or even patching a roof, Sakrete has just what you need to complete any project with quality and consistency. Visit sakrete.com, continue your search and check out their Concrete Calculator to learn how many bags you will need to complete your next job. Sakrete, the trusted choice for concrete since 1936.
Looking for a deck railing infill option that won't impede your beautiful view? Try CableRail stainless steel cables from Feeney. They're made from 316-grade stainless steel for weather-tough durability and ultra-low maintenance and are an attractive, view-friendly complement to any wood or metal railing frame. Plus, special Quick-Connect attachment fittings make installations a breeze. For more information and dealer locator, visit feeneyinc.com. That's feeneyinc.com.

The show is driven by our listeners, so please subscribe and rate us on iTunes or Google Play, and if you have any questions you would like us to dig into for a future show, shoot an email our way: [email protected]. Also, be sure to follow Justin Fink, Rob Yagid, and Fine Homebuilding on Instagram — and "like" the magazine on Facebook. Note that you can watch the show above, or on YouTube at the Fine Homebuilding YouTube Channel.
The Fine Homebuilding Podcast embodies Fine Homebuilding magazine's commitment to the preservation of craftsmanship and the advancement of home performance in residential construction. The show is an informal but vigorous conversation about the techniques and principles that allow listeners to master their design and building challenges.
Resources and links related to this podcast:
Here are listener Paul's photos of the hillside at his Maine house. The foundation steps down the hill and becomes a walkout. The danger is that water may hit the joint where the siding meets the foundation.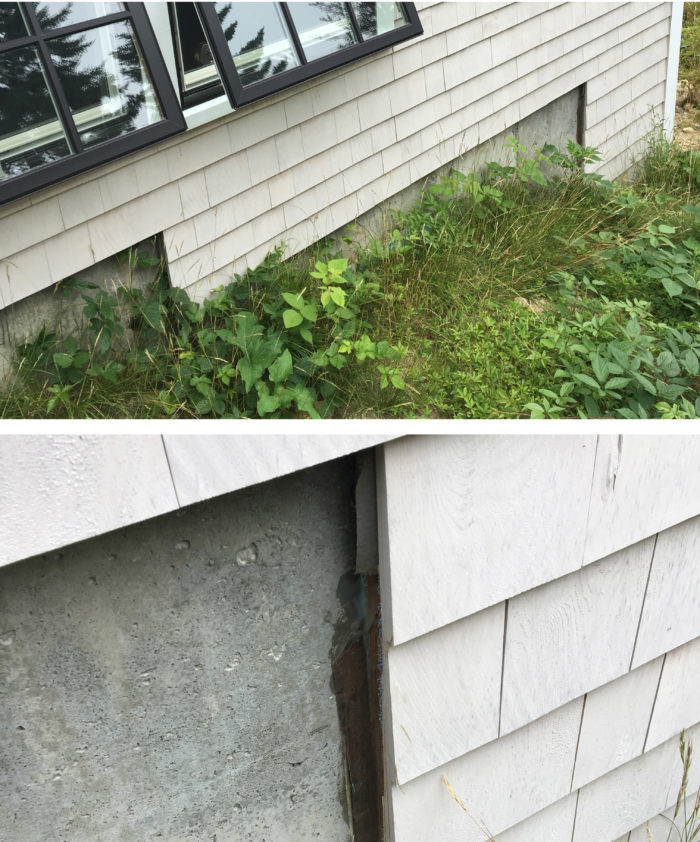 Listener Zephan asks for advice about using insulating concrete forms (ICFs) for both the foundation and the walls of a house he is building. Here's an example of what it might look like: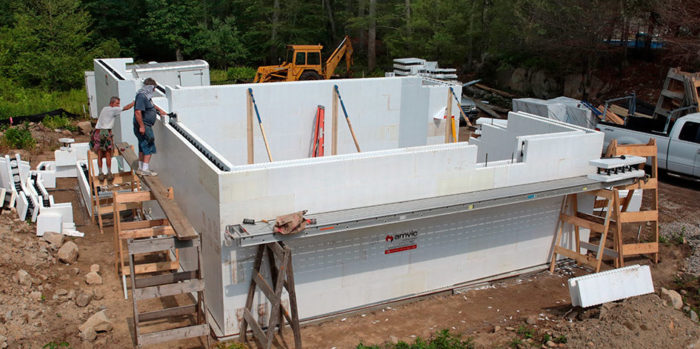 Uh oh, listener Ted's carport has a low-slope roof: