Podcast Episode 72 — Matt Plans to Build a Cottage
Plus, lively discussions of steel framing and fixing chimney cracks.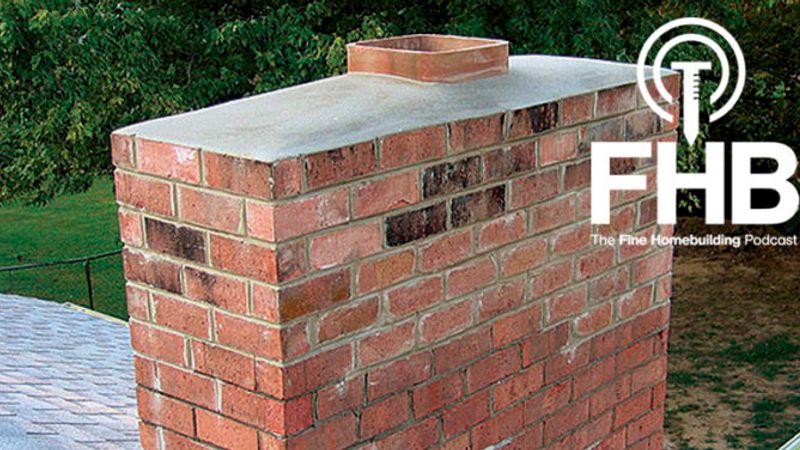 Fine Homebuilding editor Justin Fink joins associate editor Matthew Millham and editorial director Rob Yagid in this episode. The guys talk about Matt's reasons and plans for building a cabin, or maybe a cottage. Justin leads a discussion on steel framing, and what happens to a steel-framed house in a fire. Exterior insulation and commercial building influences on steel framing are also a part of the conversation. Plus, metal plates in Rob's basement remodel, and Rob hijacks the podcast to talk about fixing the cracks in his chimney.
Listener Doug has a hot water question. (see below for links)
We hope you will please pay attention to these two great offers for our podcast listeners: A special discounted rate to subscribe to the Fine Homebuilding print magazine. This is the "podoffer" special that Justin mentioned at the end of the episode. The other great offer is … A special offer to buy John Carroll's Working Alone.
We are looking for as many podcast listeners as possible to come out to meet the Fine Homebuilding team at the Remodeling and Deck Show this October in Nashville! We'll be at Booth 424 on Oct. 26, 2017, at the Nashville Music City Center. We're running an Emerging Professionals Event and recording an episode of this podcast from the show floor.
We also have our continuing request for listeners — NOW UPDATED: We need all our fans to take our podcast feedback survey by clicking here. There's a chance to win (NEW PRIZE) a $100 American Express gift card. Note: If you are reading this in the future, I'm told that the chance to win something may be different. Some other reward, maybe, like one of those flying cars you all got in the future! Or maybe nothing at all but our deep thanks and the knowledge that your feedback is helping us make the podcast a little better — plus you get to live in the future, which I hear is much better than the present, so be happy!
Today's episode of the Fine Homebuilding podcast is brought to you by MaxUSA.
MaxUSA, a leading manufacturer of innovative professional grade construction tools and the exclusive tool sponsor of the 2017 FineHomebuilding ProHOME build. MaxUSA's product mix includes a line of 100-psi as well as 500-psi high-pressure tools, battery-operated concrete tools and cordless gas-powered fastening tools. Max employs over 200 R&D engineers who constantly conduct field studies to improve on existing products and design and launch new products for the construction tool industry. Before being brought to market, all new tools are thoroughly tested for quality and durability. For more information, visit the MaxUSA website at maxusacorp.com.
The show is driven by our listeners, so please subscribe and rate us on iTunes or Google Play, and if you have any questions you would like us to dig into for a future show, shoot an email our way: [email protected]. Also, be sure to follow Justin Fink, Rob Yagid, and Fine Homebuilding on Instagram — and "like" the magazine on Facebook. Note that you can watch the show above, or on YouTube at the Fine Homebuilding YouTube Channel.
The Fine Homebuilding Podcast embodies Fine Homebuilding magazine's commitment to the preservation of craftsmanship and the advancement of home performance in residential construction. The show is an informal but vigorous conversation about the techniques and principles that allow listeners to master their design and building challenges.
Links related to this episode: