Building Codes Meet Good and Best Practices in Simple Guides
A closer look at TechNotes from NAHB and Home Innovation Research Lab.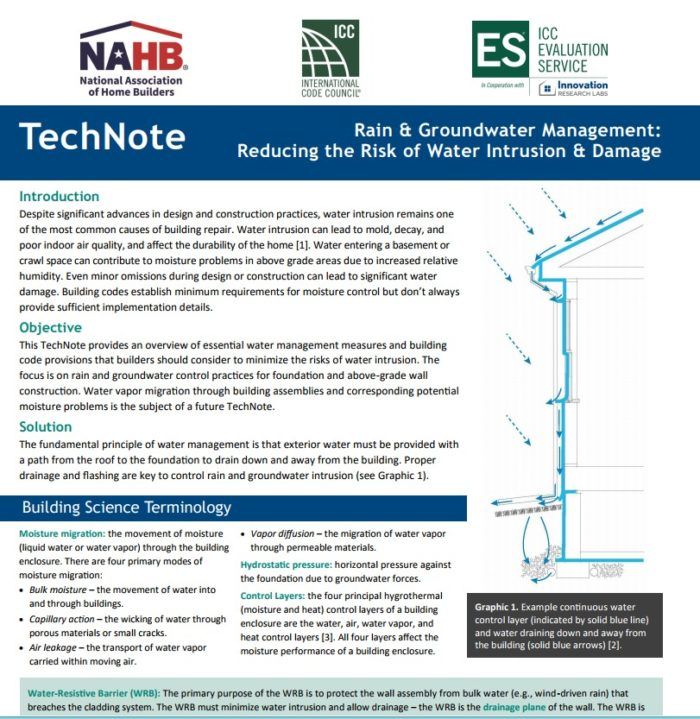 TechNotes are short, practical guides to help builders and remodelers understand building performance related code requirements and match them with good and best building practices to avoid moisture, comfort and indoor air quality problems. NAHB's Construction Technology Research Committee and Home Innovation Research Lab prepared the guides and offer them for free.
TechNotes started being published in 2013 with the most recent published in spring 2017.  Right now there are eight TechNotes (links below) available and the plan is to continue expanding the collection. Each TechNote is 4 pg to 6 pg and drills right into the titled topic.
The introduction lays out the issue and often the related building science principles. Related building code requirements are presented and often rephrased in common language rather than just code-speak. Sections of each guide outline code and design considerations to take into account when planning and then they go deeper into construction recommendations. The guides are well illustrated with clear drawings and photos. Each guide wraps up with recommendations, a resource list and references.
A lot of builders and remodelers will find TechNotes a great resource.  Experienced, knowledgeable high-performance home builders and remodelers probably won't glean anything new from TechNotes but will find them a useful resource to train workers and trade contractors. The information is presented in an easy to understand manner; and the practices and methods are simple to follow. You can think of them as very informative field-guides.
The only shortcoming I could find is that the older 2013, 2014 TechNotes are based on the 2012 IRC and haven't been updated to the 2015 IRC or the new 2018 IRC. Though the model codes may not have changed a lot with each revision, it would be great if the Home Innovation Research Lab revised the TechNotes to reflect changes in the codes.
You can download NAHB's TechNotes from the ICC's website or directly from the links below: