Podcast Episode 97 — Contractors, Components, and Keeping Craft Alive
Drain-waste-vent systems, trusses, picking a plumber, and venting bathroom fans.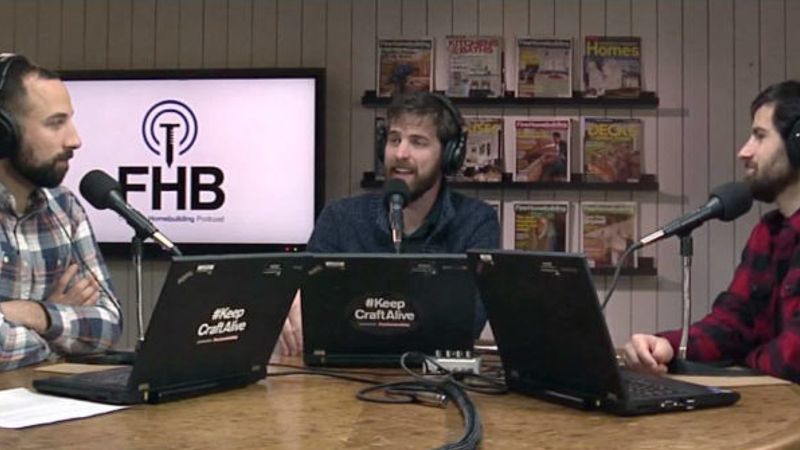 The show starts rough this week, as Justin bobbles the opening and Rob steps in a little late. So the guys just jump into the listener questions. That's the usual suspects, Justin Fink, Rob Yagid, and Brian Pontolilo, for this episode.
No wait! First the guys talk about raising money for #KeepCraftAlive scholarships (links below). And Rob wants to talk about hiring contractors … without losing his status as a fine home builder! Then to questions …
Listener John asks about drain-waste-vent systems. Pitch, code compliance, and other issues are on the table.
Listener Ben wants thoughts on stick-built rafters vs. houses made of components, e.g., trusses. Check out this video. The guys end up talking about shed roofs, and Rob accidentally coins a new term: "Shoofs."
And listener Keith has questions about bathroom roof vents.
We hope you will take advantage of a great offer for our podcast listeners: A special 20% off discounted rate to subscribe to the Fine Homebuilding print magazine. That link goes to finehomebuilding.com/podoffer.
The show is driven by our listeners, so please subscribe and rate us on iTunes or Google Play, and if you have any questions you would like us to dig into for a future show, shoot an email our way: [email protected]. Also, be sure to follow Justin Fink, Rob Yagid, and Fine Homebuilding on Instagram — and "like" the magazine on Facebook. Note that you can watch the show above, or on YouTube at the Fine Homebuilding YouTube Channel.
The Fine Homebuilding Podcast embodies Fine Homebuilding magazine's commitment to the preservation of craftsmanship and the advancement of home performance in residential construction. The show is an informal but vigorous conversation about the techniques and principles that allow listeners to master their design and building challenges.
Here are a few links related to this podcast: