Design
Building to Survive in Wildfire Country
Don't get burned: The right materials and details are a start. Landscaping and regular maintenance can help. But even these steps sometimes aren't enough.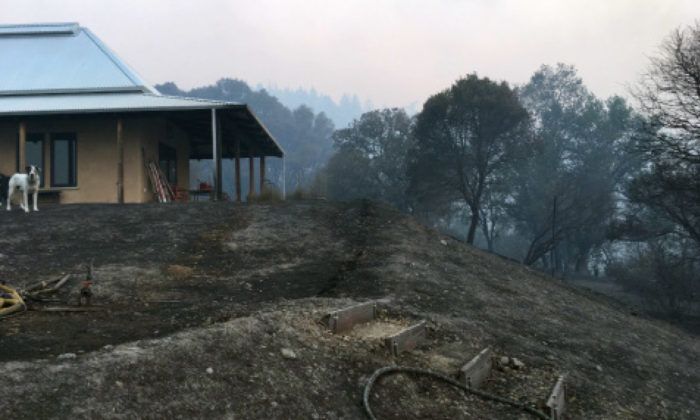 Synopsis: In this special report, contributing writer Scott Gibson takes a look at the devastation left by the 2017 California Wildfires, and addresses whether code requirements saved some dwellings, and whether a review of the building codes is due in the wake of the devastation. He describes the differences between combustible, noncombustible, ignition-resistant, and fire-resistant materials and where they should be used. The article includes an illustration of defensive details to give a home the greatest chance of surviving a wildfire, including recommendations for landscaping, roofs, windows, and doors, and outbuildings.
If you want to build a house in the state of California, you'll first have to consult a set of maps to find out whether the property is in what's called a "fire hazard severity zone." If it is, you'll be required to follow specific construction guidelines designed to minimize the chance the house will burn down in one of the many wildfires that sweep through the state every year.
These rules, which are part of the California Building Code and are spelled out in the International Wildland-Urban Interface (WUI) Code, address everything from roof coverings and window glass to vent openings on eaves and cornices. In tandem with landscaping practices that keep combustible vegetation safely away from buildings, the WUI (pronounced "woo-ey") building codes offer a relatively effective way of protecting buildings from fire.
Except wildfires don't always follow a script.
Last October, what became known as the Wine Country or North Bay fires in Northern California burned over 210,000 acres of land, wiping out more than 8,000 structures and killing at least 42 people. It was the most destructive wildfire event in the state's history. As state officials at the California Department of Forestry and Fire Protection (Cal Fire) were sorting out those details, another major blaze struck—the Thomas Fire in Southern California. The blaze burned at least 270,000 acres to become the third-biggest fire in state history, and it struck well outside what fire experts had considered California's normal fire season.
There's no doubt that WUI code requirements saved some homes from destruction, though just how many is impossible to say. In Santa Rosa, the 2800 structures that burned to the ground in October weren't even in an area deemed to be at high risk. Whole neighborhoods left in smoking ruins weren't included on state or local fire-hazard maps. In effect, they were located in an area considered unburnable.
And that raises some questions for code officials, builders, and homeowners in California as well as in other states with areas prone to wildfires: If the property is not included in a fire-hazard zone, do you build to the WUI requirements anyway? What remedial steps can or should be taken for houses built before wildfire codes were enacted? Do the codes go far enough? Should some areas simply be deemed too risky for construction?
"It's not just that the building codes need to be revisited," says Max Moritz, a wildfire researcher with the University of California Cooperative Extension. "It's also, on a broader scale, how and where we're building our communities."
How houses catch fire
Building codes for WUI zones are aimed at preventing three ways houses can ignite during a wildfire—fires caused by sparks from burning embers pushed ahead of the flames by wind, those caused by radiant heat from nearby buildings or objects that have caught fire, and those caused by direct contact with flames.
David Shew, staff chief for planning and risk analysis at Cal Fire, considers embers to be the most dangerous, accounting for 70% to 90% of the houses lost to wildfires. Smoldering firebrands can blow up to a mile ahead of advancing flames, and they don't need much of a toehold to start a fire. Any nook, crevice, or overlooked recess in the skin of a building can harbor an ember. With that in mind, many of the provisions of the building codes are aimed at preventing the intrusion of burning embers into or under structures where they can ignite combustible material.
Embers are not the only risk, though. When the house next door catches on fire, the immediate threat is radiant heat that can shatter windows and ignite combustible building materials inside as well as outside the house. So state or local authorities may require fire-rated exterior doors, dual-glazed windows with one tempered pane of glass, and noncombustible or fire-resistant wall coverings.
The other key is vegetation around and near the house. California law requires that all flammable vegetation be removed within 30 ft. of buildings, according to Cal Fire. Vegetation within 100 ft. of a building must be modified to create a "defensible space" that gives firefighters enough room to fight a fire.
With so many houses lost to fire in 2017, and the fire season now stretching into months once considered safe, some review of both WUI codes is all but inevitable. "Probably, overall, it is a little soon," says Shew of potential changes to WUI codes, "but there are a lot of groups that are already talking about a list of lessons learned."
A review of state fire-hazard maps was already planned for 2018 before the fires struck last fall. According to Moritz, the next generation of hazard maps should do a better job of incorporating wind patterns that have been altered by climate change. At the least, he says, buffers between WUI areas and densely populated urban areas should be wider than they are now. "We don't need to put LA in a WUI zone," he said, "but under some conditions [the boundaries] have to extend farther into the built environment than they currently do."
What about existing houses?
Building codes can make new houses more fire resistant, but that doesn't do anything to protect existing houses in WUI zones. Michele Steinberg, wildfire division manager for the National Fire Protection Association, puts it this way: "The problem is already out there. It's already been built. It's already been designed, so what the heck do we do with it? It's extremely challenging to go in as a regulator and say, 'Hey, you've got a wood roof and you've got to change it out.' That doesn't go over real well."
Some retrofits are easy. Removing vegetation around the house or cleaning out gutters and installing leaf guards is essentially free if a homeowner doesn't count his or her time. But replacing a wood-shake roof with a noncombustible material is not only expensive but beyond the skills of most homeowners, points out Steve Quarles, chief scientist for wildfires at the Insurance Institute for Business and Home Safety (IBHS). Many other changes that could make houses less fire prone—such as sealing soffits and closing off underdeck areas—may be beyond the means or skills of many homeowners.
Little, if any, federal money is available to homeowners to mitigate fire risks on existing homes, Quarles says, in part because it's hard to quantify a return on investment for retrofits. Although insurance companies may become a more powerful driver in forcing homeowners to add fire-proofing details, many homeowners are now forced to make the decision and pay for alterations themselves. The question extends to houses that will be rebuilt in areas not currently included on fire-risk maps: Should the Coffey Park neighborhood of Santa Rosa be rebuilt to WUI codes even if it isn't included in recognized fire-risk areas? Santa Rosa officials are now weighing that question, says Shew. "It's easy in the immediate aftermath of an event like this to stand firm and say we're going to require all of these new things," he says. "But there's always a fiscal impact of doing that. If the city were to say, 'we want to require it,' but it's not in a zone that requires that standard, would the insurance companies pay for it?"
We need more-resilient communities
Planners have long believed that houses in an urban area should be protected from fire by a buffer strip separating them from a high-risk WUI zone. People came to assume that urbanized areas were basically unburnable.
"Well, guess what?" says Steinberg. "When you get embers into these communities and you have homes close together and plenty of decorative fuel, you don't have to be next to a forest to have impacts."
The bottom line, says architect David Arkin, is that no house will survive extreme conditions. "Under certain conditions, the most supposedly fireproof building will not survive," he says. "That's when 70 mile-per-hour winds are whipping trees into cyclones of fire. First and foremost, under certain conditions no building type is going to survive."
Albert Simeoni, a professor of fire-protection engineering at Worcester Polytechnic Institute, says historical data that guides construction is losing some of its value because climate change is reshaping how fires behave. Hardening structures against fire is a good first step, he says, but it's not enough. Communities should be designed more thoughtfully, so houses are interspersed in areas with noncombustible materials—parking spaces, for example, or gardens and common spaces. That would slow the spread of a wildfire and break it into smaller, more easily managed blazes.
Some sites are simply unsuitable, or at least unsafe, for construction, Shew says. For example, houses should not be built at the top of "natural chimneys," where the terrain funnels intense heat uphill as tinder-dry chaparral burns. People want to build on these sites because of the views, but moving a house even a little bit can preserve panoramic views while protecting the house more effectively from fire. "Understanding the principles of how fire will behave on a certain piece of ground and the location of where the house can be placed will minimize the risk of a fire impacting a house," he says.
The other wild card is the way in which climate change is exacerbating the threat. "We're referring to it as the new normal, where we fear this is more the norm of what we will see in the future, not the exception," Shew says. "There's no question those impacts are real. What we used to refer to as 'fire season' was probably 40 days less than what we see today. There will be people working on the fire lines on Christmas Day. We've never seen that before."
For more information
The National Fire Protection Association's Firewise USA program (www.firewise.org) offers recommendations for building materials and construction details to reduce the risk of fire.
The California Department of Forestry and Fire Protection (Cal Fire) is the state agency responsible for fire protection and hazard mapping. Its website (calfire.ca.gov) includes information on vegetation management and wildland building codes.
The Insurance Institute for Business and Home Safety (IBHS) has published a series of regional retrofit guides explaining how existing buildings can be fortified against wildfires. Guides can be downloaded for free on their website (disastersafety.org).
For a case study in survivability, a glossary of terms, and a collection of defensive details that will protect a home from wildfire, please click the View PDF button below.
View PDF