A LEED Platinum House Nine Years Later
A look back at the Southeast's first modernist LEED Platinum house reveals a few valuable lessons.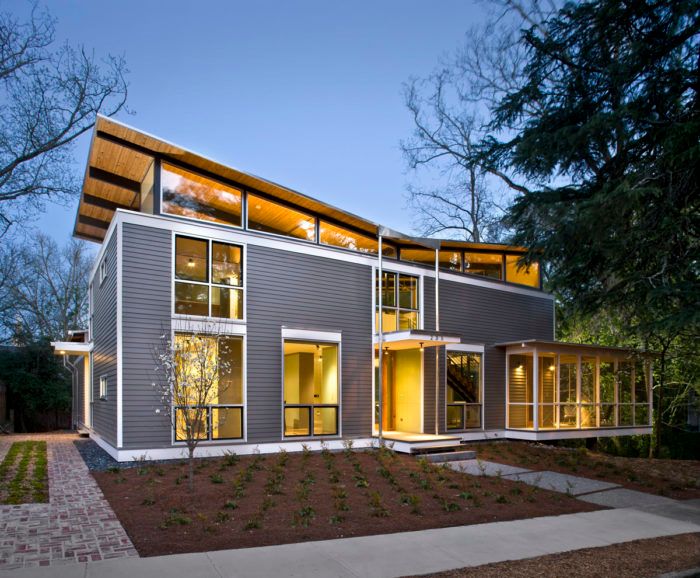 As Fine Homebuilding's design editor, I am always on the hunt for houses that demonstrate smart design strategies and solid building techniques. I keep my finger on the pulse of what's happening in the industry now, and an ear open for the next best thing. It's less common to visit past projects. But occasionally a learning opportunity presents itself. Such was the case with architect Robert M. Cain's RainShine House in Decatur, Ga.
Completed in 2009, the two-story 2800 sq. ft. LEED Platinum modernist house occupies a challenging 1/3-acre site whose buildable area was constrained by a man-made flood plain, stream buffer requirements, a sewer easement, and the standard residential zoning setbacks. Hence the structure's distinct trapezoidal shape, which was oriented toward the open space granted by the easement and buffer.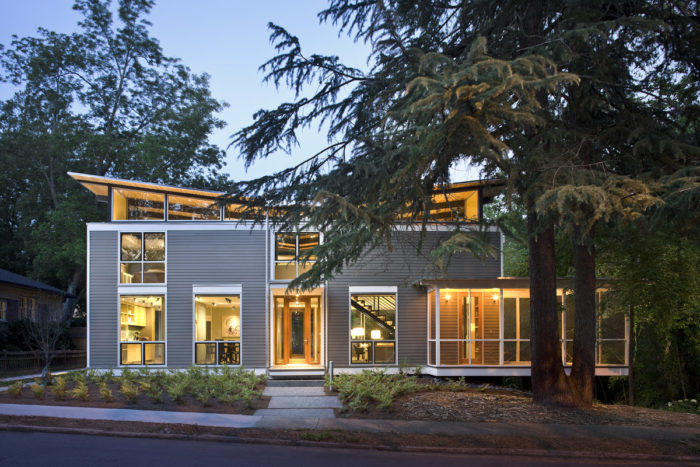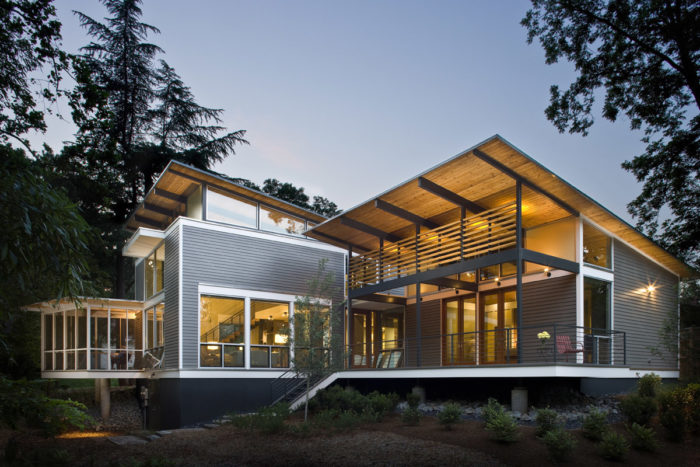 A hardworking butterfly roof was designed to capture rainfall for a rain-harvesting system located in the basement. Built with steel beams spanned by exposed 1-1/2 in. tongue-and-groove wood decking, the inverted gable eliminates the need for gutter and downspout systems and easily directs roof water runoff. Sheltering the living room, dining room, kitchen, and two guest bedrooms, the roof floats above continuous clerestories, which allow ample natural light to flood the interiors.
At the rear of the lot, a single-level master suite shares a generous covered south-facing deck with the living area; and a screened porch cantilevers off the living room, offering privacy on the backside.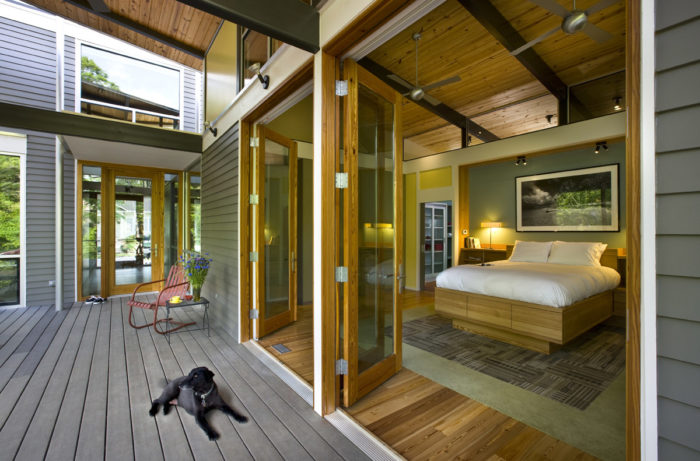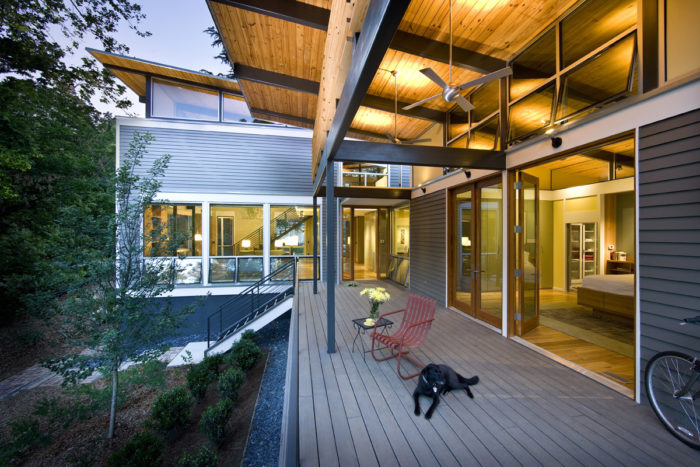 The RainShine House features all manner of sustainable building materials and systems. Energy consumption and thermal comfort were addressed on multiple levels. Overhangs and light shelves shadow high-summer sun and refract indirect light into the interior; solar heat gain is captured from the southern windows in winter; and a south-facing photovoltaic array receives maximum solar exposure. High ceiling fans circulate heated air through clerestory space creating cross ventilation and stack effect.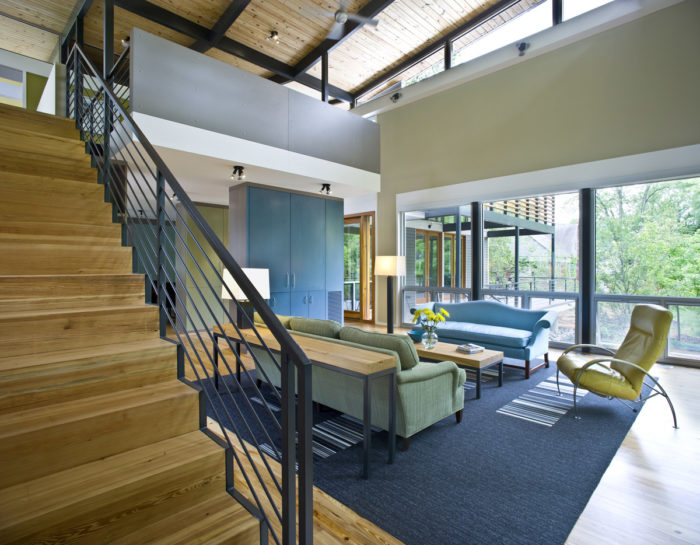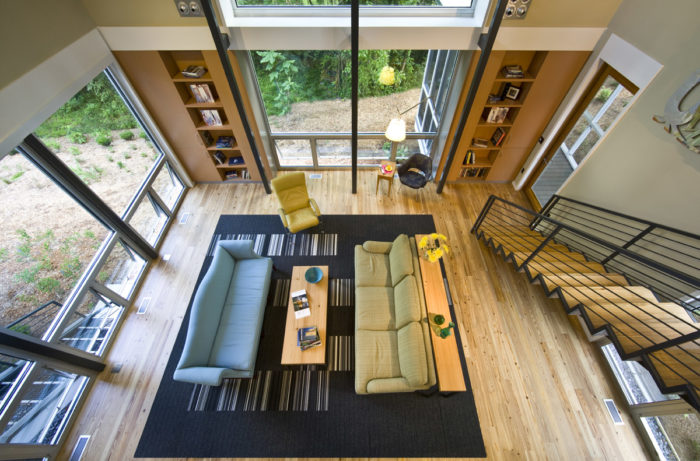 Additional sustainability-minded features include LED lighting; energy recovery ventilation (ERV); high-efficiency appliances; no-VOC paints and sealants; drought-tolerant native landscaping; and extensive use of highly durable salvaged/recycled/reclaimed materials such as old-growth long leaf heart pine from the demolition of the Atlanta Police Horse Stables, which was used for flooring, custom-built tables, and the master suite bed frame.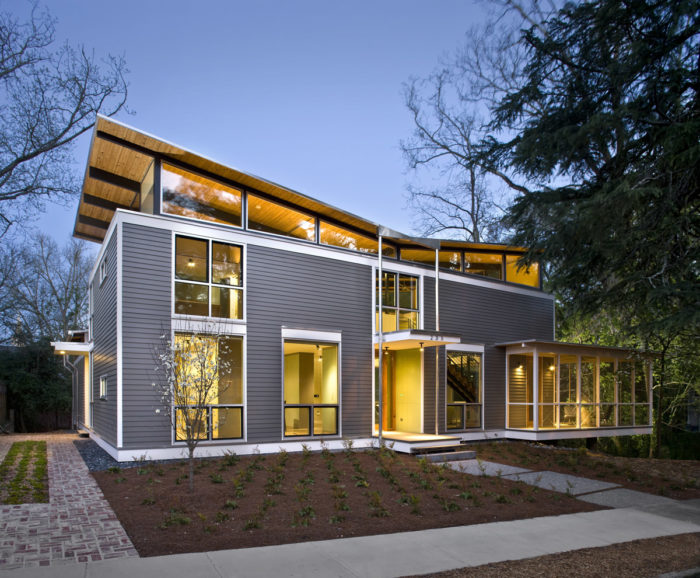 Nearly 10 years later, Cain says: "In truth, there are very few things I would have done differently." The house is still performing at LEED Platinum level and the site functions as a mature woodland, which controls runoff.
He does, however, note a few hindsight considerations. For instance, the formaldehyde-free MDF cabinet faces finished with a natural stain are beautiful but proved difficult for the cabinet maker—the issue being MDF does not take stain in a consistent manner. A translucent water-borne no-VOC catalyzed lacquer  would have been a better choice. Additionally, the roof deck is 2×6 tongue-and-groove #2 southern yellow pine decking which, as manufactured, has a V-groove on one side. Typically the V is installed on the exposed side. Cain has since learned to specify the material without the groove or, on small jobs, to turn the V over, which gives a much more uniform look to the decking. Also, if the budget allows, he prefers to specify #1, which has fewer knots and tighter grain.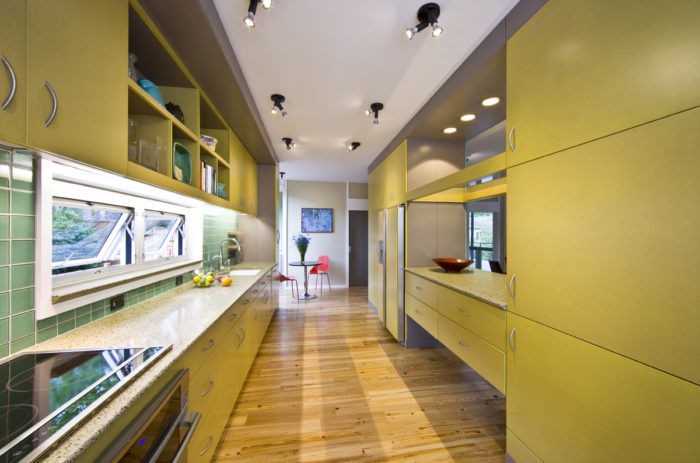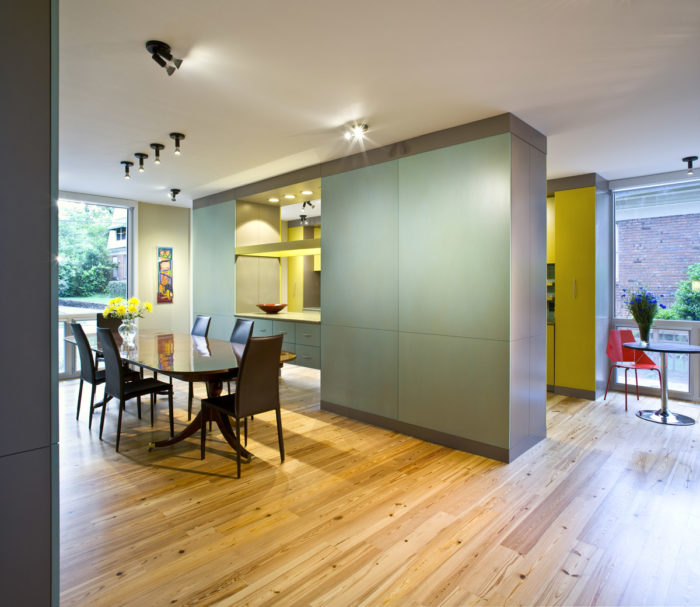 Furthermore, the contractor poured a retaining wall 1 ft. too high. "He talked us into keeping it rather than cutting it down to the appropriate height," says Cain. "That haunted us through the entire construction process and threw an amazing number of construction, steel detailing, and finish details off kilter. We learned from it though—on a subsequent project we had a similar error and insisted the wall be lowered. A concrete saw did the job in less than a day and it was smooth sailing from then on."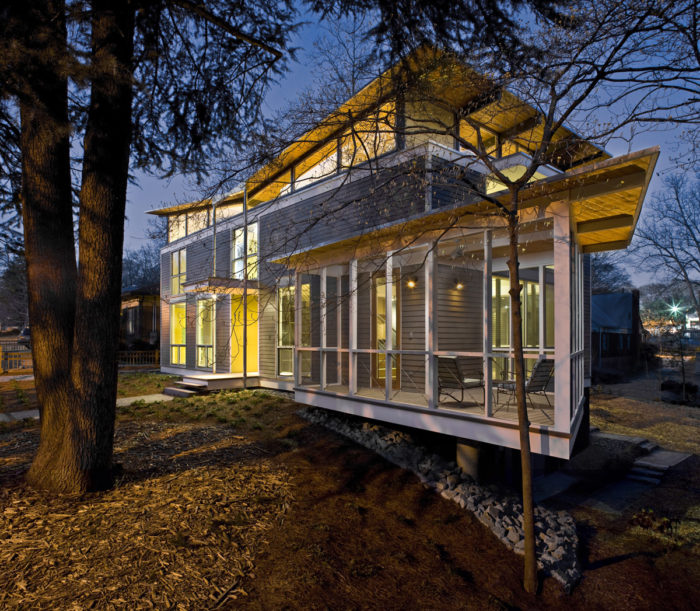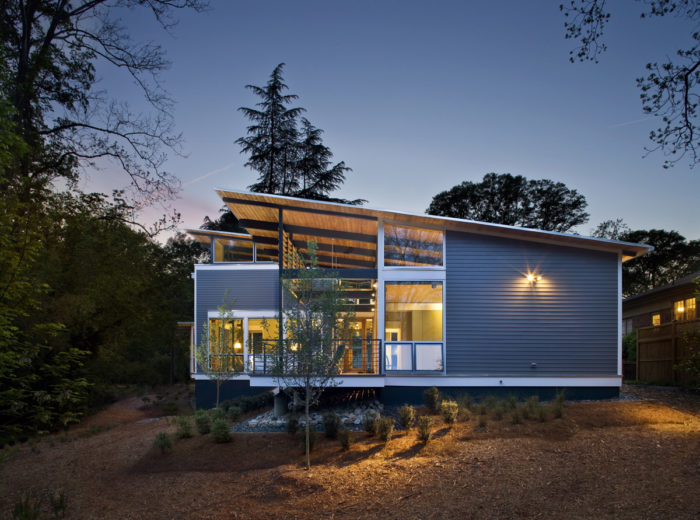 Cain also says he wouldn't use Trex decking again because it stains too easily. He now prefers KDAT. In terms of detailing the siding, he would now go with a more aggressive drainage plane and Zip wall sheathing with a heavily textured building wrap. Lastly, if the budget had allowed, he would have used low-slope 1-in. standing-seam roofing over a layer of W.R. Grace Ice Water Shield rather than the TPO single-ply membrane; given the roof is visible from inside the house on the second floor and from various places in the neighborhood, he feels it is not the most attractive treatment.
It's rare to find an architect willing to look so critically at older projects—to take the time to find the lessons to be learned. But it's by doing so that we build better houses.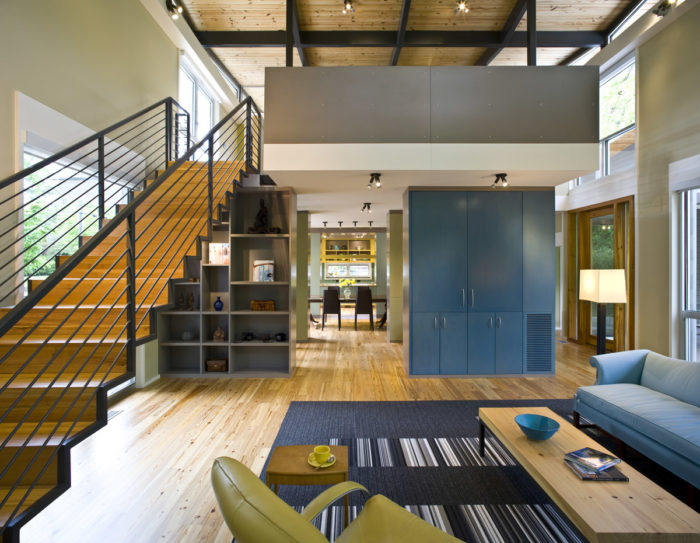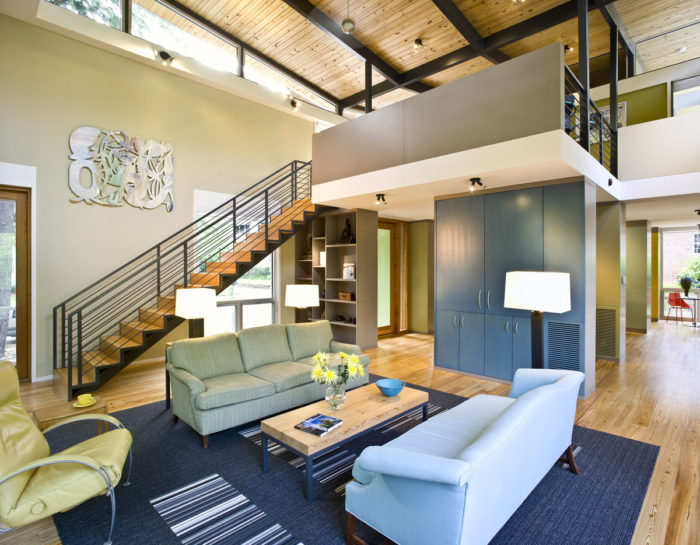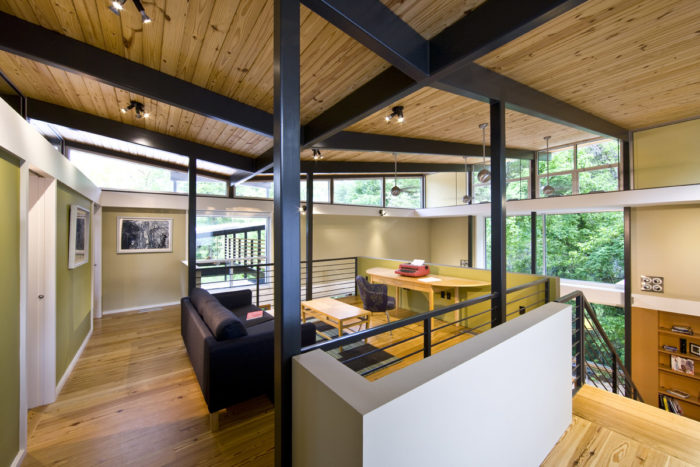 Photos courtesy of Robert M. Cain