Podcast Episode 122 — Talking About New Product Creation at PCBC 2018
The product development cycle includes feedback from customers, conceptualization and ideation, then working with engineers to make concepts real.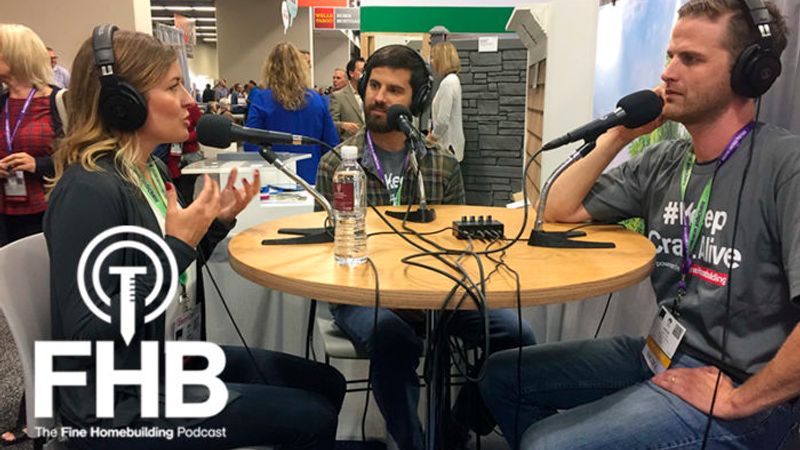 In their second live-from-the-show episode, Justin and Brian talk about the new product creation process with Jenn Tuetken, a senior industrial designer at Pella. She says her job is to come up with ideas, and then work with engineers to conceptualize and realize them.
New product research starts with conversations with customers, builders, and contractors. Then there's an ideation phase, and then a look at drawings, animations, and prototypes. Next is feedback and conversation with customers, builders, and contractors — and the process cycles until the product is perfect. Jenn says that homeowners tend to talk about comfort, colors, and ease-of-use. Building pros tend to talk about price and ease of installation. Architects want versatility and suites of products from which to choose.
The conversation turns to specific new products, like retractable screens in casement windows. Here's a video that was mentioned in the episode, originally posted on Pella's Instagram:
Towards the end of the interview, Justin and Brian grill Jenn on Pella sales and market rank and products that never saw the light of day.
After that, the guys come back to talk about new products they've seen at the show. For example, "True Wall," a factory-built wall;  BamCore, a kind of plywood with a bamboo core; and some new James Hardie siding.
The show wraps up with two different problematic fans. First, a fan of the show comes up and distracts the guys, which I'm looking forward to seeing when the video goes live. Then the guys talk debate the value of a whole-house fan from QuietCool, which maybe is not the best solution for a properly air-sealed house.
---
We hope you will take advantage of a great offer for our podcast listeners: A special 20% off discounted rate to subscribe to the Fine Homebuilding print magazine. That link goes to finehomebuilding.com/podoffer.
The show is driven by our listeners, so please subscribe and rate us on iTunes or Google Play, and if you have any questions you would like us to dig into for a future show, shoot an email our way: [email protected]. Also, be sure to follow Justin Fink, Rob Yagid, and Fine Homebuilding on Instagram — and "like" the magazine on Facebook. Note that you can watch the show above, or on YouTube at the Fine Homebuilding YouTube Channel.
The Fine Homebuilding Podcast embodies Fine Homebuilding magazine's commitment to the preservation of craftsmanship and the advancement of home performance in residential construction. The show is an informal but vigorous conversation about the techniques and principles that allow listeners to master their design and building challenges.
Links for this episode: