Podcast Episode 163: Live from the Builder's Show: Home Depot's Pro Services and Advancements in Cordless Tools
The editors chat with Debbie Hernandez of The Home Depot about it's pro services and former Fine Homebuilding editor Chris Ermides about tools.
Sponsored by The Home Depot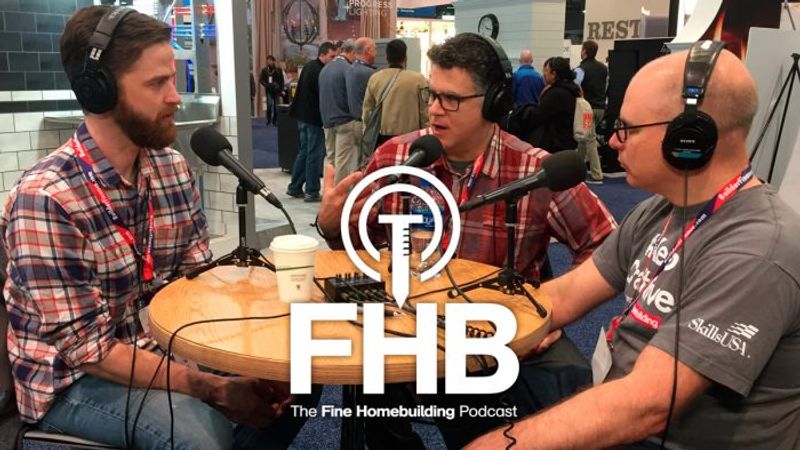 Follow the Fine Homebuilding Podcast on your favorite app. Subscribe now and don't miss an episode:
This week's podcasts are from the 2019 International Builders' Show in Las Vegas, Nevada.
Justin Fink and Rob Wotzak talk with Home Depot's Debbie Hernandez about Professional and Contractor Services and with former Fine Homebuilding editor Chris Ermides about tool tests, keeping up with tool technology, and how job sites are increasingly going 100% cordless.
This episode of the podcast is brought to you by The Home Depot. Visit HomeDepot.com.
---
Fine Homebuilding at the 2019 International Builders' Show

If you definitely plan to be at the show, email us at [email protected] if you would like a chance to join us for the taping of one our 6 episodes at the Fine Homebuilding booth (at 10am and 3pm each day of the show).
Buy a #KeepCraftAlive hat or t-shirt.
---
We hope you will take advantage of a great offer for our podcast listeners: A special 20% off the discounted rate to subscribe to the Fine Homebuilding print magazine. That link goes to finehomebuilding.com/podoffer.
The show is driven by our listeners, so please subscribe and rate us on iTunes or Google Play, and if you have any questions you would like us to dig into for a future show, shoot an email our way: [email protected]. Also, be sure to follow Justin Fink and Fine Homebuilding on Instagram, and "like" the magazine on Facebook. Note that you can watch the show above, or on YouTube at the Fine Homebuilding YouTube Channel.
The Fine Homebuilding Podcast embodies Fine Homebuilding magazine's commitment to the preservation of craftsmanship and the advancement of home performance in residential construction. The show is an informal but vigorous conversation about the techniques and principles that allow listeners to master their design and building challenges.
Other related links