Skirtboard Template
Accurately reproduce skirtboards for an existing staircase using a technique borrowed from countertop installers.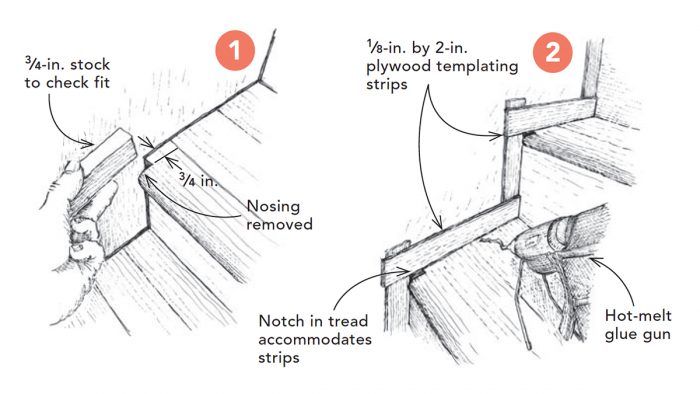 When I was asked to fit new skirtboards to an existing staircase, I decided to take my experience templating countertops and apply it to the stairs. The steps were all a little bit off—the risers weren't plumb and the treads were not level. I cut 3⁄4 in. of nosing from each side with an oscillating multitool so that the 3/4-in. skirt could fit tight to the stairs, as shown in the drawing (1).
Then I cut a bunch of 1/8-in. by 2-in. templating strips and hot-glued them together, tacking them to the wall in a few spots (2). Then I glued a long strip to brace all the glued pieces and keep the template from racking. I marked the front and back, set the template on a board for tracing, and cut it (3). The board fit perfectly with no measuring involved.
—Dan Maupin-Ahern, Hidden Valley Lake, Calif.
Edited and Illustrated by Charles Miller
From Fine Homebuilding #285