Streamlined Design
Simple, cost-efficient construction methods and materials result in a beguiling build.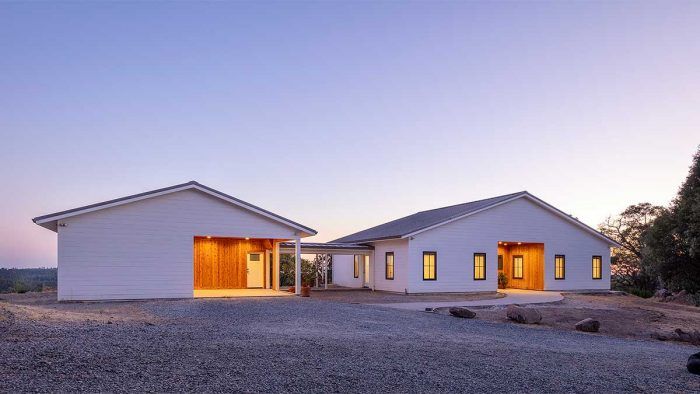 Sometimes a structure is so simple that it belies the deep thought that went into its design. Such was the case with this new house and accessory building in California's Sierra Foothills. Architect Andre Rothblatt worked with his three-time client to create a home for aging in place that would befit the remote, bluff-side location and a minimalist aesthetic. Additionally, the project was based on a relatively modest budget.
Located in historic Fiddletown and built on lava rock, the 1500-sq.-foot house sits in a wildfire-prone area, making the sparse landscaping useful as a defensible space. The farmhouse-style gable form is both familiar and unconventional. Rothblatt produced roughly 20 design concepts before settling on this composition, which is distinguished by the carport, breezeway, and main house sequence. To support aging in place, all structures were kept on one plane. The guest accommodations to the rear of the carport are also part of the long-term plan, should the client need live-in assistance.
Keeping the form basic and using standard construction materials and methods helped to keep the budget in check. Rothblatt intended the slab-on-grade structure to be simple in design and easy to build. The architect chose Hardie's Artisan V-Rustic cladding for its lap joint and chamfered edges, which, he says create an "all-American look." Cedar paneling in the carport and the covered entry both unify the structure and add warmth. "To give the house some flare, I had the idea for two types of siding—white Hardie plank and cedar in the alcoves," Rothblatt explains. "I composed them together in a simple and peaceful manner."
Two-over-two windows in black trim are simultaneously a contemporary choice and a nod to a former era. Certainly they establish a comfortable scale. "I obsessed about the shapes and location of the windows," Rothblatt recalls. "When you have very little to work with, you need to give careful thought to the proportions and the placement of everything."
At the rear, the house opens up with a shaded porch and two sets of four-panel glass doors that maximize the view. Inexpensive, durable, and dog-friendly porcelain tiles were used on the floors. This was another cost-saving measure. Given the remote location, it would have been more expensive to hire a contractor to polish the concrete than to have tile delivered and installed.
Summarizing the work, Rothblatt says: "The idea was to do something that wouldn't compete with the greater landscape—but it had to be warm and welcoming." This house succinctly strikes that balance.
Photos by Eric Rorer, courtesy of Andre Rothblatt
Resources
Siding: James Hardie Artisan V-Rustic
Windows: Milgard
Paint: Marscapone by Benjamin Moore
Standing-seam metal roof: ASC Building Products
If you have a project that might be of interest to our readers, please send a short description and images to [email protected].
For more farmhouse-style homes: