Design
Low-Carbon Homes
Brian Hayes and Michael Maines are among a small number of residential building pioneers who are beginning to consider embodied carbon in their projects.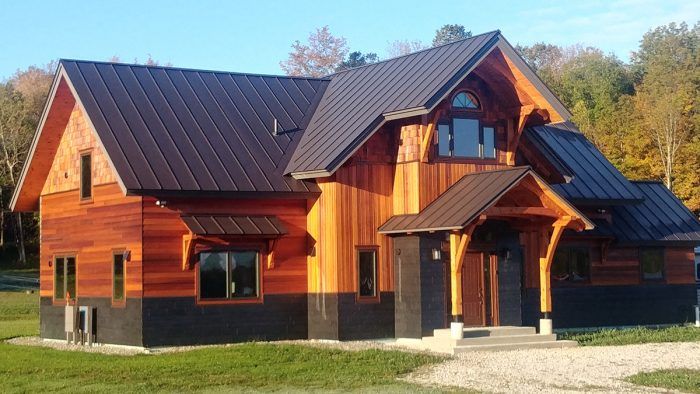 "If you are building a house in 2019, all of the embodied energy gets burned this year, which means that all of the carbon associated with that embodied energy is going into the atmosphere this year."—Martin Holladay
Still abuzz after our recent Building Science Summit, I've recommitted to a rallying cry I haven't sounded loud enough. I'm not alone in that department. Though the dialogue around embodied carbon is starting to attract more attention, the green building community is still primarily focused on the operations-related environmental impacts of our houses, so efforts are centered around energy efficiency over the carbon emissions associated with residential construction.
At the summit, designer/builder Michael Maines talked about The Pretty Good House 2.0 (blog post to come); he described Bruce King's book, The New Carbon Architecture, as his building bible. I ordered a copy immediately and have been thoroughly engrossed ever since. I spoke with Maines about the subject, and during our conversation he mentioned Brian Hayes, owner of Bellwether Craftsmen in Huntington, Vermont. Because Hayes is committed to low-carbon building materials and methods, I called him up to hear his thoughts on this budding movement.
Hayes began his career erecting barns and farm buildings before moving into the residential sector. He is an expert timber framer and is Passivehouse- and CPHC-certified. In other words, he is a craftsman with a conscience. "My motivation for low-carbon, high-performance, natural building is socially and environmentally based," he says. "It's just the right thing to do on so many levels. We know better. We know we are doing bad things, and we are doing them because of exploitative economics. I'm not into it."
One of the driving principles behind a low-carbon home is that it should be small. Maines has specified 1000 sq. ft. for one person, 1500 sq. ft. for two, 1750 sq. ft. for three, and 1875 sq. ft. for four. "If it is well designed, people can fit into a lot less square footage than they believe," Hayes notes. "There's a whole client education piece to this. We tell them: 'We can build you a high-performance, natural, healthy building that is going to be durable and sustainable but to get there, we have to reduce square footage.'"
Hayes strongly believes the 30-year standard and the code minimums based on it are sorely insufficient, and essentially produce "disposable housing." He designs and builds homes with a lifespan of 75 to 100 years using roughly 90% natural materials. He cites vapor permeability as critical to a building's performance, saying it has the biggest impact on durability. Hayes advocates for vapor-open assemblies that can breathe in both directions, and says that natural buildings omit the impervious surfaces that result with synthetic materials. He does, however, concede to relying on synthetics for membranes and air-sealing adhesives—because there aren't any natural alternatives. Pro Clima products (Intello to the inside, Solitex on the exterior) are his current go-to. And 475 High Performance Building Supply is a regular source.
Hayes demonstrates the success of his approach by recalling two projects that had him competing with SIP construction, which promises a level of performance Hayes matches. "Our projects met the standard for Efficiency Vermont 2.0. We went up against a SIP assembly with our 2×6 wall, cellulose, and Gutex exterior fiberboard. That's all plant-based material—except for the membranes," he says, adding that plant-based building materials exceed petroleum-based systems in terms of durability and performance. They also create a carbon bank that reduces atmospheric carbon counts.
Operationally speaking, Hayes's shop runs on solar energy; he builds modular components as much as possible, which limits vehicle trips back and forth to the site; and five of his employees live in the same town as the shop—the sixth has a 20-mile commute. "Using our shop is our best option for keeping daily emissions down," Hayes explains, adding that he also uses local sources for timber and siding, thereby cutting shipping emissions. "We are lucky to have just about every material we need right here in Vermont," he says. "We try to use local wood species for everything, and we trace materials that come from outside Vermont—such as FSC-certified fiberboard and cellulose."
Asked what technologies, if any, he finds useful for building low-carbon homes, Hayes names PHPP and WUFI energy-modeling software. "They are great tools but I think they need to be developed to be user-friendly and a little more available to builders." However, he questions whether or not further technological advances would be beneficial. "I don't think we necessarily need more technology," he explains. "We need more education around the technology we have. And we need to make it standard and regulated—if we do that, then prices will come down, and people will be more familiar, less apprehensive. There will be better executions, better products, and healthier people and buildings."
So, what exactly is a low-carbon house?
According to Maines, a low-carbon home should:
1.) Be as small as possible—ideally with multi-family or multi-generational occupants.
2.) Be PV-ready or include photovoltaic panels. PV-ready means designed, built, and sited in such a way that a reasonably sized photovoltaic array can handle all of the home's energy needs on an annual basis. (PV panels pay their carbon debt in 2-4 years.)
3.) Be simple and durable. Simple shapes are easier to air-seal and insulate. They perform better in harsh weather, and require fewer materials and less maintenance than more complicated buildings. If you need to bring in a structural engineer, your design might be too complicated. Invest in the parts that are hard to change later.
4.) Use wood and wood-derived products as construction materials. Just make sure the wood is sustainably harvested—locally, if possible. Otherwise the trees are better left to remove CO2 through photosynthesis. In general, the more materials are processed, the higher their carbon footprint.
5.) Use air-source heat pumps. Mini-splits can be efficient to -15°F or below. They are affordable—especially for the sizes needed in a Pretty Good House 2.0—and they are relatively simple to install. For those who can't stand the look of an appliance on the wall, there are slim-duct, ceiling cassette, and floor-mounted versions. However, the wall-mounted units are the most efficient, so learn to love them. Heat-pump water heaters are a no-brainer for most homes.
6.) Invest in the envelope. Insulation and air-sealing should be good enough that heating and cooling systems can be minimal, with indoor air quality and comfort levels that are very high.
7.) Be affordable, healthy, responsible, and resilient.
8.) Reflect the "KISS" principle (Keep It Simple and Safe). The house should be easy to operate and understand. Owner-proof systems should omit operator influence and/or error.
9.) Consider time-tested sensible strategies such as: planting deciduous trees to shade the south and west walls (in the cold months, the leaves drop, letting natural light in); cooling with fans and natural convection rather than air conditioners; heating water with a wood stove; and air drying clothes.
10.) Be part of a sustainable community. Having access to community solar, jobs, and services nearby minimizes driving and enables the sharing of infrastructure costs. A one-hit wonder in the middle of the woods often comes with a bigger carbon footprint than a community-based home.
Hayes says the 1800-sq.-ft. house pictured here meets the great majority of all ten requirements.
Additionally, Maines says a low-carbon home should minimize or avoid:
1.) Concrete, which contributes 10% of man-made global warming emissions, partly through fuel to heat and move minerals, but 60% from release of carbon dioxide (CO2) from limestone (CaCO3) to get calcium oxide (CaO) for Portland cement.
2.) Foam, especially HFC (hydrofluorocarbon)-blown closed-cell spray foam and XPS (extruded polystyrene) rigid insulation. When building a new house there should be no need to use foam above grade.
3.) Combustion appliances, especially those that burn fossil fuels.
4.) Unhealthy materials.
In Hayes's house, items 1-4 have been addressed, as the structure is slab on grade with frost walls. "This particular home is largely comprised of natural carbon-sequestering materials—wood, wood fiber, and stone," he says, adding that he is waiting on the results of a pending carbon analysis for this house, as well as another constructed last year.
It gives me hope that a few builders, like Hayes, are having their projects analyzed for embodied carbon. Because it's time to call it: Carbon is the next frontier.
Photos courtesy of Brian Hayes
If you have a project that might be of interest to our readers, please send a short description and images to [email protected].
For more on embodied carbon: