Podcast 215: An Odd Assortment of Building-Envelope Scenarios
The FHB editors offer advice to listeners with uninsulated solid-masonry walls, unusual flashing-material substitutions, uncommon cladding comparisons, and confusing insulation mandates.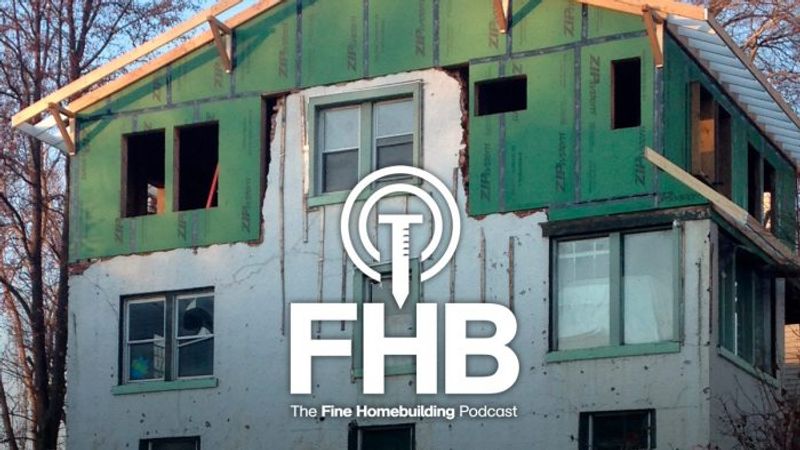 Follow the Fine Homebuilding Podcast on your favorite app. Subscribe now and don't miss an episode:
Patrick, Justin, and Rob discuss a few unplanned personal remodeling and repair projects before responding to listener emails about finishing the interior of a solid-masonry house; substituting crack-isolation products for liquid flashing; weighing the pros and cons of EIFS and brick cladding; and complying with insulation-retrofit mandates in New Zealand.
---
Editor's Projects:
Rob's dishwasher
Justin's porch roof and tile shower
Related links:
---
Question 1: How should I insulate and finish the interior of a home with solid masonry walls?
Drew from Richmond, VA. writes, Hello Fine Homebuilding podcast. I am currently halfway through a bathroom remodel in my 1940's masonry home in Richmond, VA. Because it's masonry construction the exterior wall has no framing. My original plan was to attach treated 2x sleepers with tapcon or spax screws. The one drawback I see with this is due to how rough the surface of the masonry is it would be difficult to get the framing flat and plumb enough for tile. My second option I think would be to frame a conventional 2x wall with metal or wood studs leaving an air gap between the masonry and the wall. If I use this method should I insulated of use any vapor barrier? I love the podcast and would like to hear what you guys have to say! Thanks!
Related links:
---
Question 2: Can I use liquid-rubber tile underlayment as exterior liquid flashing?
Austin from Richmond, VA. writes, Hi podcasters! The show keeps getting better an better! Progress is coming along on my 1930 craftsman rebuild.
I'm getting ready to frame the windows (outties to accommodate exterior insulation), and I've been thinking about the flashing. I'll get right to it: window flashings–tapes or fluid applied–are all really expensive (I know a leak is more expensive, but it leaves me with a question).
What are your thoughts on using something like "Red Guard" or "Liquid Rubber" as a liquid flashing? If "Liquid Rubber" works on foundation walls and "Red Guard" works in showers, why couldn't I use them to flash windows–a place where *ideally there would be a lot less water exposure and no UV exposure?
Let's even take it up a step: if I used Prosoco's CAT 5 WRB, why do I need the special "liquid flashing" around the windows? I get the gap filler. That makes sense.
I'd love to hear the team's thoughts. I'm sure there's something I'm not thinking of. Thanks!
Related links:
---
Question 3: Is brick better than EIFS as exterior cladding on a house?
Elizabeth from Cleveland writes, Hi FHB crew! Thank you for churning out podcasts that engage my mind while I chase our little one around the house and plan a new custom home build. My husband and I are working with a local builder and have confidence in his quality craftsmanship (so poorly installed EIFS is not a particular concern). I would love for you to weigh in about the decision between EIFS and brick as exterior cladding in South Dakota (which is very cold this time of year and warm in the summer). Our goals are energy efficiency and durability. Is EIFS inherently more energy efficient or could you just insulate behind the brick to keep the thermal mass from warming/cooling your interiors?
Are there any other considerations in choosing between the two?
Related links:
---
Question 4: Is it OK to just insulate floors and attics in New Zealand?
Bud from Diamond Harbour, New Zealand writes, I listen to your podcast every Tuesday (on the other side of the date line), I'm an American living in New Zealand for the past 17 years.
Insulating housing down here was not widely done until around 1978. Consequently many of the older homes have little or no insulation.
Last year the government made a by-law that said all rental homes needed to be insulated by this year. But everything I have read specifies ceiling and floor insulation, nothing about the walls. And it also says that you don't have to insulate if it's too hard to do.
The homes were built on piles, no perimeter block or concrete foundation. It would seem to me that the walls would be more important to insulate than the floor. It would probably be nice to insulate the floor but more importantly the floor should have a vapour barrier.
Your opinion please.
Related Links:
---
End Note:
Come see us at The International Builder's Show…it's only about a month away!
THE SHOW:
If you can get to Las Vegas on January 21st, 22nd, or 23rd, come visit Fine Homebuilding at IBS booth C7543 at the Las Vegas Convention Center,
Get a FREE 3-Day Exhibit-Only pass courtesy of Fine Homebuilding.
THE PODCAST:
We'll be recording the FHB Podcast several times at our booth throughout the event. If you email us in advance and tell us you'll be in Vegas, we might even be able to interview you on the podcast!
THE KeepCraftAlive MEETUP:
Join us for a #KeepCraftAlive Meetup and Networking Event. Fine Homebuilding will be hosting a fun evening of networking and fundraising on Wednesday, January 22nd from 5:30-8:30PM at Craft + Community Bar and Grill in the Hardrock Hotel & Casino. Come support the Fine Homebuilding and SkillsUSA Scholarship Fund, enjoy craft beer, food and swag! Please REGISTER HERE.
We hope to see you there!
---
If you have any questions you would like us to dig into for a future show, shoot an email our way:

[email protected]

.
If we use your question we'll send you a FHB Podcast sticker!
#KeepCraftAlive

KeepCraftAlive hats help celebrate the value of true craftsmanship–plus 50% of all proceeds from every hat sold go to the #KeepCraftAlive Scholarship Fund, supported by Fine Homebuilding and SkillsUSA.
Buy a #KeepCraftAlive hat or t-shirt
---
This episode is brought to you by Huber Engineered Woods, makers of AdvanTech and ZIP System products.
If you're going to the International Builder's Show in Vegas, don't miss Huber Engineered Woods – they will have two locations. At the Huber Wood booth in the Central Hall, be sure to attend the 3rd Annual "Best of Social Awards" with Matt Risinger, Wednesday at 3:30. Follow @huberwood on Instagram for information on pre-registration. And try ZIP System liquid flash, stretch tape and AdvanTech subfloor adhesive at The Prove It Tour product experience outside on your way to pick up your badge near Show Village.
---
Fine Homebuilding podcast listeners can now get 20% off anything in the Taunton store, including the Code Check series. These sturdy, spiral bound reference books will help you navigate the International Residential Code, The National Electric Code and the Universal Plumbing Code. Use the discount code FHBPODCAST to take advantage of this special offer.
---
We hope you will take advantage of a great offer for our podcast listeners: A special 20% off the discounted rate to subscribe to the Fine Homebuilding print magazine. That link goes to finehomebuilding.com/podoffer.
The show is driven by our listeners, so please subscribe and rate us on iTunes or Google Play, and if you have any questions you would like us to dig into for a future show, shoot an email our way: [email protected]. Also, be sure to follow Justin Fink and Fine Homebuilding on Instagram, and "like" the magazine on Facebook. Note that you can watch the show above, or on YouTube at the Fine Homebuilding YouTube Channel.
The Fine Homebuilding Podcast embodies Fine Homebuilding magazine's commitment to the preservation of craftsmanship and the advancement of home performance in residential construction. The show is an informal but vigorous conversation about the techniques and principles that allow listeners to master their design and building challenges.
Other related links