Podcast 217: Architecturally Correct Trim, Keeping a Cabin Warm, and Fixes for Butchered Floor Joists
The crew gets feedback on door bevels and heat-pump water heaters before taking questions on matching moldings to a house style, converting a seasonal cabin to year-round use, and what to do about Sawzall-wielding plumbers.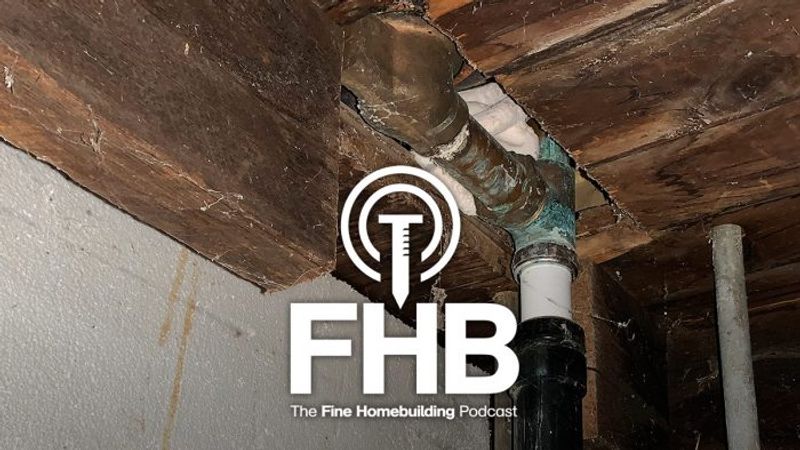 Follow the Fine Homebuilding Podcast on your favorite app. Subscribe now and don't miss an episode:
Rob, Matt, and Patrick hear from Andy who sets the record straight on door bevels and cheap tools. Ryan and Troy share some thoughts on heat-pump water heaters. Tess asks how to get the right molding profile for her minimalist ranch. Neilson wants to know how to keep his vacation cabin warm without going broke. Tom wonders is air sealing will reduce the effectiveness of his CO and smoke detectors. And Chris asks what he should do about a butchered floor joist under his bathtub.
---
Listener Feedback:
Listener feedback #1
Andy Engel in CT writes, So, I wanted to bust chops on Podcast 214, but first some praise. I listened to the podcast while doing an hour's ride on my stationary bike. As any cyclist can tell you, riding a stationary bike is the purgatory we go through so the spring outdoor rides don't hurt so much. The podcast made that hour's ride, if not pleasurable, at least not as suck as much as usual.
Re the 9000 sf deep energy retrofit –NESEA ( New England Sustainable Energy Association) has suggested that using more wood-based products in building can reduce CO2 in the atmosphere. If the 9000 sf remodel uses double stud walls, cellulose insulation, Gutex on the outside, and so forth, it might become carbon neutral or carbon negative. Maybe the size of the house is less important than how it's built, and the quality of life it offers its residents.
In my experience, a 7 degree bevel on a door is a bit much. I use about half that, which is enough to allow the door edge to clear the jamb, while still allowing its face to meet the stop. On very thick doors like the 4 in., even 3 degrees is too much. I also bevel the hinge side to prevent the door from binding, (explain hinge bound). Beveling both sides has saved me a lot of trouble over the years.
Harbor Freight, or as my friends call it, Hazard Fraught. Yeah, I have some of their tools. I did have your old drywall lift, which, after the brake failed and it dropped a sheet of 5/8 drywall on my head, was easily repaired using an old leather belt for a new brake shoe. So, high marks for being repairable by a swamp Yankee engineer. As far as I know, it's still in service. I sold it to Chris Green for slightly less than I bought if from you for, so if you need to borrow it, call him and not me.
Bungee cords. Can we please stop using these things? I know two people who've lost an eye to breaking bungees. One of them is the venerable Gary Katz.
Finally, you already know about those $4.99 three-wheel castors. We tried to use them to move Pat's Blodgett ovens. Their 125lb. weight limit is manifestly bullshit.
Great job guys, and a happy New Year to all of you.
---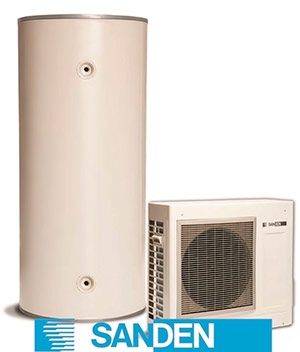 Listener feedback #2
Ryan from Redondo Beach, CA writes, Hi FHB Crew – was just listening to the pod on Heat Pump Water Heaters and was floored you didn't mention the Sanden models given you were talking about embodied energy just before. You totally neglected the GWP of the refrigerant in the discussion, and it's certainly worth mentioning that Sanden's units use CO2 which has a GWP of 1.
I do agree with your points on parts availability in your local market, but as a community that's interested in efficiency and the planet let's create the demand so the supply has the opportunity to respond.
Related links:
---
Listener feedback #3
Troy from Oregon writes, FHB team, This is a quick follow-up on the topic of hybrid water heaters you discussed in this week's podcast.
I have two 50-gallon GE GeoSpring units, one I've had for 6 years and the other for 5 years. For several years, Oregon had a program that provided a 100% rebate on the cost of the unit, plus plumbing materials. When we went to solar – also huge subsidies here – the state performed an energy audit and recommended the water heaters as the next step towards net-zero. It was a no-brainer to upgrade. We did the replacements in subsequent years to take full advantage of the rebates.
Why two? the house is fairly large with a water heater at each end. The hot water never travels more than about 12 feet.
My experience has been very positive. We saw a significant drop in electricity, and have had no performance issues. The differences from a standard electric water heater: larger size due to the compressor pump on top, and you need to add a condensate drain. Neither of these posed an issue for us. I also need to clean the filters once every few months.
Would I pay about $1000 out of pocket, instead of $500 for a basic electric model? Now that I have experience with them, I'd say yes. The payback is clear, and the energy footprint is less.
I'm an avid listener, and I really appreciate the effort you all put into the podcast.
---
Editor's Projects:
Matt's wiring
Rob's wiring
Patrick's Pittsburg trip
KCA meetup in Vegas (see details below)
---
Question 1: What design resources or books could help me renovate my simple ranch house to make it midcentury modern Scandinavian style?
Tess from St. Paul, MN writes, Hello FHB podcasters! You asked for design questions so here goes:
My husband and I bought our first house in St. Paul, MN and are beginning to remodel. I'm a User Experience Strategist with a BFA and minor in Sustainability who's father is an overqualified metallurgical engineer. Needless to say, I know enough to be dangerous and am looking to you all for advice.
I recently purchased A Field Guide to American Houses: The Definitive Guide to Identifying and Understanding America's Domestic Architecture. If you haven't read this book, I highly recommend it. It's like a birding guide for architecture. On page 608, image 3, I have identified my house as 1955 "minimal ranch". Basically, half a ranch. The entire neighborhood is made up of the same house with small variable differences. Attached is a photo.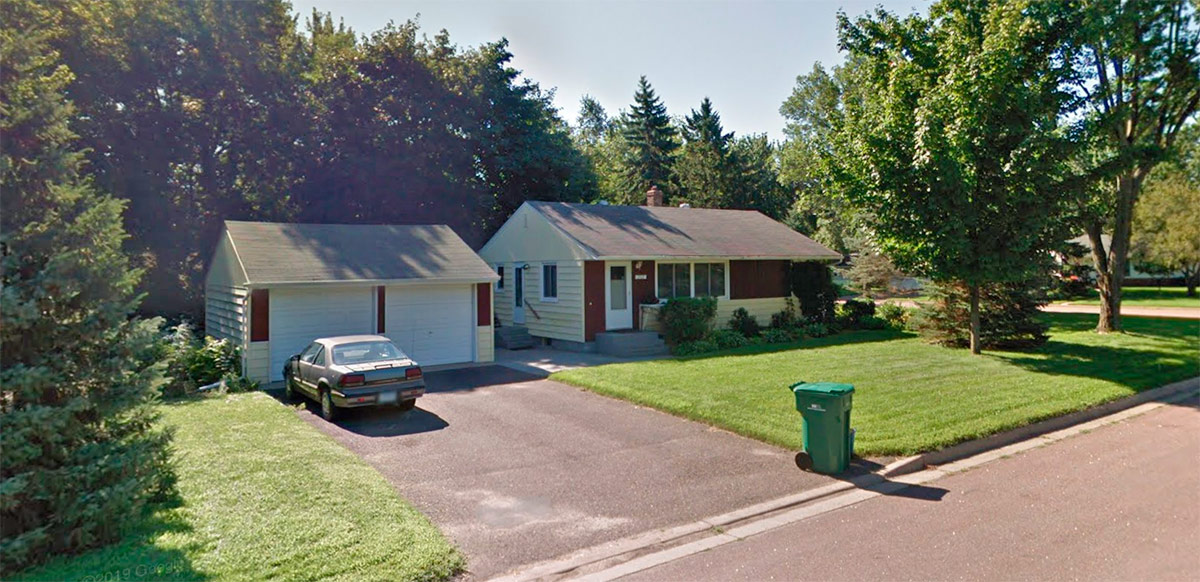 I'm fine with the 888 square foot size since it's just a 75lb fluffball, my husband and I. We are not looking to knock down walls since I believe you can have a high-quality house with reasonable square footage. Design-wise, we're aiming for mid-century modern with Scandinavian/Shaker influences. The problem is I can't find any resources that can tell me the aesthetic interior design rules for each style. Is there A Field Guide to American Houses equivalent for interiors?
Shout out to your article "Well-Proportioned Trim" By Bud Dietrich. I feel vindicated for my hatred of the original trim dimensions in this house and have already pulled all of it up in the office using the Trim Puller. Attached are some quick mockups of what we're looking to do in its place.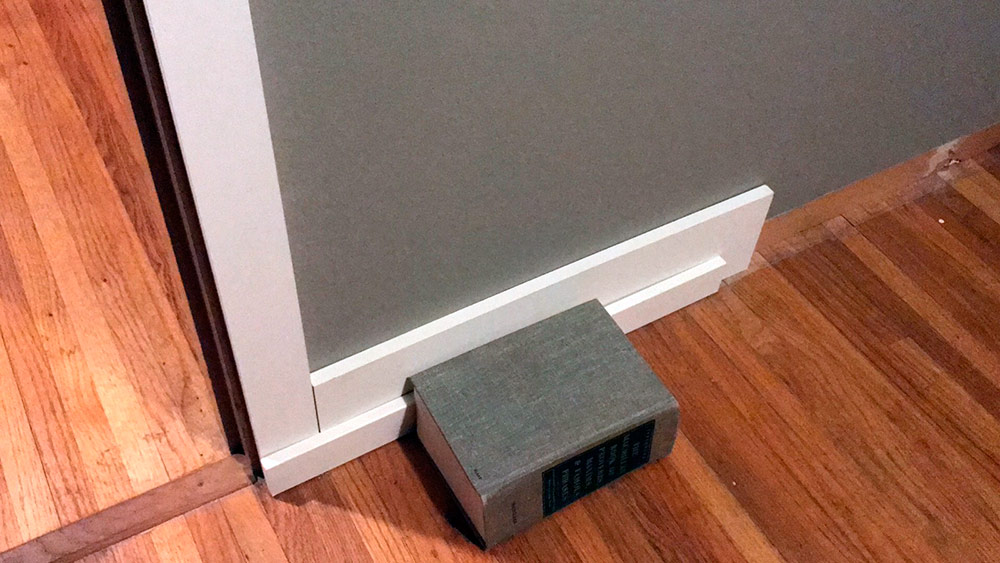 Solicited advice welcomed.
Related links:
---
Question 2: How can I winterize a cold-climate cabin so I don't have to drain the plumbing system in the winter?
Neilson wrote, Hi, We have a 3-season cabin in the Adirondacks zip code 12808 (20 miles north of Lake George). A few years ago, we closed the crawl space, insulated the walls with foam, added a vapor barrier to the floor, and replaced all copper pipes with pex. We fully drain the water in fall and turn the water on in the spring once winter is over. We are trying to come up with a better solution, so that we can use the cabin more in the winter. Presently we have a gas fireplace and some space heaters), The process of turning on the water for a weekend and then draining it is more trouble than its worth. I would like to keep the heat on 50 all winter long but concerned about cost and the ability to produce the correct amount of BTU's to maintain the desired 50. What is the best approach to this issue?
Related links:
---
Question 3: What's the best way to reinforce a floor joist that was cut to make room for plumbing?
Chris from Fredonia, NY, writes, Hello FHB crew! While I was running new boiler venting to eliminate my old brick chimney, I was working in the crawl space beneath the bathroom addition that's not part of the original house. I had never been in there since we've moved in.
Anyway I'm clearing out all the old junk, when I look up to see this!
Apparently that pesky floor joist was directly in the way of this plumber. It's fine it's just underneath my heavy tub. Looks like I'll be spending some more time down here after all.
Only upside I guess is I found some old scraps from when the addition must've been built that I could use for repairs.
---
Question 3: Is there any benefit to not air-sealing the electrical box above a hard-wired smoke detector?
Tom writes, Hey team, I discovered the podcast a few months ago. I've been rapidly listening through all of the archived episodes as I build/renovate my home. This leaves your voices in my head whenever I'm planning out my next tasks (horrifying I know). Well, this pseudo schizophrenia that you've induced has led me to an interesting thought.
Sadly, I was too far along in my build when I started listening to implement all of the Important practices that I have learned from your discussions (such as air sealing). Despite this I still like to think about how I would build differently in the future and the possible impacts it would have. That has led me to this question. Currently, I'm about to install the smoke and carbon monoxide detectors and I'm wondering if by air sealing a house and more specifically around the openings in the ceiling drywall for a hardwired detector could we be impacting the efficacy of these devices. In a not sealed house that has a positive indoor pressure we would be pushing more air past these devices as it escapes around them through the hole in the drywall. I'm thinking that would help these devices detect smoke or CO sooner.
Related links:
---
End Notes:
If anyone who knows anything about evaporative coolers, please contact us: [email protected].
---
Come see us at The International Builder's Show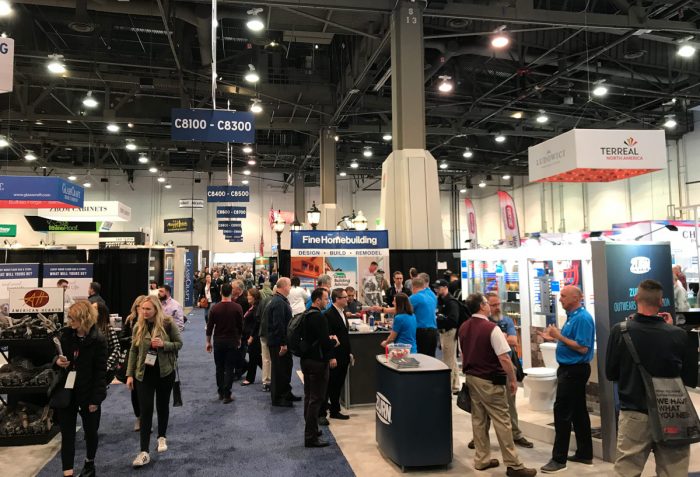 THE SHOW:
If you can get to Las Vegas on January 21st, 22nd, or 23rd, come visit Fine Homebuilding at IBS booth C7543 at the Las Vegas Convention Center,
Get a FREE 3-Day Exhibit-Only pass courtesy of Fine Homebuilding.
THE PODCAST:
We'll be recording the FHB Podcast several times at our booth throughout the event. If you email us in advance and tell us you'll be in Vegas, we might even be able to interview you on the podcast!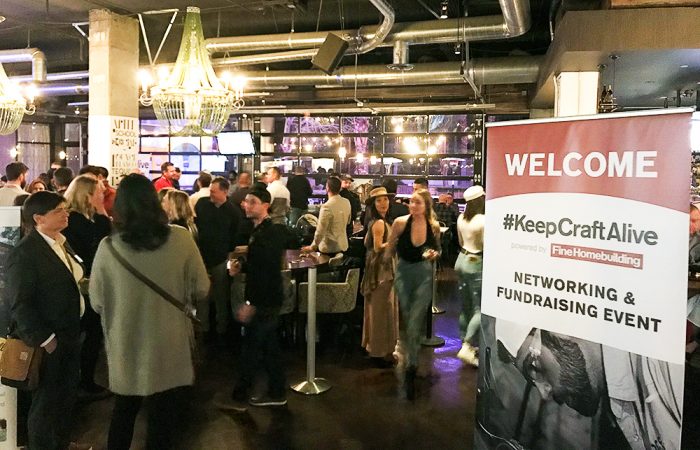 THE KeepCraftAlive MEETUP:
Join us for a #KeepCraftAlive Meetup and Networking Event. Fine Homebuilding will be hosting a fun evening of networking and fundraising on Wednesday, January 22nd from 5:30-8:30PM at Craft + Community Bar and Grill in the Hardrock Hotel & Casino. Come support the Fine Homebuilding and SkillsUSA Scholarship Fund, enjoy craft beer, food and swag! Please REGISTER HERE.
We hope to see you there!
---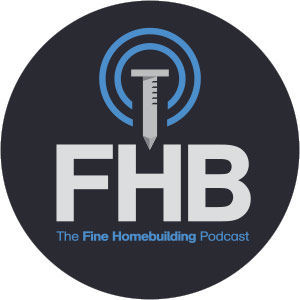 If you have any questions you would like us to dig into for a future show, shoot an email our way:

[email protected]

.
If we use your question we'll send you a FHB Podcast sticker!
#KeepCraftAlive

KeepCraftAlive hats help celebrate the value of true craftsmanship–plus 50% of all proceeds from every hat sold go to the #KeepCraftAlive Scholarship Fund, supported by Fine Homebuilding and SkillsUSA.
Buy a #KeepCraftAlive hat or t-shirt
---
This episode is brought to you by Huber Engineered Woods, makers of AdvanTech and ZIP System products.
If you're going to the International Builder's Show in Vegas, don't miss Huber Engineered Woods – they will have two locations. At the Huber Wood booth in the Central Hall, be sure to attend the 3rd Annual "Best of Social Awards" with Matt Risinger, Wednesday at 3:30. Follow @huberwood on Instagram for information on pre-registration. And try ZIP System liquid flash, stretch tape and AdvanTech subfloor adhesive at The Prove It Tour product experience outside on your way to pick up your badge near Show Village.
---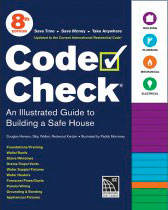 Fine Homebuilding podcast listeners can now get 20% off anything in the Taunton store, including the Code Check series. These sturdy, spiral bound reference books will help you navigate the International Residential Code, The National Electric Code and the Universal Plumbing Code. Use the discount code FHBPODCAST to take advantage of this special offer.
---
We hope you will take advantage of a great offer for our podcast listeners: A special 20% off the discounted rate to subscribe to the Fine Homebuilding print magazine. That link goes to finehomebuilding.com/podoffer.
The show is driven by our listeners, so please subscribe and rate us on iTunes or Google Play, and if you have any questions you would like us to dig into for a future show, shoot an email our way: [email protected]. Also, be sure to follow Justin Fink and Fine Homebuilding on Instagram, and "like" the magazine on Facebook. Note that you can watch the show above, or on YouTube at the Fine Homebuilding YouTube Channel.
The Fine Homebuilding Podcast embodies Fine Homebuilding magazine's commitment to the preservation of craftsmanship and the advancement of home performance in residential construction. The show is an informal but vigorous conversation about the techniques and principles that allow listeners to master their design and building challenges.
Other related links