Installing a Cable-Rail System
Cables and intermediate aluminum pickets create a taut, clean-looking railing.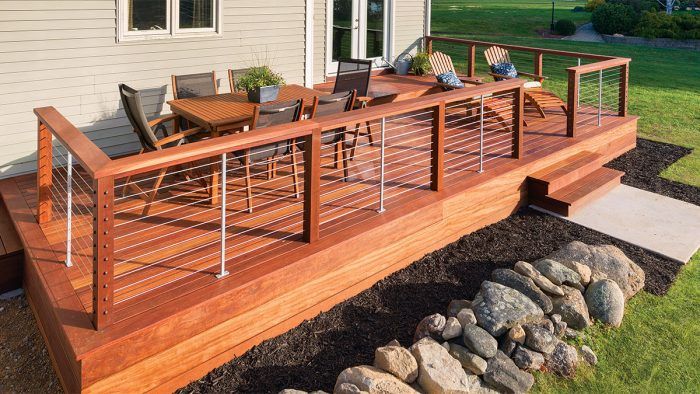 The final component to be installed on this deck was the cable railing from Feeney. With the railing posts already drilled and in place, Justin began by cutting and fastening the lock rails and cap rails that connect the posts. Chris followed closely behind, cutting to length the aluminum intermediate pickets that support the cables between the posts. The final step was threading the cables themselves through the posts and locking them into tension. The defining feature of this system is its clean look, so hidden fasteners and tight joinery are important.
---
Check Code: Even under pressure, the space between railing cable must remain less than 4 in. That's why they're spaced at 3 in. and stretched tight.
---
Last chance for finish. It's easier to apply finish (in this case, Ipe Oil) before the cable is installed.
Lock rails resist the cable tension. Measure and cut to length the 2×4 lock rails, then paint the end grain with a wax-based preservative. Attach the lock rails to the posts with pocket screws, using a strap clamp to draw the posts together.
Keeping it clean. After fitting and securing the cap-rail miter, attach the lock rail to the cap rail with deck screws from underneath.
| | |
| --- | --- |
| | |
| Run the cable. Each cable has a threaded end that is secured with a nut and washer. The other end is drawn through the pickets and the posts. | Set the pickets as you go. Cut the pickets to length so their holes align with those on the posts. Center and plumb each between a pair of posts, then fasten them in place. |
| | |
| Relaxed meeting at the corner. Each course of cable passes through the slightly oversize holes that intersect at the center of the corner post. To ease the passage, it's a good idea to keep the cables loose until both runs of cable are in. | Use the clipping tool. A dedicated cable cutter makes quick and clean work of trimming the stainless-steel cable. |
| | |
| One-way connection. Threaded down the cable into the post hole, the lock fitting allows the terminal end of the cable to be pulled taut without slipping. Trim excess cable to the fitting face with an angle grinder. | A tight finish. Working from the threaded end, tighten the cable by cranking down on the nut and washer. Finish both cable ends with a decorative cap. |