Expert Session: Everything You Need to Know About Double-Stud Walls
Watch Dan Kolbert and Ben Bogie's webinar discussion on designing and building energy-efficient homes with double-stud walls.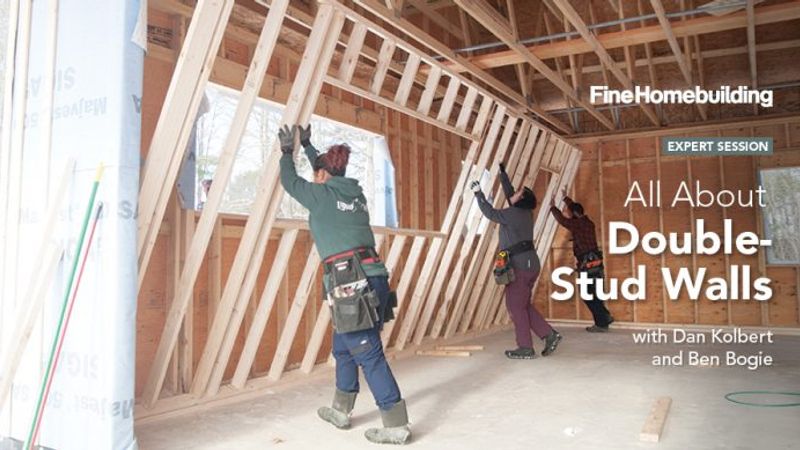 Double-stud walls are a highly debated assembly. Yet despite some builders' concerns, they have a proven track record that spans decades with energy-conscious builders, including Dan Kolbert and Ben Bogie of Maine-based Kolbert Building.
In this webinar, Dan and Ben explain how their double stud walls are straightforward and economical to build, thermally broken, super insulated, and vapor open, allowing drying in both directions. Like all building assemblies, it's important to get the details right. Impeccable water management and air sealing are two of the keys to success. Dan and Ben walk you through their construction process so that you can decide if double stud walls are right for your next project.
Originally recorded live on Wednesday, April 22
Read more about building simple, energy-efficient homes:
A Case for Double-Stud Walls – Straightforward construction, common materials, and low embodied carbon are just some of the benefits of this superinsulated assembly.
 Prettygoodhouse.org – Find information about how to build an affordable, energy-efficient, and environmentally friendly home
OmniSense – producer of the real-time, cloud based remote monitoring solutions that Dan and Ben use in their homes
| | |
| --- | --- |
| | Dan Kolbert has been a carpenter and contractor in Portland, Maine, for three decades. He has written for various trade publications, including Fine Homebuilding magazine, and for the past 10 years has been moderator of the original Building Science Discussion Group in Portland, Maine, where the Pretty Good House idea originated. |
| | Ben Bogie is a second-generation high-performance builder working as a lead carpenter in Portland, Maine. Ben is passionate about historical renovation and creating high-performance homes, and is an active member of the Northeast Sustainable Energy Association. He specializes in building science, low-energy designs, and high-end custom finishes. |